With the help of a city-wide program at Brooklyn College, a student finds brotherhood and support on his path to becoming an educator. 
/web/new_2017news/RomelloMills_94x84.jpg
Increasing Diversity in the Teaching Ranks
May 19, 2017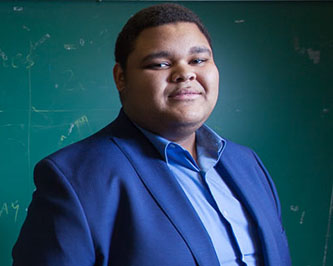 Male students of color make up 43 percent of New York City's 1.1 million public school students but only 8.3 percent of the 75,000 teachers are men of color. Romello Mills, a junior majoring in early childhood education, hopes to help change that. He's been picturing himself at the chalkboard since he was five years old.
"I used to mimic my teachers," he says. "I naturally love educating others. It is through the process of educating that we learn more about ourselves and the world around us."
Mills is part of the first cohort of Brooklyn College's NYC Men Teach program, one aimed at boosting the number of teachers who better reflect the diversity of the city's school students. The $16.5 million program is sponsored by CUNY, Mayor Bill de Blasio's Young Men's Initiative, the NYC Department of Education, and Teach for America.
Its guiding principle is that by increasing diversity in the teaching ranks, the program can make a difference in the lives of young people who are not accustomed to seeing themselves represented in the front of the classroom.
"I want to work in the public schools," he says. "I grew up in the public schools and I know how they work. I have stories, good and bad."
Mills joined Brooklyn College's program last spring, and is currently one of 45. The program is aiming to add an additional 15 to 25 students next year. The students get academic and financial support through their certification and hiring, including free monthly MetroCards, free certification exam practice tests, and a dedicated program counselor who will help with advisement and academic support.
"This program keeps me grounded," Mills says. "I feel like I have someone I can reach out to talk to if I need help with anything like the certification process, or networking. It also does a good job of keeping us informed of anything taking place on campus."
"And it's a group of like-minded individuals who have really formed a brotherhood," he adds.
Find out more about the college's NYC Men Teach program here. 
Back to BC News