As they prepare for the next stages of their lives, members of the Brooklyn College Class of 2017 share some details of their journeys from students to graduates. Find more student commencement profiles and videos on our Facebook and Twitter pages. Use the #BCGrad2017 hashtag to join the conversation!
http://www.brooklyn.cuny.edu/web/new_2017news/Reid_94x84.JPG
#BCGrad2017: Now Ready to Pursue Her Ph.D. at Yale University, Teanu Reid '16 Reflects on How Brooklyn College Prepared Her for Success
May 26, 2017
Teanu Reid technically received her B.A. in history from Brooklyn College in 2016, but her journey to the next phase of her academic career begins with the Class of 2017. Rather than attend graduate school immediately, Reid decided to utilize a gap year to work at the college and to ensure the highest-quality responses on her graduate school applications. As a result, Reid was accepted to Ph.D. programs in history at Yale University, Brown University, Columbia University, New York University, Rutgers University-New Brunswick, and the University of Virginia. She chose Yale not only because of its academic reputation, but also because of its sizeable community of Brooklyn College alumni, particularly those from the Mellon Mays Undergraduate Fellowship, which she said helped make the campus feel like a second home.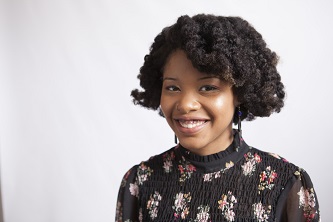 Teanu Reid
B.A. in history
I have had an amazing experience in my journey from college student to college graduate at Brooklyn College. The college has pushed me to be successful academically and encouraged me to be socially responsible by providing numerous opportunities for civic engagement and community service through its clubs and events. The college has even given me the opportunity to travel through study abroad programs.
I have had some of the most supportive faculty who created a great environment to foster growth academically and professionally. Along the way, I have gained tutoring and teaching experience as a volunteer history tutor at the Learning Center. As a volunteer tutor, I helped students, who were usually not history majors, with their reading assignments, essays, and exams, and tried to share with them what my professors had shared with me.
I also had a chance to develop professionally through my time as a college assistant in the Division of Student Affairs. Combined, I feel like I have a clear understanding of academia and a better sense of what my future holds if I pursue employment in a college or university. No journey is without its road bumps and throughout my time as a student there were several things I had to overcome. Despite the fact that I didn't qualify for financial aid because of my parents "high income," their income on paper wasn't reflective of the inconsistent financial support I actually received. I worked diligently to receive scholarships and other forms of merit aid to finance my own education the best I could. Additionally, I had to maintain a balance between scholarship applications and my coursework, my job, volunteering, club involvement, and family responsibilities.
I did all of this while also combatting stereotypical expectations of young black women. From this entire experience I learned that I am a very strong-minded and strong-willed person, and with careful planning and pockets of support, I can achieve goals that I have set for myself. I've learned to have patience, to trust myself and believe in my ability to get things done, and to reorient myself as needed when things don't go as expected.
Back to BC News