In a gathering held in Ingersoll Hall, the college stressed the need to embrace its tradition of inclusion and ensure the transgender, genderqueer, and gender non-conforming communities full access to its facilities.
/web/new_2017news/LGBTQ_94x84.jpg
Signs of Change: Brooklyn College Implements Gender-Inclusive and Gender-Neutral Restrooms
Jun. 12, 2017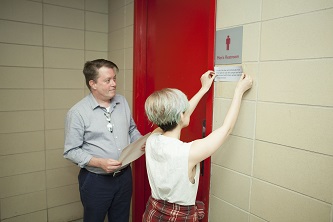 All Brooklyn College single-sex restrooms are gender inclusive and single-occupancy restrooms are gender neutral thanks to the advocacy of a variety of groups in the campus community. The implementation of this policy, in accordance with New York City law, comes after the Trump administration rescinded the Obama administration's transgender students restroom-use protections, and coincides with LGBT Pride Month. In the wake of Trump administration policy, the City University of The City of New York (CUNY) reaffirmed its policy of non-discrimination on the basis of gender identity or expression. 
In a gathering held on June 8, a group of Brooklyn College students, faculty, and staff, placed signs on restrooms that read "Under the law, all individuals have the right to use this single-sex facility consistent with their gender identity or expression" and "This single-use restroom may be used by persons of all genders."
"After working for years to achieve this, the senior-level administration at Brooklyn College took it very seriously and decided that this needed to be done quickly," said David P. McKay '93, adjunct professor of English, faculty adviser for the Lesbian, Gay, Bisexual, Transgender Alliance (LGBTA), member of the GLBTQ Advocacy in Research and Education (GLARE), and founding director of the college's Lesbian, Gay, Bisexual, Transgender, Queer and/or Questioning (LGBTQ) Resource Center. "We also hope that we are setting an example. This is a tremendous show of the college's support for the LGBTQ community."
The campaign for inclusive restrooms began more than three years ago when members of LGBTA advocated for change. Former LGBTA president, Charlie Kerr '15, and current president, Sami Binder—with support from the LGBTQ Resource Center, Brooklyn College Student Government, Assistant Vice President for Facilities, Planning, and Operations Francis X. Fitzgerald, and special assistance from President Michelle J. Anderson—cleared hurdles to make the inclusive restrooms a reality.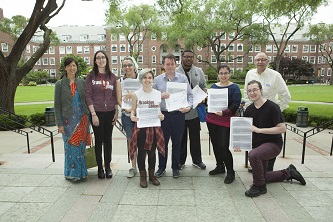 "I think it's important to have all-gender restrooms so that everyone feels safe and comfortable on campus to do the most basic human things," said Binder, a senior who double majors in women's and gender studies and theater, and minors in LGBTQ studies. "I know a lot of trans, non-binary, and gender non-conforming cisgender people who don't feel comfortable using the bathrooms on campus because they don't know if someone will say they don't belong there. I think getting President Anderson involved was a really big help because she was able to use her access and resources to speed things along."
To ensure a smooth transition and curtail any transphobia that may arise, select members of the Brooklyn College community will participate in the Adopt-a-Bathroom Program. Students, faculty, and staff volunteers will choose a bathroom on campus and report on any broken or defaced signage, vandalism, or any other issues that might arise that are contrary to the college's inclusive policy.
The Brooklyn College LGBTQ Resource Center was founded in 2014 to consolidate the talents of students, faculty and staff, and create programming about issues that affect the LGBTQ community. In September of this year, the center, in conjunction with the Office of Diversity and Equity Programs, plans to bring back to campus the Honest Accomplice Theatre, a performance group whose mission is "to generate dialogue and stimulate change by focusing on topics that are often silenced, seen as shameful, or portrayed as one-dimensional, specifically through the lens of the women and trans experience." The center's staff is currently working on a full program of events for LGBT History Month in October, which they hope will include a Queer Homecoming and an exhibit on the history of the LGBTQ community at the college. Additionally, they will be co-hosting the Leadership Mentors Luncheon with the Women's and Gender Studies Program for the second year.
For questions about the restroom policy, please contact David P. McKay or Francis X. Fitzgerald. To report incidents of vandalism, please contact the LGBTQ Resource Center.
Back to BC News