With support from the Magner Career Center, Ryan Beckford scored a competitive position at the company before graduation, moving him one step closer to his dream career.
/web/new_2017news/94x84_Ryan_Beckford_01.jpg
Class of 2017 Grad Ryan Beckford Heads to CNBC
Jul. 5, 2017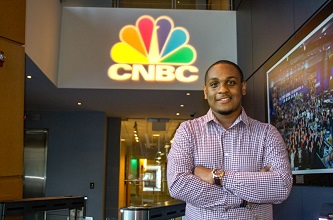 Even before he walked down the aisle at Barclays Center for the 2017 Brooklyn College Commencement Ceremony, Ryan Beckford '17 had already scored a coveted position as a post-production prep tech at CNBC, thanks, in no small part, to the resources and training he received from the Magner Career Center.
Beckford, who received his Bachelor of Arts in television and radio, said that his first week at CNBC Global Media Operations, which began the Monday following commencement, was "busy and hectic," but it was the kind of busy and hectic he had been working toward for his entire college career and he was glad to be finally living it.
"I was getting trained by numerous employees from within the department that knew how to handle the workflow and were willing to show me what to do," says Beckford. "During the peak of my first week, I was sending shows out for captioning, digitally delivering shows to 30 ROCK, screening USA Network promos, applying fixes to close captions, and taking in live show feeds for Oxygen and Telemundo." Currently, Beckford is being trained to perform quality checks on regional and national sports programs for the NBC Sports Network, ensuring the shows meet standards before they air.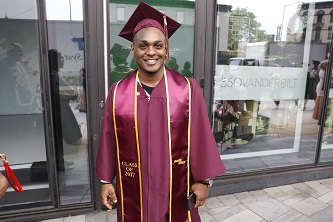 A Kingston, Jamaica native who now lives in Queens, New York, Beckford is the first person in his immediate family to attend college. His family's economic situation required that he receive financial aid and take out a loan to attend college. He enrolled at Brooklyn College because of its affordability and rigorous curriculum. Given his financial challenges, Beckford felt a special responsibility to himself and his family to take full advantage of the opportunities afforded to him. This is what led him to the Magner Career Center, where his path to CNBC began as an internship inquiry.
"The center helped me attain my internship at NBCUniversal (CNBC's parent company) by allowing me to take advantage of the resources offered before having to go in for my interview," Beckford says. "When I found out that CNBC wanted to interview me, I reached out to my career adviser Michael Sarrao at the center, who reviewed my resume and made changes. During our meetings, my adviser provided me with sample questions, which I could ask my interviewer at the end of my interview to show them my interest. The center was an important resource for me because the friendly staff were always available to answer my questions, whether by e-mail or by phone."
Beckford began his internship in fall 2016. Because he had performed so well in his duties—which included video editing, social media management, researching celebrity guests of the network, and pitching show topics—by spring 2017, CNBC offered him an entry-level position in its cable network division.
"The most important tip for any intern wanting to be hired is to believe in yourself," says Beckford. "Take in as much as possible from the internship experience. Teach yourself new skills and have fun. Always ask questions, stay busy, and complete any tasks that are asked of you. Have conversations with your supervisor. Discuss your goals and where you see yourself in the future with the company. You want to let your supervisor know you want to be a part of the company months before you graduate. Finally, network and make friends."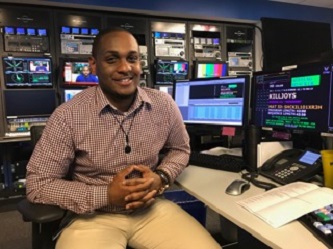 Of the Magner Career Center, Beckford adds, "Having a center on campus where students can go and seek their career is very important. The services the center offers would be expensive and out of reach just about anywhere else. For these reasons, I thank Marge Magner [founder of the Magner Career Center], center director Natalia Guarin-Klein, and Michael Sarrao for thinking about Brooklyn College students, putting their career goals first, and for wanting to provide a value to help change students' lives."
Beckford says Brooklyn College prepared him for the job market through classroom lessons, hands-on activities, career fairs, and off-campus research. "The classes are designed to provide every student with a real-world understanding for broadcast media. Faculty like Michelle Ciulla-Lipkin and Claire Serant provide students with vision through talks of their experiences working in the industry."
Beckford's ultimate goal is to become an executive producer and senior video editor, which he says will put him in a better position to pay Magner's efforts forward.
"As I proceed through my career, I plan to give back to Brooklyn College by advising students on how to achieve their career goals" say Beckford. "I plan to serve as a mentor for students hoping to achieve careers in broadcast media."
 
The Magner Career Center, founded by Marge Magner '69, is able to provide students like Ryan Beckford with the assistance, skills, values, and opportunities essential to fulfilling their career aspirations thanks to the generous support of alumni and friends received through the Brooklyn College Foundation. To make a charitable donation to the Magner Career Center, please visit the center's website.
Back to BC News