The college was recognized for continuing its longstanding tradition of providing a rigorous, but affordable education.
/web/new_2017news/94.jpg
Money Magazine Ranks Brooklyn College One of the Top 50 Best Colleges in the Country
Jul. 10, 2017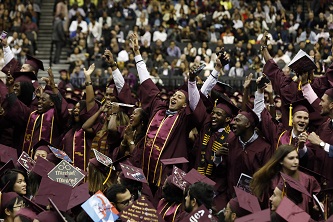 Brooklyn College made the top 50 in Money magazine's 2017–18 "711 Best Colleges for Your Money" listing.
Coming in at #43, the college was noted for its outstanding national academic reputation, rigorous honors college, study abroad program, first-year learning communities, diversity, and selectivity. Additionally, Money highlighted Brooklyn College as having one of the highest rates of achievement in the country in regard to assisting its students climb the socioeconomic ladder. This is exemplified by resources like the Magner Career Center. The center's dedicated staff provides expert career guidance and utilizes alumni networks to help students obtain valuable internship opportunities that give them an advantage in the marketplace.
"College rankings can vary in usefulness, but Money's methodology is refreshing and very practical because of its focus on student success, not just inputs," said James B. Milliken, Chancellor of The City University of New York (CUNY). "It's not surprising that their assessment confirms what so many have consistently found: CUNY schools offer high-quality education, great access and affordability, and a tremendous boost up the social ladder. CUNY has become America's premier urban university by providing generations of low- and middle-income students the means to achieve their aspirations."
Brooklyn College was the #2 ranked CUNY institution, coming behind only Bernard M. Baruch College (the top-ranked CUNY school was #2 overall), and beating stiff competition from the likes of Rutgers University, Barnard College, the University of Chicago, Stony Brook University, Cornell University, Duke University, and Wesleyan University.
Money's ranking system assesses schools on educational quality, affordability, faculty, graduation rate, and alumni success, among other factors.
To see the full listing, please visit the Money website.
Back to BC News