Davis and show creator Issa Rae are working together to create more opportunities for up-and-coming content creators.
/web/new_2017news/DenieseDavis94x84.jpg
Deniese Davis '10 Charts a Path from Brooklyn College to HBO as Co-Producer of Hit Series "Insecure"
Aug. 24, 2017
The fortuitous story of how Deniese Davis '10 ended up at Brooklyn College is one that provided her with a valuable life lesson—be flexible and open to change. Today, the 29-year-old is a co-producer of the hit HBO series Insecure, and is also working with the show's creator, Issa Rae, on a digital platform that funds up-and-coming web programming.
In high school, Davis had her heart set on attending a well-known private university, but wasn't accepted. When the Las Vegas native walked across the stage at her graduation, she had no idea where she'd land that fall. She was certain of just two things: She loved New York and she wanted to study film.
That summer, she traveled to Brooklyn to visit her aunt as a graduation present. While she was here, her mother asked her if she had checked out Brooklyn College.
"I took the train and walked around campus and remember being awestruck at the gorgeous brick buildings. I said, 'Mom, it looks great,'" Davis recalls.
She submitted an application and by the time she got back home to Las Vegas, she had an admissions letter waiting on her bed. "It was the first time in my life that it really hit home for me that things may not always work out the way I thought they would but they will work out—and often for the better," says Davis, who ran on the cross country team for two seasons.
That lesson ended up serving her well when two weeks before she was set to finish graduate studies at the American Film Institute in Los Angeles, she got an e-mail from Jo-Issa Rae Diop, better known as Issa Rae, the star and creator of Insecure.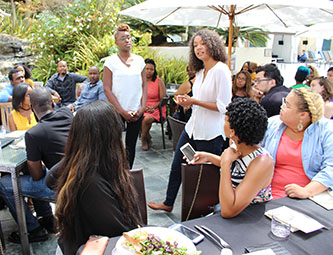 It was the year that YouTube launched its Original Channel Initiative, which offered up $100 million in seed money to bring original programming to the increasingly popular web application. Rae, who had been making gaining popularity in indie circles with her web series, The Mis-Adventures of Awkward Black Girl, had just received some of that funding and was looking for a producer.
At that point, few web series had really taken off in a big way and working on one was sometimes seen as a precarious career move. Davis dreamed of becoming a big-time film producer for a major Hollywood studio. "I wanted to work on the Little Miss Sunshine's of the world," she says now, laughing.
But Davis fell in love with Rae's show and was in turn offered the job as a producer for the web series' second season. She clicked so well with Rae that she eventually became her producing partner.
"We would meet up and talk about what we wanted to do in the future but she had no money and neither did I," says Davis of her early years working with Rae. "I had to go and find my own lane in the meantime."
Davis did freelance work on a variety of projects from music videos to other digital series and pilot presentations. She realized she had an affinity for low-budget indie projects because of their authenticity, grit, and quirky characters.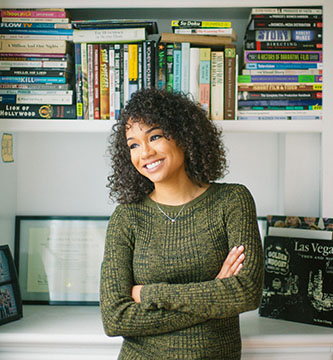 But when Awkward Black Girl got picked up by HBO, Rae made sure there was a place for Davis, who became the assistant to the director and the line producer of the new show, now called Insecure. For the second season of Insecure, which is currently airing Sunday nights, Davis was promoted to co-producer.
"We used to always talk about making it to HBO. It's kind of surreal that it actually happened," she says. "I actually have a salaried position."
But that hasn't stopped her hustle. Three years ago, Davis and Rae teamed up to launch their own production company, Color Creative, a digital platform the pair uses to find and fund web shows. "It's our way to support up-and-coming filmmakers of color, women, and other people who don't have the doors open for them," she says.
And she's still keeping options open for herself.
"I know in this industry, you're hot one day and cold the next," she says. "But I feel equipped now that if things change tomorrow I can pivot. I would never in a million years have thought that this would have been my path. But it all worked out."
Back to BC News