Through his "Voices of Haiti" program, the conductor and classical baritone is spearheading opportunities at the college for international engagement.
/web/new_2017news/malcolm_94x84.jpg
Conservatory of Music Professor Malcolm Merriweather Sees Choral Training as a Step Toward Preparing Global Citizens
Sept. 8, 2017
When Malcolm Merriweather entered the Pope Paul VI Hall at the Vatican this past August with 60 young choir members from Haiti, he expected it to be hushed, reverent. "It was like a rock concert," he says. "Everyone was shouting and waving flags from their countries and chanting the pope's name in their own languages. It was moving to see." The choristers, ranging in ages from 9 to 15, sang back up as renowned tenor Andrea Bocelli performed for Pope Francis I.
Merriweather, who began teaching at Brooklyn College in 2015, joined the faculty full-time this fall as an assistant professor, and director of choruses and coordinator of voice studies in the Conservatory of Music. He is also the creative director of "Voices of Haiti,"  a program that offers promising students from the capital city of Port-au-Prince training in choral singing. He conceived of the project after being approached by the president of the Andrea Bocelli Foundation to create program that would align with a foundation initiative aimed at exposing children from underserved communities to cultures outside of their own. Having worked with Bocelli training adult choirs to sing with the tenor, Merriweather was tapped as the best man for the job.
"The curriculum has singing at its foundation, but there is much more," says Merriweather of the program, which is housed in a Port-au-Prince school. "Before we went to Italy, we brought Voices of Haiti to New York. Last September, they performed at Alice Tully Hall at Lincoln Center and for Tony Bennett's 90th birthday concert at Radio City Music Hall, which included stars like Stevie Wonder and Lady Gaga." The choir also sang at the Childhood Foundation Conference at the United Nations. For the young Haitians, the visit to New York City was the first time they had traveled outside their homeland. "The program is about learning discipline, camaraderie, and self-expression." It can also be a stepping stone to future success for the students.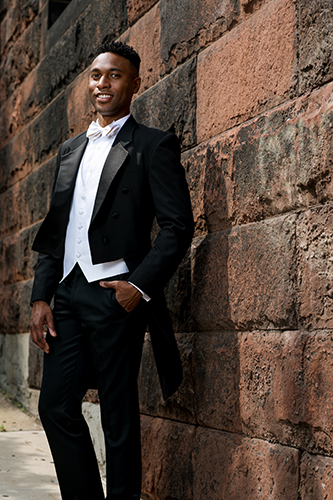 Perhaps not a small part of Merriweather's motivation in creating the program has come from the support and opportunities he himself received as a youth. The oldest of three children, he grew up in the suburbs of Grand Island, situated in the Niagara River, just outside of Buffalo, New York. He first sang in the high school choir, then in the Men and Boys choir at St. Paul's Cathedral in Buffalo. His parents ferried him to rehearsals three times a week. "My family was not musical themselves, but very supportive" he says. Merriweather went on to earn a bachelor of music in music education from Syracuse University and a master's degree in choral conducting, and voice performance and literature at Eastman School of Music. He holds a doctor of musical arts in conducting from the Manhattan School of Music.
Since coming to Brooklyn College, Merriweather has been teaching and conducting. He is artistic director for the Conservatory Singers, comprised of 16 members performing works from the Renaissance through the present; the glee club, a group of 30 students "singing everything from Bach to Beatles;" and a 60-member Symphonic Choir made up of students, faculty, and staff. "We perform the great choral orchestra masterworks like Handel's Messiah," says Merriweather.
Next semester, he will be teaching a course called Voice Production, which focuses on group vocal techniques and conducting gesture. When not conducting or instructing, he also observes the conservatory's music education students in their student teaching placements. The baritone also finds himself on the other side of the conductor's baton performing solo engagements.
His enthusiasm for being a part of a campus that prepares engaged, global citizens is clear, as is his love of mentoring, both in Haiti and at Brooklyn College.
"I'm training two Haitian conductors—Wenson Delice and Johanne Francois," says Merriweather. "They rehearse the Voices of Haiti choir when I cannot be in Port-au-Prince during the regular school year. I brought them to Brooklyn College this past May and they performed with the Conservatory Singers at the Cornel West Concerto, conducted by Professor Arturo O'Farrill, director of jazz ensembles and jazz studies at the conservatory. "Wenson and Johanne shadowed me the entire time they were on campus. They love being here and want very much to come back."
For a schedule of conservatory performances, visit the Brooklyn College events calendar and click on "Performances."
Click here for more on Merriweather's future events and performances, including his role as baritone soloist for the world premiere of Paul Moravec's Sanctuary Road, an oratorio about the Underground Railroad.
Back to BC News