As PRLS nears its 50th anniversary, the department's innovative, interdisciplinary approach illuminates the issues facing Latinx communities and helps students develop solutions.
/web/new_2017news/171006_AlanAja_94x84.jpg
Puerto Rican and Latino Studies Cultivates Leaders for a Changing World
Oct. 6, 2017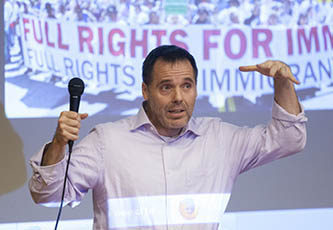 Six days after Hurricane Maria ravaged Puerto Rico, Julio Peña '08 and his family had still not heard from his 86-year-old grandmother, and they were frantic.
"Puerto Ricans were unable to make phone calls. They had no running water. They had no electricity. People living in the remote areas were essentially cut off from receiving any sort of assistance," says Peña, a native Brooklynite of Puerto Rican descent. "Puerto Rico didn't get its due help. People tend to forget that nearly three and a half million U.S. citizens live on that island. My grandmother was able to board a flight to come to New York. Thank God she's here, but there are so many others who have no means."
A desire to help the community drives Peña, who came to Brooklyn College with the intention of becoming a history teacher. His plan was to major in American studies, however, after less than a week of attending an elective course he took in Puerto Rican and Latino Studies (PRLS), Peña changed his mind.
"It was my journey of discovering my personal history through these courses, coupled with the interdisciplinary approach of the department, which utilized history, sociology, anthropology, psychology, and literature to give me a full understanding of the subject matter. PRLS was where I would receive the most well rounded academic experience. Getting a degree in this field really helped solidify my feelings about working in the nonprofit sector."
Peña is now the director of the Young Adult Borough Center at Franklin D. Roosevelt High School in Brooklyn, a non-profit program that works with the New York City Department of Education to increase high school graduation rates by providing underserved students between the ages of 17.5 and 21, who have not yet graduated from high school, with the tools and resources necessary to finish their education. Additionally, Peña is politically active in his Sunset Park neighborhood as a member of Brooklyn Community Board 7, where he chairs several subcommittees. He is also a member of the board of a non-profit called Neighbors Helping Neighbors, which does advocacy work on behalf of tenants and tenant rights.
"PRLS is vitally important in education because we teach students critical thinking skills, the ability to contextually analyze any issue," says PRLS Department Chair Maria Pérez y González. "The U.S. has a long and intimate history with Latin America but that is not taught in our K-12 education system. PRLS is particularly essential in the academy because we focus on Latinxs in relation to other groups and help students understand how and why they are the largest "ethnic" (and multi-racial) group in the U.S." "Latinx" is the gender-inclusive, gender-neutral variation of "Latino/Latina."
"What I got from PRLS was the application of theories through real-world opportunities, and experience from professionals to practice what I was learning," said UniQue C. Starks '16, who majored in psychology with a concentration in Africana studies and Puerto Rican and Latino studies. She is currently pursuing a master's degree at New York University's Silver School of Social Work. "Professor Alan A. Aja wasn't a textbook pusher. He encouraged us to explore our identities and engage with the world outside of our bodies to understand the systems at play and the way we are impacted by marginalization. He encouraged us to question, and challenge everything while also working actively to find answers to these questions."
Starks was so inspired by her coursework with Aja that she, at his recommendation, made a trip to Havana, Cuba, to immerse herself in the culture and get a better sense of alternative political structures. She has since co-founded, and is the executive president of, the Black Woman's Social Work Coalition, to raise awareness about the educational, social, and humanitarian obstacles faced by black and brown women, and offer solutions.
"PRLS is where we can engage this active, diligent, increasingly diverse generation to become the thought leaders that help steer the country in a direction that is just and fair," says Alan Aja, associate professor of PRLS. "Our courses help our students understand that they are part of a larger global community. My feeling is that this generation is primed to tackle the perpetual and persistent inequalities that will come with, for example, the impact catastrophic climate change in terms migration and displacement. And part of being able to do that is the necessity of not only understanding one's roots, but also understanding how one's roots are intertwined with others. In PRLS, we're in the business of creating change agents."
Aja's most recent book, Miami's Forgotten Cubans: Race, Racialization, and the Miami Afro-Cuban Experience, examines the experiences of post-1958 Afro-Cubans in South Florida in relation to their similarly situated "white" Cuban compatriots. "In Miami, Cuban communities have reproduced hierarchies of white supremacy that existed in Cuba pre-Castro, during the Cuban Revolution, and still exist post-revolution," says Aja, adding that one of the devastating effects of an institutionalized anti-Latinx sentiment, reflected in the proposed gutting of the Deferred Action for Childhood Arrivals (DACA) policy or the administration's slow response to Puerto Ricans devastated by Hurricane Maria, is the internalization of these sentiments by Latinx peoples as well.
"The faculty had very high expectations," says Vanessa Santiago '06, a Brooklyn-born Puerto Rican (or Nuyorican) and the first person in her family to attend college and earn a master's degree. When she came to Brooklyn College as a full-time student working two jobs. She intended to major in film, but was unable to continue because the hours of the courses conflicted with her work schedule. She had, however, taken enough classes in Puerto Rican and Latino studies, which was, at the time, her minor, to transition from a film major to a PRLS major.
"I did my last PRLS class with Professor Pérez y González, a community development seminar, a four-credit course. I loved that course because it taught us, in a step-by-step way, how to build up your communities to reach newer heights. And I remember that because it is the basis of how I train and how I teach, and how I lead my people—whether my own children, my students, my employees, the faculty and administrators I work with, even the parents in my program."
Santiago says that her experiences solidified her political consciousness such that she is now the CEO of her own non-profit organization, VSL (Voice, Strength, Leadership) Education Consulting, Inc., which trains New York City students, staff, and administration in schools and other institutions to provide a top-notch and culturally competent academic and social experience for youth. Santiago also served as National President of the Omega Phi Beta Sorority, Inc., which is "committed to the development of collegiate and professional women through sisterhood, diversity, leadership, service and academic excellence." She says that the foundations for her passions and methodologies were laid in the college's PRLS department.
"I remember Professor Pérez y González said, 'You have to connect. And it must first be a personal connection first before it can be a successful educational one,'" says Santiago.
"We offer an interdisciplinary perspective that will enable students to apply knowledge to a real-world setting and will carry over into any profession they choose," says Associate Professor of PRLS Vanessa Pérez-Rosario. "We also provide expertise in bilingual education, Latina/Latino/Latinx literature, and Latina feminisms."
In 2020, the PRLS will celebrate its 50th anniversary. Corresponding programming for "Possible Dream Encuentro: Latin@ Arts, Communities, and Leadership" is currently being developed. Additionally, in 2018, the Association for Puerto Rican Education and Empowerment (APREE), which consists of mostly Brooklyn College PRLS alumni who helped found PRLS, are planning to celebrate the 50th anniversary of the Puerto Rican Alliance (PRA) student organization.
The department continues to work on ways to expand its teaching staff, broaden its curriculum, and offer students the highest quality academic experience, including access to mentors, scholarships, and internships.
The Department of Puerto Rican and Latino Studies can ensure students like Vanessa Santiago, Julio Peña, and UniQue C. Starks go on to become successful alumni thanks in part to the generous support received from other alumni and donors via the Brooklyn College Foundation. To make a charitable donation to the Department of Puerto Rican and Latino Studies, please visit the Foundation's website.
Back to BC News