One of the last living witnesses to the crimes of Nazi Germany, Kaplan recounts his experiences at Dachau for the college-wide oral history project.
http://www.brooklyn.cuny.edu/web/new_2017news/JefimovaKaplan_94x84.jpg
Brooklyn Listening Project Highlights WWII Veteran Seymour Kaplan '76
Oct. 30, 2017
Seymour Kaplan '76 used to get flashbacks: Glimpses of the camp, small explosions, little old ladies crying. He would start screaming Hebrew prayers.
"It's hard to explain to people," the 93-year-old World War II veteran says from the living room of the Sheepshead Bay home he has lived in since 1958. "It makes me cry just talking about it."
The visions that haunted him were of Dachau, the first of the Nazi concentration camps in Germany and the one where Kaplan—then a 19-year-old machine gunner with the 692 Tank Destroyer Battalion attached to the 42nd Infantry Division in Europe—was sent as a Yiddish translator.
Discouraged by his family, he didn't talk about his experiences there for 50 years. Last semester, he spoke with junior and Macaulay Honors student Elizabeth Jefimova for an assignment for her history class. Her work was part of the Brooklyn College Listening Project, a college-wide, interdisciplinary oral history project that aims to create publicly accessible audio archives of the every day lives of Brooklyn residents.
"The Listening Project takes it as our goal to hear the unheard, to share the unshared, and in so doing, preserve and respect the experiences and memories of our Brooklyn community," explains Philip Napoli, an associate professor in the Department of History and Jefimova's teacher for the course. "Elizabeth's work is an excellent example of how we do this as teachers, as students, and as citizens.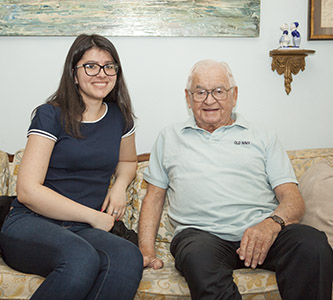 Jefimova wants to be a military doctor and says that the class and her experiences speaking with Kaplan helped solidify her career plans. "He was so easy to talk to," she says. "I felt like I got to know him. And I was inspired by his service."
She and Kaplan spoke for more than three hours. Jefimova brought the bagels and lox and Kaplan shared stories and memorabilia that blew her mind: A Nazi soldier's knife and the teacup that Kaplan took from Adolf Hitler's personal residence, among other things.
Kaplan recounts sharing the artifacts with his mother. "Look what I brought you," he remembers telling her. "This is from Hitler's table." His mother wasn't pleased. "She said 'Take it out of the house.'" The video Jefimova produced for the class included this and other stories, as well as pictures from her visit.
Kaplan had tucked away his memories, along with the memorabilia, and went on to get married, have three kids, and work in the garment industry and as a teacher in the New York City Public Schools. He only started remembering and speaking about his experiences after a 50th-year reunion with his battalion.
"Mr. Kaplan's oral history contained the tough stuff of war. Its violence, its brutality, and its pain. He is among the last living witnesses to the crimes of the Nazi regime, and remains open to testifying about his experiences and acting as a teacher to our students in a way I find truly heroic," says Napoli, who has assembled many oral histories of veterans. "Elizabeth opened herself to hearing those truths and to learning about the long term impact of military service."
Back to BC News