Acting District Attorney Eric Gonzalez organized this series of workshops hosted by the college, designed to raise awareness, support survivors, and share solutions.
/web/new_2017news/Symposium_94x84_171106.jpg
Brooklyn District Attorney Organizes Campus Sexual Assault Prevention Symposium at Brooklyn College
Nov. 6, 2017
In the wake of the headlines detailing survivor accounts of rape, sexual assault, and sexual harassment, Brooklyn College hosted "A Symposium on Campus Sexual Assault," organized by Acting Brooklyn District Attorney Eric Gonzalez and his office. Over 100 students, educators, government staffers, and law enforcement officials attended the daylong event, which included breakout workshops, held on Friday, October 27 in the Brooklyn College Student Center.
"Brooklyn College is a leading voice in the fight against sexual assault on campuses," said District Attorney Gonzalez, the first Latinx to serve the borough in this capacity. "And one of the things we have to ensure is that when we get our students into college, they are treated fairly and given opportunities to be successful. The traumas caused by sexual assault can take students off their successful track. So, I'm committed to this work and to making sure that we provide the resources and the information to ensure that anyone who steps foot on a college campus is not deprived of their education because of sexual harassment or sexual assault."
"There's really no better time to have a conversation about these topics than now," said Brooklyn College President Michelle J. Anderson. Anderson, a lawyer and leading scholar on rape law who has been a vocal critic of attempts to roll back advances and protections in these areas, announced the convening of a new task force, a coalition of Brooklyn College faculty and students working together to address these matters on campus. "As you know, the statistics are deeply troubling. The National Sexual Violence Resource Center reports that one in five females and one in 16 males are sexually assaulted while in college. More than 90 percent of these victims do not report to the police; most of them do not report their victimization to any authority figure. And there's tremendous silence around this issue because, too often, the victims are blamed."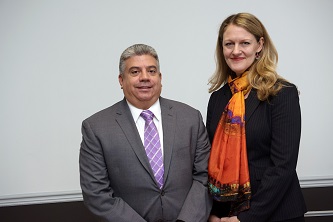 The symposium's keynote speaker Bea Hanson—former principal deputy director of the United States Department of Justice Office on Violence Against Women (OVW) and current executive director of the NYC Domestic Violence Task Force—discussed the ways in which policy continues to affect outcomes, and how education is key to intervention, prevention, and supporting survivors.
"One of the areas that we can look forward to and continue to work on—and I'm glad that Brooklyn College is really talking about this, too—is prevention and how we can really, really support victims, regardless of what happens to the offender," Hanson said. "Some of the groundbreaking work we were able to do in the Obama administration to address a whole number of issues cannot be easily changed. One of the more prominent aspects of the work we accomplished is broadening how rape is defined and how the FBI counts incidences of the crime."
The previous definition of rape did not account for victims who were unconscious, incapacitated, under the influence of drugs or alcohol, or those otherwise coerced into non-consensual sexual situations; nor did it consider or count male victims.
"Brooklyn has very strong leadership in this arena through Michelle Kaminsky's Domestic Violence Bureau and the Brooklyn Family Justice Center—making sure we're addressing people that are most marginalized because of their sexual orientation, gender identity, immigration status, race, ethnicity, or disability status. So, I'm hopeful and excited that the city is taking the lead in this ongoing commitment to doing as much as we can to reduce sexual violence."
Brooklyn College takes a strong stance against sexual assault and sexual harassment. To learn more about these issues, to report incidences, or to find support resources, please visit the college's Sexual Harassment, Assault, and Rape site.
Back to BC News