Activist, attorney, and author Andrea J. Ritchie led a talk about the daunting challenges faced in the quest to center women of color, and queer and transgender people as victims in discussions of state violence.
/web/new_2017news/Andrea_Ritchie_94x84.jpg
Co-creator of #SAYHERNAME Spotlights Police Violence Against Black Women and LGBTQ People at Brooklyn College Event
Nov. 8, 2017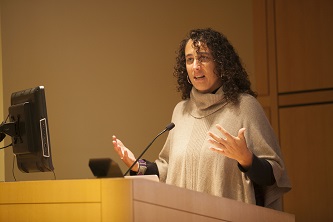 Shantel Davis. Aiyana Stanley-Jones. Renee Davis. Sandra Bland. Tanisha Anderson. Rekia Boyd. Korryn Gaines. Charleena Chavon Lyles. Mya Hall. Kiwi Herring. Duanna Johnson. These are just a few of the names of women and girls who have been the victims of police violence. The names may sound unfamiliar, but that is something that activist, attorney, and author Andrea J. Ritchie is hoping to change with her new book, Invisible No More: Police Violence Against Black Women and Women of Color (Beacon Press 2017).
Ritchie captivated a standing-room-only audience in the Brooklyn College Library's Woody Tanger Auditorium on Nov. 1, speaking at an event organized in her honor by poet and Associate Professor of English Rosamond S. King and the Brooklyn College Women's Center. Co-sponsors included the Ethyle R. Wolfe Institute for the Humanities, the Women's and Gender Studies Program, the LGBTQ Resource Center, the Division of Student Affairs, the Department of Puerto Rican and Latino Studies, the School of Humanities and Social Sciences, and the Office of Diversity and Equity Programs, among others.

Ritchie might be best known for her role as lead counsel in Tikkun v. City of New York, described as "groundbreaking impact litigation challenging unlawful searches of transgender people in police custody, contributing to sweeping changes to the NYPD's policies for interactions with LGBTQ New Yorkers."
"There's an intractable narrative in this country that state violence is only committed against cisgender, heterosexual, black men," says Ritchie, co-founder, with Kimberlé Williams Crenshaw, of the #SAYHERNAME hashtag and phrase. "That 'private' violence is what happens to white women, and, as Barbara Smith says, 'and some of us are brave,'" referencing the classic black feminist work, But Some of Us Are Brave: All the Women Are White, All the Blacks Are Men: Black Women's Studies, which outlines how black women and their experiences are often omitted from larger feminist and racial justice narratives. "If we confront the kinds of violence that police officers visit on black female/queer/transgender bodies, then black communities would have to confront the violence that black communities perpetrate against black female/queer/trans bodies. And that's something that people don't want to do."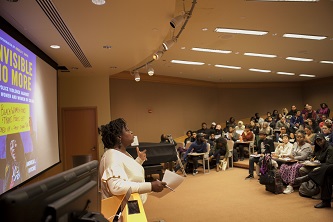 To drive home her point, Ritchie brought up the case of Duanna Johnson, a black transgender woman who was brutalized by police in Memphis, Tennessee. The vicious attack was caught on video, but failed to ignite the level of community outrage and response as cases where the victim was a black cisgender (or non-transgender) heterosexual male.
"The local NAACP said, essentially, as an explanation for their inaction, 'We don't condone what happened to her, but we don't condone her lifestyle either," Ritchie said.
"We have a lot of activists on campus—and people who want to be activists," said King. "And I wanted to bring Andrea J. Ritchie to Brooklyn College because she's someone who has the scholarly chops and is well-published, but who also has been in the streets, organized with different communities, and who knows how to bridge those divides."
Rapt audience members were eager to discuss strategies to combat both the violence and the erasure, after Ritichie's talk, and asked her what she thought might be some solutions.
"The way to fight despair is to take action," Ritchie responded. "Take a piece [of justice-oriented action], any piece, in your immediate community. Talk to one person.  Try to figure out just one way that you can effect change. Write one letter to an editor of a magazine. Write one article for your student newspaper. Go to one meeting. Go to one rally. Look at other examples of resistance. You can unravel the giant web if you pull on the right threads."
Andrea Ritchie is a Black lesbian immigrant, police misconduct attorney, and organizer who has engaged in extensive research, writing, and advocacy around criminalization of women and lesbian, gay, bisexual and transgender (LGBT) people of color over the past two decades. She recently published Invisible No More: Police Violence Against Black Women and Women of Color (Beacon Press 2017).
Back to BC News