Feirstein's female students get a chance to work on city-funded television pilots.
/web/new_2018news/180126_RoseHaag_94x84.jpeg
When Opportunity Knocks
Jan. 26, 2018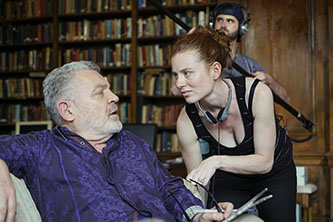 Some female students at the Barry R. Feirstein Graduate School of Cinema got an opportunity to work on the production teams of two pilots that were created from winning screenplays in a citywide competition that called for stories by, for, or about women in New York City. The contest, called #GreenLightHer, and sponsored by the New York City Mayor's Office of Media and Entertainment, is meant to encourage greater inclusion of women in the entertainment industry.
"For me, what was special about this pilot program, and also about attending Feirstein, was getting to meet all these amazing women with so much leadership experience in the film industry," says Rose Haag, a student in the directing program at Feirstein who got the opportunity to direct one of the pilots, titled Maturity.
Amanda Reyes, another directing student, was selected to direct the other pilot, Half Life. Both pilots can be viewed at the Mayor's Office web site.
After a call for screenplays last year, two scripts were selected from a pool of more than 300 submissions. They were produced last summer by diverse, women-led crews of students from Feirstein. Last week, each pilot was posted online and aired on NYC Life, the city's official broadcast network. Viewers were invited to vote on their favorite—the voting ends Jan. 28—and the winner will be turned into a series with four more episodes.
"The pressure was certainly on, but it was great to be able to navigate that pressure with the other students," says Haag, whose other directing credits include dramatic and comedic short films. "I think about some experiences I've had being one of the only women on a set. The crew becomes a boy's club, and the resulting film is in danger of reflecting that limited perspective."
Jonathan Wacks, the founding director at Feirstein and chair of the graduate film department, called the opportunity a distinct honor. "This is an extraordinary opportunity to advance the careers of our women students in an industry that is sadly lacking in diversity."
Back to BC News