Academic partners to work with NYC's Department of Environmental Protection and the Mayor's Office of Recovery and Resiliency to assess existing stormwater hazards and climate change for long-term stormwater infrastructure planning.
/web/new_2018news/Cherrier_94x84(1).jpg
Brooklyn College-Led, Interdisciplinary Research Team Selected 
to Study Stormwater Flood Risks in New York City
Sep. 4, 2018
Academic Partners to Work with NYC's Department of Environmental Protection and the Mayor's Office of Recovery and Resiliency to Assess Existing Stormwater Hazards and Climate Change for Long-Term Stormwater Infrastructure Planning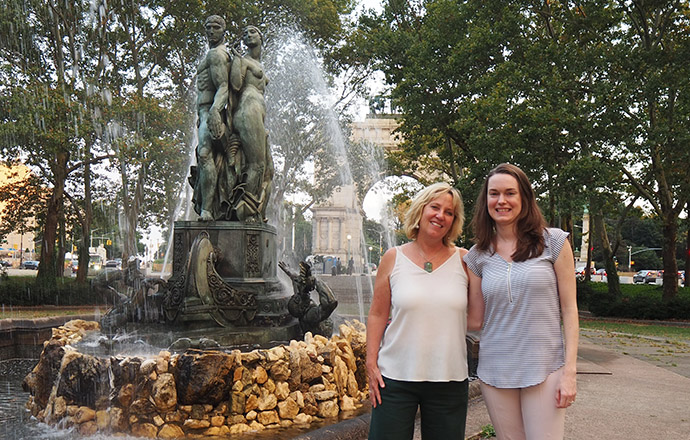 A team of interdisciplinary researchers, led by Brooklyn College, was selected to carry out a $1.8M study of urban and compound flood risks associated with current and future extreme rain events in New York City.
The team includes scientists from five academic institutions (B. Smith and J. Cherrier, Brooklyn College, CUNY; B. Colle, SUNY-Stony Brook; T. McPhearson, The New School; M. Arabi, Colorado State University; and P. Orton, Stevens Institute of Technology) and from the private sector (F. Saleh, Jupiter Intelligence, Inc.). Together, this team will work collaboratively to create a scientific foundation to support New York City in allocating resources to improve stormwater resilience by examining data from New York City's complex network of 'grey' and 'green' stormwater infrastructure to create models to assess at-risk areas for urban flooding. The group will also identify areas where the city may prioritize interventions to offset these impacts.
Urban and compound flooding poses safety risks and can cause extensive property damage. In coastal New York City, these risks are compounded by the occurrence of storm surge events like those caused by Superstorm Sandy. With the increased frequency of extreme precipitation events, and with sea level rise, coastal flooding, and land use change, the complex network of stormwater conveyance systems in the city can be overwhelmed, leading to flooding. Several initiatives in the city aim to improve service reliability and resiliency of stormwater systems by planning and implementing effective and viable strategies across the city. Integrated water management seeks simultaneously to address these stormwater, flooding, water quality, and local concerns. 
The overall goal of this study is to develop unique modeling and risk assessment tools to advance the City's ability to assess present and future risk from urban flooding to stormwater systems, the built environment, and communities, and use these data to identify the most vulnerable parts of NYC, as well as identify interventions to offset these risks. 
Specifically, the team will:
create a combined hydrologic + hydraulic model to identify priority at-risk areas;
test the model under multiple rainfall and storm event flooding scenarios;
identify citywide interventions for off-setting flood-related risks; and
assess feasibility of interventions in vulnerable neighborhoods in each of the five NYC boroughs.
Brianne Smith and Jennifer Cherrier, professors in the Department of Earth and Environmental Sciences at Brooklyn College, are leading this effort. The Department of Earth and Environmental Sciences at Brooklyn College provides a comprehensive undergraduate and graduate curriculum that explores earth's dynamic processes and gives students the knowledge and understanding of the relationship between humans and the environment. 
This project was awarded through the Master Academic Consortium Contract, managed by Town+Gown, a citywide university-community partnership program of the Department of Design and Construction, which brings academics and practitioners together to create knowledge in the built environment.
Back to BC News