The computer and information science alumna says her education exceptionally prepared her for her current position at the tech giant.
/web/new_2019news/Elena_Felder_2018_118_94x84.jpg
Elena Felder's Google Search Yields Terrific Results
Jan. 11, 2019
The computer and information science alumna says her education exceptionally prepared her for her current position at the tech giant.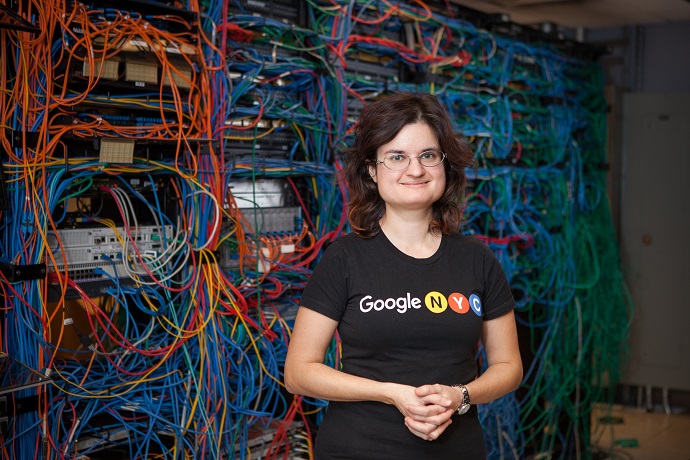 Elena Felder '04 had a problem: She was good at math, but barely spoke English, and the City University of New York (CUNY) admissions test was looming.
So she resolved to write the essay portion of the exam in the simplest sentences possible to mask her lack of fluency. She also memorized SAT words starting with letters A to J (all she had time for on her work lunch breaks). Little did she know that this first step would set her on a path that would eventually score her a position at one of the largest and most well-known companies in the world: Google.
After completing engineering work for two tech start-up companies (one of which was founded by Brooklyn College Professors Gerald Weiss '78 and David M. Arnow) and the Federal Reserve (which offered her a position two weeks before she graduated from the college), she was recruited by Google. Her interview required her to demonstrate her knowledge by solving coding problems on a whiteboard. She performed well and was hired by the company as a software engineer.
"The level of openness and transparency, and lack of bureaucracy at Google is astounding," Felder says, which is emblematic of the company's mission statement "to organize the world's information and make it universally accessible and useful" as well as its unofficial slogan: "Don't be evil."
Felder emigrated from Novosibirsk, Russia, and came to Brooklyn with her mother, grandmother, and "six suitcases" when she was 17 years old. "I get the maximum 'wow effect' when I tell people that I'm from Siberia," she says. "However, I lived in what was a fairly reasonable climate. I am from southwestern Siberia, where winters are everything you imagine—40 below zero (before global warming took effect). But the summers are a much more even, predictable, less humid version of New York summers."
She did not speak any English, but learned some after securing a seasonal, then permanent, position in retail. Because of the fast-paced environment there and consistent exposure, she picked up the basics fairly quickly. Eventually, she took the Test of English as a Foreign Language (TOEFL), passed, and enrolled at Brooklyn College, where a cousin of hers was an alumnus. She knew immediately that she wanted to study computer science.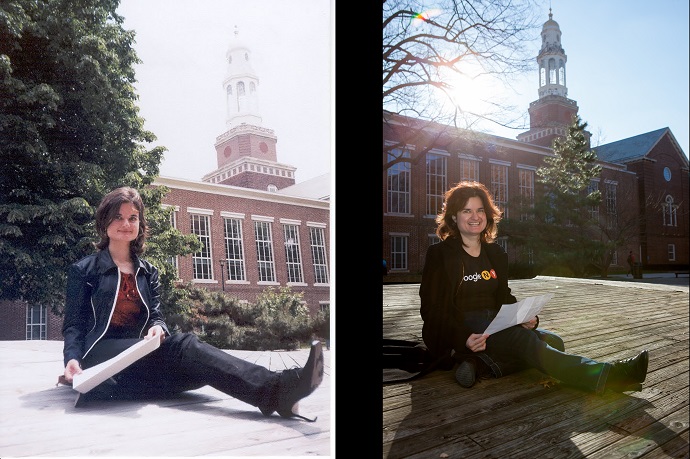 An uncanny knack for science, technology, engineering, and math (STEM) runs in Felder's family; her parents are computer programmers and her grandparents are engineers. She says her mother, in particular, "is spectacular at math." Her family tried to steer her toward economics because in her homeland, becoming an economist was the more prestigious choice of occupation. While she recognized it as an "elegant field of study," she insisted upon computer and information science as her major and she excelled.
She also worked part-time at the college as an assistant to the Associate Director of Institutional Research and Data Analysis Annie Lee, who Felder says is "nurturing generations of students to go out and change the world." Felder earned a bachelor of science and graduated summa cum laude.
Her success is remarkable, but she says she had tremendous support from family and faculty along the way.
"It mattered a ton to me that Professor Paula Whitlock was an accomplished woman who was studying things beyond my comprehension. I just looked at the Monte Carlo methods research [a kind of computer algorithm that uses numerical randomness to solve particular problems] on her website and I thought, 'That sounds amazingly impressive!' So I took every class she taught and I only realized years later how much she influenced me. Yes, the classes were full of men, but look who was teaching."
Felder returned to campus recently to participate in the Magner Career Center's information panel, where she offered current students a rare peek into her life and work.
"Alumni coming back to share their advice gives students valuable insight that they likely can't get on their own," says Magner Career Center Director Natalia Guarin-Klein. "It also boosts their confidence when they see someone from their college achieve success. I always say that the center's work is impossible without alumni. In the past six months, over 100 were engaged in our events and over 90 people, mostly alumni, donated to our cause. Alumni help us make students career aspirations a reality."
For Felder, coming back is a function of giving back.
"I've worked alongside people who have hundreds of thousands of dollars in student loans. We have been doing the same work at the same organizations. The only difference is that I did not end up with debt like they did," she says. "There are great students and faculty at Brooklyn College. The education I received is as good, if not better than the education people received elsewhere. I learned so much. I was exposed to so much. How could I not pass those privileges on?"
Back to BC News