The Department of Television and Radio senior, radio DJ, and lifelong listener discusses his work at iHeartRadio, his 'second home' at Brooklyn College Radio, and his grand idea for a podcast.
/web/new_2019news/Kevin_James_94x84.jpg
Kevin James 'Hearts' Radio
Feb. 13, 2019
The Department of Television and Radio senior, radio DJ, and lifelong listener discusses his work at iHeartRadio, his 'second home' at Brooklyn College Radio, and his grand idea for a podcast.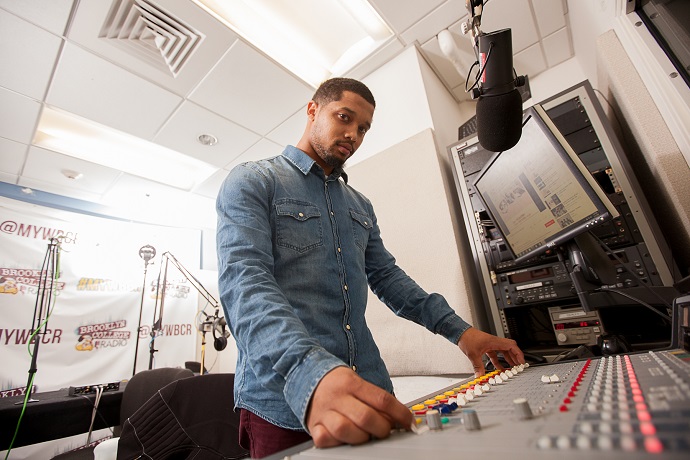 Department of Television and Radio senior and Brooklyn College Radio (WBCR) DJ Kevin James says that his position at iHeartRadio (iHeart) is a blessing. He had received two calls for interviews: one from Sirius XM and the other from iHeart.
"Sirius XM offered me a sports-show internship, but it conflicted with my school schedule," James recalls. "iHeart offered me a job. So not only would I get the experience I needed to succeed in the industry, but I would also be paid for my work."
iHeartRadio is a syndication company that broadcasts over 850 free local radio stations across the United States. With thousands of podcasts, it is currently the only radio service that allows listeners to save and replay songs from live broadcast radio to their digital playlists. At iHeart, James is a promotional marketing assistant responsible for putting together exclusive company-related events such as award shows and concerts, and overseeing the distribution of giveaways and listener prizes, ensuring that iHeart and its advertising partners are appropriately branded and spotlighted.
His position at iHeart has given James the opportunity to work with some noted celebrity New York-based DJs, including DJ Envy, DJ Clue, and Angela Yee. He tries not to let this sort of exposure go to his head.
"I treat it like it's just a regular part of the job," he says.
James is also a staff member at the Brooklyn College radio station WBCR. There he hosted a relationship advice show that took a look at the gender divide from both perspectives, in addition to an athletics-focused show called The Sports Zone. James is also a producer and editor at the station.
He came to WBCR in fall of 2016 at the recommendation of a classmate, Joseph De La Cruz '17, who is now associate producer at NBC's Morning Joe. Cruz introduced him to Nadine Rodriguez '17, who was the president and general manager of WBCR at the time and who is now a video production manager at Def Jam Recordings. James interned at the station and was taken in by the experience.
"I knew this was where I had to 'live' and went about learning everything there was to learn about running a radio station."
"Kevin is the kind of student who makes Brooklyn College Radio possible," says Miguel Macías '04 M.F.A., deputy chair for graduate studies and director of radio in the Department of Television and Radio. "WBCR doesn't have any full-time staff members. So the station relies on the incredible commitment of students like Kevin to operate it semester after semester. He supports other students, produces shows, and helps create an environment where every WBCR member feels at home."
Born in the Flatbush neighborhood of Brooklyn, James spent his early years with his grandmother in Jamaica, where both of his parents were born and raised, before returning to the United States. He alluded to some obstacles in his upbringing, conveying that many of the kids from particular kinds of urban environments are forced to grow up faster than kids who have greater access to both academic and recreational activities. Lacking these options, he moved to Montclair, New Jersey, where his grandmother (who had, by this time, immigrated to the United States) purchased a home, and turned to what entertainment was accessible: public media.
"I always listened to the radio," says James. "Angie Martinez. Miss Jones. Ed Lover. Those New York City radio disc jockeys were some of the most consistent voices of my childhood. They had a profound effect on how I saw and thought about the world around me—and how I heard it."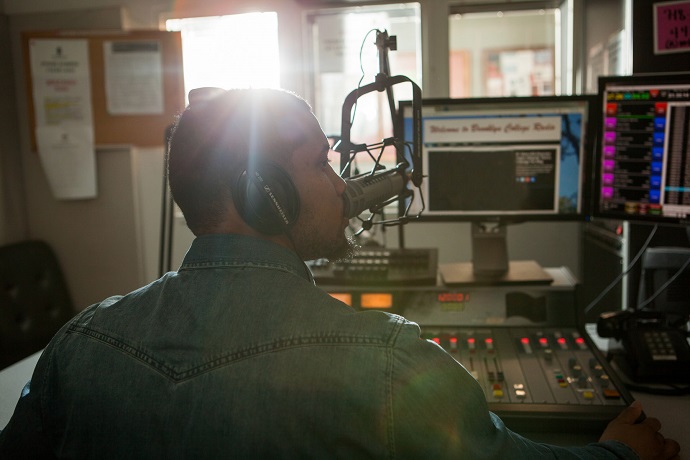 James was unsure about what he wanted to do after graduating from Montclair High School in New Jersey.
"I didn't want to go to college just to go or to 'find myself.' I wanted to go to college when I knew what it was I wanted to study, when I knew what my purpose was."
He spent some time in Orlando, Florida, with his father, then returned to New Jersey and decided to find a job. He worked part-time for a moving company with his maternal uncle and part-time as a parking attendant. He says the laborers at the moving company saw his potential and encouraged him to leave that position and pursue his education.
"I said, 'You know what? I'm either going to become a stand-up comic, or I'm going to be a radio personality.'"
He began teaching himself graphic design because he thought it would be one of the skills that would help him get his foot in the door at comedy clubs or radio stations, designing posters and flyers for their events. He decided then that a college degree would help him realize these aspirations even quicker.
He returned to his mother in Brooklyn and enrolled in multimedia programming at Borough of Manhattan Community College (BMCC). He participated in the work-study program and secured employment at Bloomingdale's to support himself through college as well as help his mother financially. It took him a bit longer than two years to graduate because the death of his grandmother during his second year caused him to place his education on hold until he could sufficiently recover from the loss.
"I stayed in my grandmother's house with no one else in it. Just me."
After getting back on track, James graduated from BMCC and was accepted to Brooklyn College in the spring of 2016. A member of the Black and Latino Male Initiative, he is the first person in his immediate family to attend college, the first to receive an associate's degree, and will be the first to earn a bachelor's degree. After graduation, James wants to focus on generational wealth building via his craft and creating what he calls "audio dramas."
Inspired by the War of the Worlds radio program that caused an American panic in 1938 when listeners believed the Earth was actually being invaded by hostile extraterrestrials, James wants to create what he calls "sonic movies."
"If you're traveling on the train or bus, or you're at home, and you don't want to watch TV or listen to music, for example, or listen to a regular podcast, or to an audiobook—I want to provide you with an alternate form of aural entertainment. Imagine watching a film, but with your eyes closed."
Brooklyn College is able to provide students like Kevin James with access to the kinds of experiential learning they need to expand their academic and career prospects thanks to the generosity of alumni and friends received through the Brooklyn College Foundation. To learn about the various ways to contribute to student success, please visit the foundation website.
Back to BC News