The Conservatory of Music professor is also curating a music program for the Philharmonic.
/web/new_2019news/190308_Tania_Leon_Conducting_photo_credit_Craig_Matthew_social_OG_94x84_(3).jpg
New York Philharmonic Commissions Distinguished Professor Tania León for 100th Anniversary Celebration of the Ratification of the 19th Amendment
Mar. 8, 2019
The Conservatory of Music professor is also curating a music program for the Philharmonic.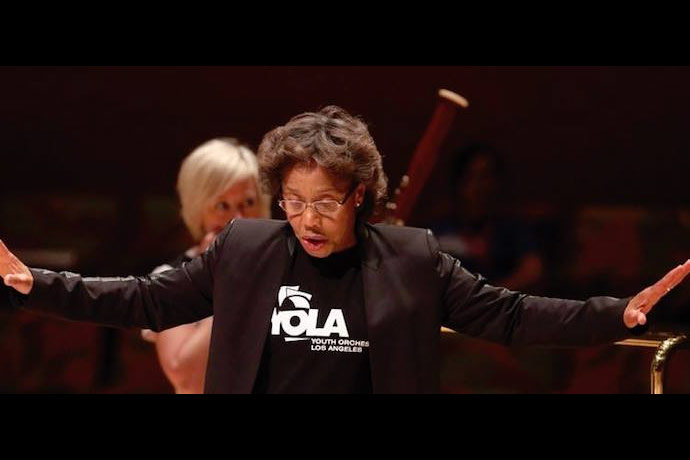 Conservatory of Music Distinguished Professor, Director of Music Composition, and award-winning composer Tania León has been commissioned by the New York Philharmonic for their multi-season initiative, Project 19, which will celebrate the 100th anniversary of the ratification of the 19th Amendment by commissioning new works by 19 women composers. The 19th Amendment to the U.S. Constitution granted women the right to vote.
"I've got a lot of research to do," says León. "I want to learn about the history of the 19th Amendment and find out more about the leaders who pushed the amendment forward."
León will not only be writing a new composition for the initiative, which will premier in February of next year, but she will also curate a work for the Philharmonic's Nightcap concert series that same month.
"I'm very pleased I can serve in this way," says León, who has taught at Brooklyn College since 1985. She formerly served as the Philharmonic's new music adviser in the 1990s. This marks the first time she has been commissioned by them to compose new work. She has been commissioned by many other philharmonics across the globe, including the Los Angeles Philharmonic, for which she recently created two new works, as well as Fest der Kontinente in Hamburg, Germany and Ensemble Modern in Frankfurt, Germany.
That the New York Philharmonic is featuring 19 women composers in the project is noteworthy. The Institute for Composer Diversity at the State University of New York at Fredonia surveyed 40 American orchestras for their 2019-2020 seasons and found that only 6.5 percent of the music performed was created by women.
"It goes without saying that women of the world have always had to wait to get a seat at the table," says León. "The only difference between a male composer and a female composer is that they live in different bodies."
León is highly regarded as a composer and conductor, and has been taking on a lot of speaking roles recently. She will be a featured speaker at the League of American Orchestra's 2019 conference later this year. Last month, she gave a keynote address at the University of Michigan's Martin Luther King Day celebration.
She is widely recognized for her accomplishments as an educator and advisor to arts organizations. Her widely anticipated opera "Little Rock Nine," with a libretto by Thulani Davis and historical research by Harvard University scholar Henry Louis Gates Jr., commemorates the 60th anniversary of the integration of Little Rock's schools.
León is a founding member of the Dance Theatre of Harlem, and in 2019 she founded the Composers Now organization and festival in New York City, which is dedicated to empowering all living composers while celebrating the diversity of their voices and honoring the significance of their contributions to the cultural fabric of society. In 2017, a proclamation was presented to León and Composers Now on behalf of New York City Mayor Bill de Blasio in recognition of their contributions on behalf of living composers.
Her other commissions include works for Brooklyn College Distinguished Professor Ursula Oppens and the Cassatt Quartet, the National Endowment for the Arts, The Library of Congress, The John F. Kennedy Center for the Performing Arts, NDR Sinfonie Orchester and many others.
León has collaborated with authors and directors including John Ashbury, Margaret Atwood, Rita Dove, Jamaica Kincaid, Mark Lamos, Julie Taymor, and Derek Walcott.
She has lectured at Harvard University and at the prestigious Mosse Lecture series at the University of Humboldt in Berlin, and was the Andrew Mellon Foundation's Distinguished Scholar at the Witwatersrand University in Johannesburg, South Africa. León was also visiting professor at Yale University, guest composer/conductor at the Hamburg Musikschule, Germany, and resident composer and conductor the Beijing Central Conservatory, China.
Her many honors include the New York Governor's Lifetime Achievement Award, the American Academy of Arts and Letters Award, the Guggenheim Fellowship and a Pulitzer Prize nomination. In 2012 she received both a Grammy nomination for Best Contemporary Classical Composition and a Latin Grammy nomination for Best Classical Contemporary Composition. In 2013 León was the recipient of the prestigious ASCAP Victor Herbert Award. Some of her most recent awards include the Mad Women Festival Award in Music in Madrid, Spain in 2017 and a 2018 United States Artists Fellowship. Last year she was also welcomed as a member of the American Academy of Arts and Sciences.
Back to BC News