From scholarship on religion to graffiti, faculty and staff members showcased the college's vibrant intellectual life.
/web/new_2019news/2019bookparty94x84.jpg
Annual Book Party Celebrates New Publications
April 19, 2019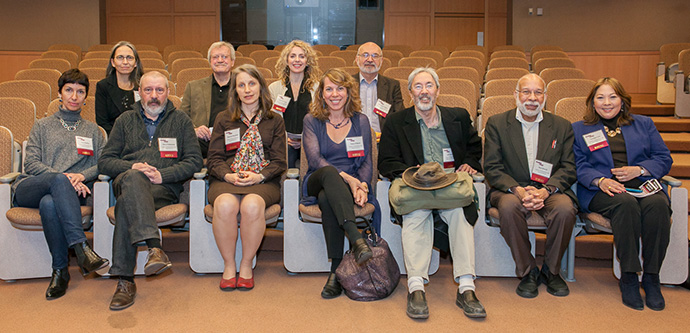 On April 11 the college celebrated faculty and staff members who have published tomes within the last year at the 27th annual library book party. This year, 31 Brooklyn College professionals were honored for writing, co-writing, editing, or co-editing a book.
"Through your publications, you represent Brooklyn College in important national conversations and also contribute to the vibrant intellectual life of our college community," said President Michelle J. Anderson.

This year's titles included Associate English Professor Ronald O. Howell's Boss of Black Brooklyn: The Life and Times of Bertram L. Baker (Fordham University, 2019); Writing on the Wall: Graffiti and the Forgotten Jews of Antiquity (Princeton University Press, 2018) by Karen B. Stern, an associate professor in the history department; and Economics Professor Robert Cherry's Jewish and Christian Views on Bodily Pleasure: Their Origins and Relevance in the Twentieth-Century. (Wipf & Stock, 2018).

"Events like this one are important because it's one of the only times every year that faculty across disciplines come together and learn about their colleague's new works," said Anderson.
Back to BC News