A media scoring student rediscovers her voice after a family tragedy pushes her to reconnect with music making.
/web/new_2019news/190521_LeahShaw_thumbnail_94x84.jpg
An M.F.A. and Her Mother's Memory
May 21, 2019
A media scoring student rediscovers her voice after a family tragedy pushes her to reconnect with music making.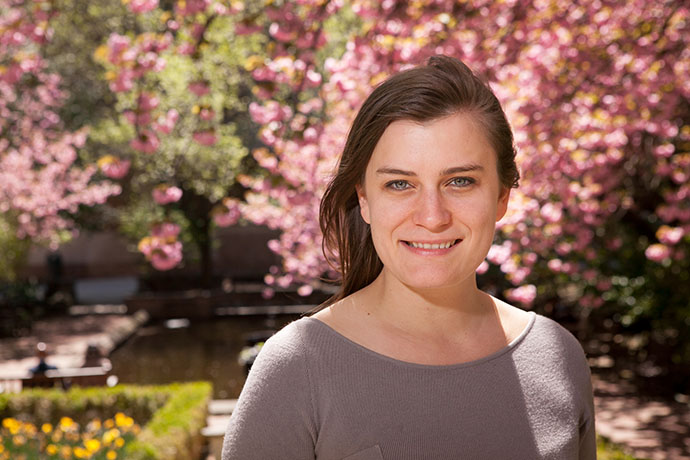 As they prepare for the next stages of their lives, members of the Brooklyn College Class of 2019 share their thoughts on some of the most pertinent issues facing the world today. For more on this year's commencement, visit our Facebook, Instagram, and Twitter. Use the #BCGrad2019 hashtag to join the conversation.
Leah Shaw came to the M.F.A.in media scoring program at the Barry R. Feirstein Graduate School of Cinema after almost walking away from her musicianship altogether. She says that in 2007 after she received her bachelor's degree in classical performance, she became dismayed at the state of the industry and started exploring other careers. Then an Alzheimer's diagnosis for her mother pushed Shaw to move back home to North Carolina to take care of her. She picked up her guitar and started singing her mother's favorites: Simon and Garfunkel, Ray Charles, and Carole King.
"Music remained a strong source of connection for us as other types of communication became difficult," says Shaw.
It was at this time that she began writing her own music as a way of processing her emotions, but was frustrated with her lack of familiarity with the technology of music production.
"I decided it was time to honor my own and my mother's commitment to my musical background," she says. She enrolled in the new media scoring program. Her mother passed away the same week she began her graduate studies.
"It has been an incredible ride," she says.
In her time at Brooklyn College, Shaw has been an ASCAP Columbia Composers Spotlight Participant, has won the Made in New York Scholarship, the Hildegard Award for Excellence in Composition, the Bernard Hermann Award for Excellence in Film Scoring, and a Brooklyn College Alumni Association Award.
She has also taken on a position as a story editor for the Brooklyn College Listening Project, an interdisciplinary oral history project. "My involvement has been an act of civic engagement that's opened me up to voices and cultures and worlds I would have never otherwise heard," she says.
As she prepares for graduation, she says she is proud of all her accomplishments here, not the least of which comes later this month: Her first full-length album, which is dedicated to her mother's memory, will be released during a performance at the college's new Leonard & Claire Tow Center for the Performing Arts.
"The album expresses much of what I've experienced over the past several years and encompasses my hard work, study, and growth as a graduate music student and artist."
Back to BC News