A psychology major finds an outlet to work through the myriad emotions that come with her immigration status. 
/web/new_2019news/EvelynCruzSantiago94x84.jpg
Despite Hardships One 2019 Graduate Holds onto Her Dream
May 29, 2019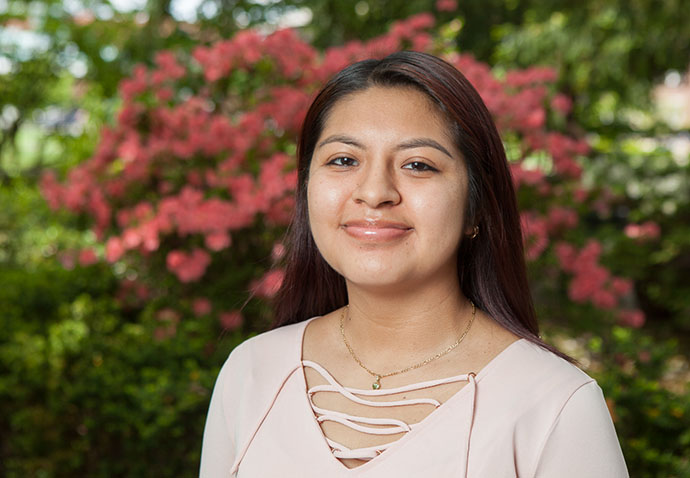 Evelyn Cruz Santiago wanted so badly to hold her big brother's hand one last time.
The psychology major and spring 2019 graduate knew in 2017 that the end was near for him. He had been diagnosed with terminal cancer after being deported back to their birth country of Mexico.
But she couldn't take the chance of visiting him there, despite the fact that she had been approved for advance parole—an application available to "Dreamers," or those with Deferred Action for Childhood Arrival status, which allows recipients to travel out of the country and return lawfully. The political winds were too treacherous for the journey.
"The stories of deportations on the news stirred fears inside me," she wrote in a moving testimonial for a writing workshop. "What if I can't make it back? What if I become another story on the news of yet another dreamer who gets deported?"
The workshop was put on by PEN America as part of their Dreaming Out Loud project for student Dreamers who want to develop short stories, poems or personal essays that are then performed during public readings. Santiago learned about it on Facebook. Writing about her brother has helped her to heal.
"I found out about the readings right after my brother passed," she says. "I needed something to put all my energy into—something that would excite me."
The program began in 2016 out of a recognition that the many financial, legal, and cultural obstacles that Dreamers have faced in pursuit of higher education could translate into some dynamic stories. Part of the point, say its founders, was not only to help Dreamers build their sense of community on campus and develop their writing and self-expression skills, but also to spark important public conversations to counter stereotypes and humanize media reports. In May, students read their pieces during PEN America's World Voices Festival, a premier literary gathering that attracts some of the best-known writers from across the globe.
Now Cruz Santiago is working on a memoir about her brother, who had gotten married when he returned to Mexico and had two young sons.
"During the workshop, I realized how much of his life was shaped by the law here," she says. "I remember when he was a teenager, he wanted to join the army but because of his immigration status, he couldn't. That was really upsetting for him and led him to realize that even if he graduated high school, his job opportunities would be limited."
Her brother ended up being deported after getting arrested in a street fight. He then returned to New York, only to be deported a final time after being pulled over while driving.
"There's a lot of his story that revolves around our status," she says. "The PEN America workshop has allowed me to find an outlet to discuss my hardships. I hope that people can hear my story and change their minds about Dreamers. That's what I really hope to accomplish with my writing, to show people a little more about what we are going through and how these legal decisions impact our lives."
Cruz Santiago and her family remain undocumented. She came to America when she was just seven years old with her father, mother, and her brother. Her father had already been traveling back and forth between the U.S. and Mexico for five years. The family settled in Queens. Her mother cleans homes and babysits while her father works at a seafood warehouse.
Cruz Santiago enrolled in Brooklyn College right after completing high school. She received a scholarship that covered her tuition from TheDream.Us, a nonprofit that has partnered with CUNY institutions and others to provide college funding for Dreamers who cannot access federal financial aid. During her time here, she has been on the Dean's List every semester, while interning at a nonprofit that provides resources for immigrants and working in an afterschool program.
Next fall, she will be attending the mental health counseling graduate program at Brooklyn College and she would like to eventually become a therapist working with teenagers and young adults.
Her own dreams have not been deferred by her immigration status.
"I feel like I can't stop and think about it, otherwise I will be stuck," she says. "I'm just going to keep going and hope for the best."
Brooklyn College has a long-standing commitment to diversity and equal opportunity in all aspects of employment and education practices. We are strongly committed to supporting policies and practices that foster nondiscrimination, affirmative action, diversity, and inclusion as well as to providing myriad resources that assist our students. Visit Resources for Undocumented Students and DACA to find answers to questions regarding immigration policies, available legal resources, and offices on campus.
Back to BC News