At Brooklyn College, he finally found an intellectual community in which he could thrive. 
/web/new_2019news/LaSasso94x84.jpg
Christopher LaSasso '19 Awarded Full Scholarship for Doctoral Studies at Brown University
June 7, 2019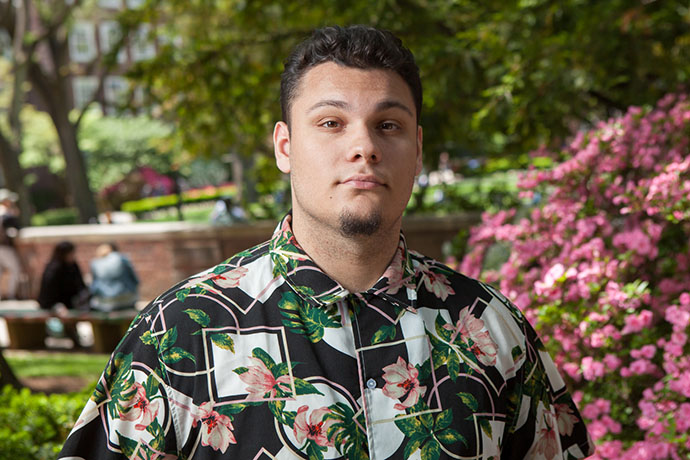 Christopher LaSasso '19 would like to spin a big yarn about how he ended up at Brooklyn College, which would include grand ambitions and him setting his sights on a stellar academic program that he just knew would nourish all his intellectual curiosities. But his beginnings at Brooklyn College were a little less romantic.
"Honestly, it was the only other school I knew about," he says, explaining that a professor at Kingsborough Community College, where he received his associate degree, suggested he try out the Midwood campus. "It's not the nicest narrative but it would be disingenuous to say something else. It's the same for many students at CUNY schools but that's the beauty of it; I ended up creating this space and community."
It was in this space that his story took a Cinderella-like turn, from that of a kid who was never really encouraged academically and who, he says, knew that teachers never expected much of him, to one where for the first time in his life, professors met him where he was, saw great potential in him, and encouraged him. The story ends with him well on his way to becoming a scholar.
Next fall, LaSasso heads to Brown University, a private Ivy League institution in Providence, Rhode Island, with full funding for five years to complete a Ph.D. program.
"In high school I wasn't a good student," he says. "I ended up working in a deli and I had no idea where I was going next. I was thinking about culinary school."
But after enrolling at Brooklyn College and deciding to major in English because he liked reading, a professor suggested a research project. It was his first semester. LaSasso had been reading Shakespeare and was interested in doing a Japanese adaptation of Shakespeare's history plays. He ended up applying for and being accepted to the Mellon Undergraduate Transfer Student Research Program, which gives transfer students $700, a faculty mentor, and training to conduct serious independent research.
It was one of the first times in LaSasso's academic career that he produced something he was really proud of.
"Mellon really prepared me as a researcher," he says. "If it didn't open the door for me, it gave me the confidence to break through the door for myself."
LaSasso went on to become a peer mentor for the program and to participate in both the CUNY Pipeline Program and the Mellon Mays Undergraduate Fellowship, both programs that aim to diversify the ranks of academe by attracting students of color who are interested in pursuing a Ph.D. Mellon Mays Fellows also get a faculty mentor in addition to partial scholarships and assistance preparing for the Graduate Record Exam.
"I found an intellectual community that I felt a part of," says LaSasso, the youngest of six children born to parents who never attended high school. "I was meeting other students who were going on to graduate school and exploring research, and the personal and political intersected. It was very stimulating for me."
Professor Joseph Entin of the English department calls LaSasso "one of the brightest, most passionate, and committed students" he's known.
LaSasso starts at Brown—"the school I never thought I'd get into," he says—in the fall.
He hopes to become an English professor and he wants to teach at CUNY in order to "normalize" the kind of investment he only found from professors once he enrolled here.
"A lot of faculty took a chance with me," he says. "I know that's a weird way of phrasing it but it had never been my experience to have so many teachers invested in me. It's why I want to come back."
Back to BC News