Brooklyn College student Nischal Giri survived a major earthquake in Nepal. Recently, he went to Puerto Rico to help rebuild and connect with people who share his life-altering experiences.
/web/new_2019news/NishalGiri94x84.jpg
Paying it Forward
July 2, 2019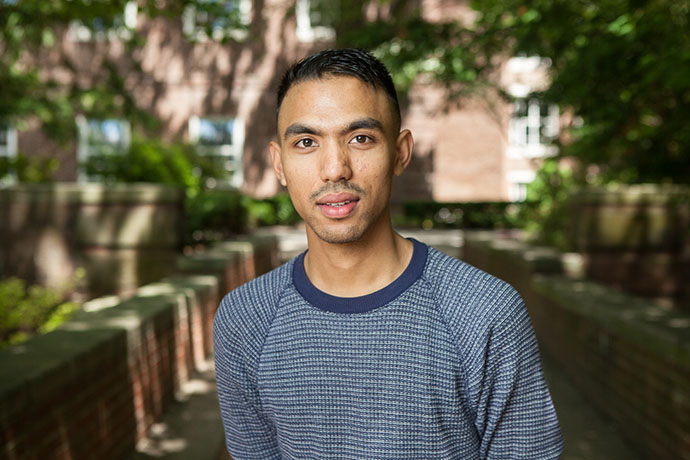 It was the spring of 2015 and high school student Nischal Giri had to prepare for his senior exams. He didn't want to get out of bed that Saturday morning of April 25 but he had made a commitment to his friend and decided to keep it.
Giri walked over to his friend's apartment, located on the first floor of a five-story building—one of the tallest in their community in Nepal—and studied for a few hours before preparing some lunch. Just as he tasted the roti, the ground shook. Within seconds, he and his friend were buried underneath the ceiling, which had collapsed onto them, along with all four stories above them.
Giri couldn't move or feel anything below his waist. His friend was unresponsive.
"I thought, this is it" he recalls. "I'm going to die."
When his friend regained consciousness, he begged Giri to find a way to kill him. "He had a rod in his head and his foot. He couldn't take the pain," he says.
The 7.8 magnitude earthquake killed nearly 10,000 people and injured many tens of thousands more. It was the greatest natural disaster in the tiny country in more than 80 years.
Giri and his friend were rescued after about 45 minutes. Giri had minor injuries, and left the hospital with a few stitches. He rested in bed for a few weeks after. His friend's most serious aliment was a badly injured foot. Because of the rush to get him to the hospital, their rescuer remains unknown to Giri.
"I really regret that I didn't get to thank him," he says.
This summer, Giri had a chance to pay that help forward. He participated in the CUNY Service Corps, a six-year-old program that places CUNY students in paid work experiences in local community-based organizations and government agencies. The goal is to improve the civic, economic, and environmental sustainability of New York City. The last couple of years, however, Service Corps administrators decided to heed the call of Gov. Andrew Cuomo's NY Stands with Puerto Rico initiative and has sent CUNY students—10 from Brooklyn College this year—to the island in trips staggered throughout the summer. Students spend two weeks mostly building and repairing roofs that were damaged in 2017's Hurricane Maria, the category five storm that killed thousands and left the island devastated.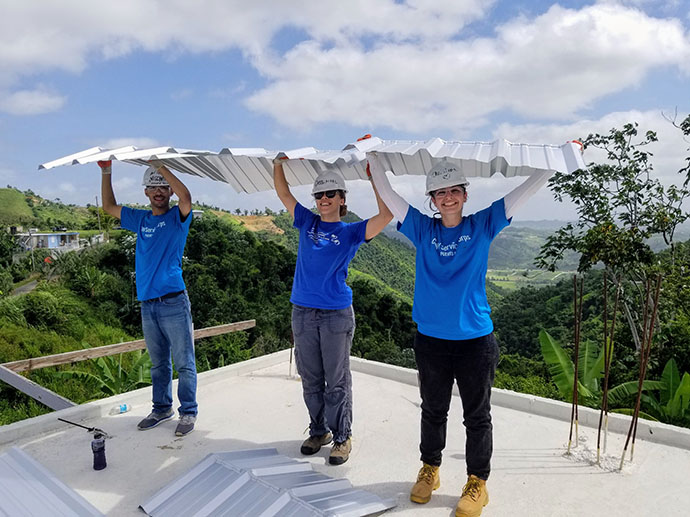 Naturally imbued with a bit of wanderlust, Giri had always planned to leave Nepal after high school. He is thinking about becoming a sociology major and still working on figuring out how many of his credits will transfer from the community college he attended in Texas before transferring to the University of Arkansas, and then finally to Brooklyn College because he had always dreamed of making it to a big city like New York.
Giri called the Puerto Rico trip the most exciting thing he's ever done in his life. He worked in the Orocovis municipality, a mountainous region about an hour's drive from San Juan. He said it felt good to have the hammer in his hand, and even better when he completed repairs at the home of an 82-year old woman who would make rice and beans and spaghetti for the crew.
"She was such a giving person, even in spite of everything she had lost," he says. "We had a teary goodbye. She didn't want us to leave. She told us it reminded her of when her children left the home."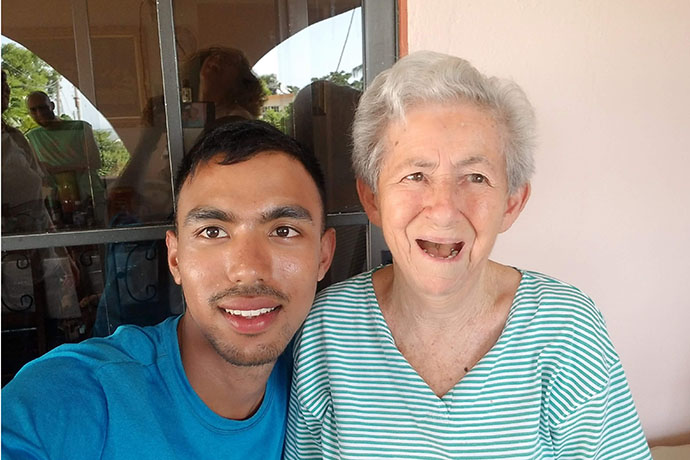 Back to BC News