The annual Theater Department production thrives with funding from The Tow Foundation in a partnership that has multiple benefits for students and recent graduates. 
/web/new_2019news/Weasel_Festival94x84.jpg
Weasel Festival Continues in Fourteenth Year
August 26, 2019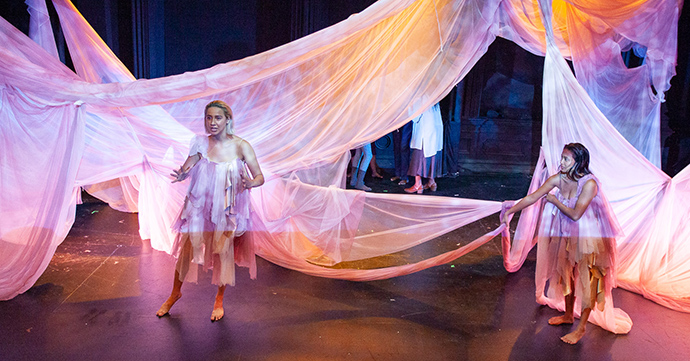 Over the weekend, the Brooklyn College Theater Department wrapped its 14th annual Bring a Weasel and A Pint of Your Own Blood Festival at The Public Theater, a showcase of new work by recent graduates of the program.
Professor Kip Marsh, a chair of the department, called the festival fabulously successful. "Full houses," he says, and "great and exciting performances by all four plays."
This is the third year that the festival has benefited from funding from The Tow Foundation in a partnership that aligns it with The Public Theater, giving it a home in its Shiva Theater and providing fellowships and living wage assistant positions for recent alumni of the college's theater department.
"What the Tow partnership does is defines the festival as something that benefits all of our students," explains Marsh. "It takes it from a self-produced event to one that has more institutional muscle behind it, which means growth for our students and networking. It's a chance for our playwrights' works to be put up and premiered by the department, with all the resources that the department brings in terms of student talent, in terms of facility, in terms of faculty, and in terms of turning it into quite an exceptional festival."
The Tow partnership also provides for a series of master classes—which were recently held in the Leonard and Claire Tow Center for the Performing Arts—and for artists in residence, each of whom is assigned a student liaison from the department who assists the artist in his or her work.
"The intent was to give our students and recent graduates the exposure and ability to network and create career opportunities, and we are seeing that happen," says Marsh.
This year's artists in residence include Abundant Space Collaborative, a group that pairs science and art to tell stories in various mediums; actor, writer, and director Ally Carey, who is working on an adaptation of Shakespeare's Measure for Measure; and director and musician Whitney White, who is exploring femininity in American Blues.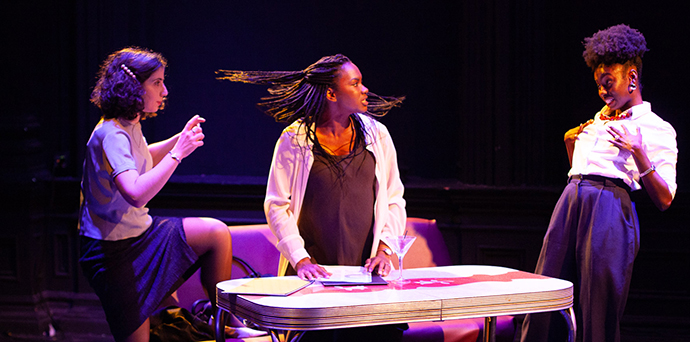 For the Weasel festival, a group of graduates of the M.F.A. in playwriting program are given a prompt by professors to respond to a piece of art. They work on their plays during their last year of courses, getting their prompt in the fall semester and polishing them over the rest of the academic year.
This year's playwrights—Arika Larson '19, Eri Nox '19, Tanya Everett '19, and Cherry Lou Sy '19—were asked to respond to the paintings of Hilma af Klint. Obie Award-winner Erin Courtney '03, the director of the M.F.A playwriting program, chose af Klint after viewing the Swedish painter's retrospective at the Guggenheim Museum.
"af Klint's paintings are large scale abstractions that were ahead of their time. They are bold, mystical, ineffable, and undeniable in their potency," says Courtney. "It seemed like a perfect fit for the Brooklyn College playwrights."
The festival was founded in 2006 by Distinguished Professor Mac Wellman—a renowned figure in the New York theater world and recipient of multiple Obie awards, including one for lifetime achievement—and a group of alumni M.F.A playwrights from the college: Erin Courtney, Kate E. Ryan '04, and Karinne Keithley Syers '06. The festival gets its name from one of Wellman's plays.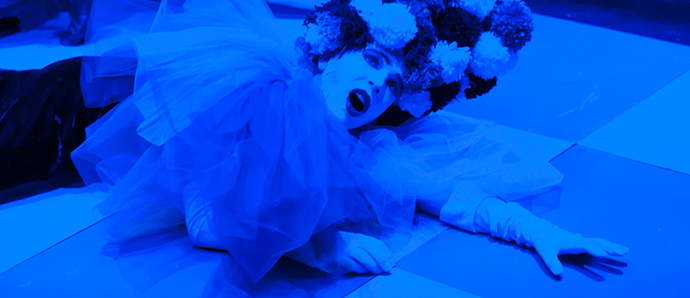 Back to BC News