David's brother Paul takes comfort that musicians in training will learn the business of the industry while also honing their craft.
/web/new_2019news/190906_davidzthumbnail_94x84.jpg
Prep Center Program Honors Late Rock Bassist and Alumnus David Zablidowsky '03
Sept. 11, 2019
David's brother Paul takes comfort that musicians in training will learn the business of the industry while also honing their craft.
The irony for Paul Zablidowsky is that it was his late brother who was the natural talent. David Zablidowsky '03 was the one who pulled Paul, then pursuing visual art, into the music industry when the first band he created in high school found itself in need of a guitarist and singer.
"David was gifted. He was a virtuoso," says Paul, who along with David was raised in Borough Park by a dad who was a musician and educator and a very pragmatic mom who worked a 9 to 5.
Paul and David, a former student in the Conservatory of Music at Brooklyn College, took the best from both of their parents and combined their musical flair with a knack for securing things on the business end to success in the music industry with their band ZO2. The band gained notoriety as a popular local act that booked night gigs at some of the hottest venues in New York City. As the Z Brothers, they made original educational music for kids and rocked New York City public schools by day. The siblings even starred in a quasi-reality television show for IFC-TV called Z Rock about their lives playing for two different audiences.
Life, in time, had taken them in slightly different directions. Paulie Z, the name the older brother adopted, ended up in Los Angeles where he continued making rock music and began to focus more on educational music as well. David Z (his stage name) went on to play bass guitar with acts such as Joan Jett, Trans-Siberian Orchestra, and Adrenaline Mob.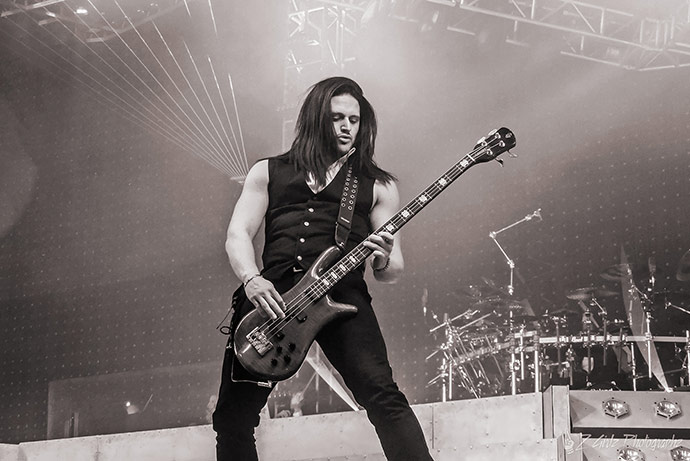 One fateful day on the road in the summer of 2017 when David was touring with Adrenaline Mob, the group pulled over to fix a flat tire and was hit by a tractor trailer. David Z died in the wreck, prompting condolences from rock luminaries like Dee Snider, Dave Navarro, and Bret Michaels.
Two days later, Paul was pouring it all out at a concert in his brother's honor at The Cutting Room, a legendary Manhattan live music venue. The benefits from that show and others to follow funded the David Z Modern Musician Program at the Brooklyn College Preparatory Center for the Performing Arts. The program established a band and courses in music industry business, and supports scholarships for local youth who take lessons at the center. The center has been providing music instruction for children by professional teaching artists since 1978.
This summer, the first cohort of students from the program performed their end-of-the-year recital at The Cutting Room in conjunction with a performance by Paul and other artists. The proceeds, with those from a GoFundMe page for the show, raised more than $15,000 and went to help fund the program.
"It's not enough to be talented. Artists have to be ambitious and proactive, and know- how to make things happen," says Paul, who points out that the brothers had always financed their own albums and knew how to market themselves in the industry. "David always understood that and it's a concept that's at the heart and soul of the program."
There were six students in the program's first year, local youths who ranged in age from 10 to 18 and took private lessons from September to June in keyboard, electric guitar, drums, and vocals. The David Z Fund, which was established at The Brooklyn College Foundation with an initial donation of $30,000, supported students in taking a class where they formed a band, along with a music workshop course where they learned about entrepreneurship.
"David and Paulie chose to be actively involved in children's education despite a busy performance schedule," says Hasan Ozcan, the director of the Prep Center, who notes that it was the first time the classical-leaning center taught rock music. "This program helps students flourish by providing them with the tools to succeed by not only guiding them to become well-rounded musicians but also by teaching them how to make a name for themselves, and how to cultivate a fan base so they can create the kind of legacy that David has."
Paul, whose last real performance with his brother had been at his 40th birthday celebration in New York City, takes comfort that his brother's life can help shape a new generation of artists. "I haven't seen anything out there, even at colleges for professional musicians, that focuses on teaching musicians the business in this way. As these kids move on in their careers, they will know how to make a living," says Paul. "David would be proud of that."
To support the David Z Fund at Brooklyn College, click here and be sure to write David Z in the comments. Thank you .
Back to BC News