Susan Lee (Stecker) Walling '66, and her husband Bob established a generous scholarship that will support civic-minded students in their efforts to improve conditions for their communities. 
/web/new_2019news/Wallings94x84.jpg
A New Scholarship Builds a Foundation for Brooklyn College Students Committed to Civic Engagement
October 2, 2019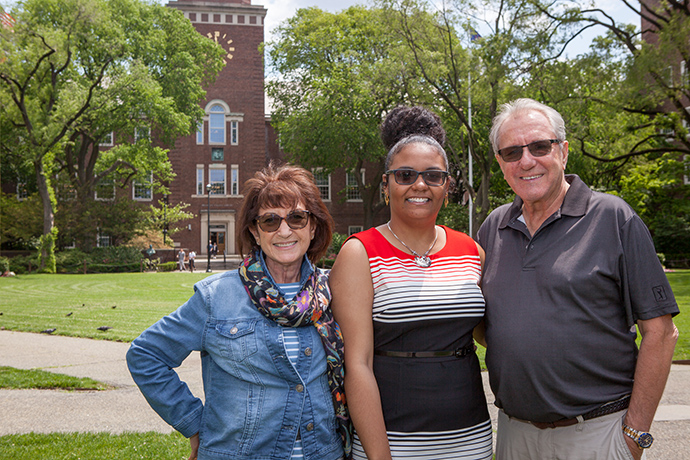 Susan Lee (Stecker) Walling '66 and her husband Bob want to achieve a couple of things. First, it is extremely important to them to give back, to make it possible for the next generation of scholars to study without fear of economic hardship, particularly if those students are also civically engaged. Second, they are not wealthy; they are an average middle-class American family and want to invest in students' education with maximum impact. They discovered that by utilizing the Brooklyn College Foundation IRA charitable rollover plan, they could do both.

"You don't have to be a millionaire to be generous," says Mrs. Walling. "It's not necessarily about receiving the accolades that can sometimes come along with giving. It's about leaving a positive legacy. It's about being an example and hoping that others, including our own children will be inspired to give what they are able to give."
"The fact that public universities have become increasingly dependent on private funds was a real wake-up call for us in assigning priorities," adds Mr. Walling. "Being a certified financial planner, I knew the IRA option was now available and that we could gift money directly to our designated charities and thereby reduce our taxable income."
With that in mind, the Wallings, with the help of the Brooklyn College Foundation, created the Susan Lee (Stecker) & Robert C. Walling Scholarship. It is awarded to students who have a commitment to engage in careers focused on civic engagement. It is available to students at Brooklyn College who are sophomores (or greater), enrolled full time, and in good academic standing, and may follow one student through graduation as long as they continue to major in sociology, psychology and/or social psychology; maintain a minimum cumulative GPA of 3.0; demonstrate a spirit for civic engagement, as exhibited by involvement and leadership in school/campus organizations, registered student organizations and/or volunteering with nonprofit organizations in the community; and demonstrate financial need. Cultivating citizens who understand the value of giving back is part of Brooklyn College's mission.
"'Civic engagement,' to me, is being a good citizen," Mrs. Walling says. "It's doing good for other people. It's making those career choices that will uphold those principles and values. It's those kinds of people who make those kinds of commitments to be involved, whether through academic institutions, nonprofit organizations, or politics."
Mrs. Walling was born and raised in Brooklyn, New York (in the neighborhoods of Bensonhurst and Flatbush) and graduated from Midwood High School in 1962. She attended Brooklyn College, following in her brother's footsteps, because it was a rigorous, but affordable institution of higher learning. She received her bachelor of arts in sociology/psychology from Brooklyn College in 1966. During her time at the college, she was an adviser in the Student Adviser Leadership Program as well as a member of Alpha Sigma Tau. She received a Regents Scholarship and a graduate assistantship to support her attendance at Syracuse University where she received her master of arts in college personnel in higher education.
Very early on, Mrs. Walling had a keen sense of social justice, recalling that at one point in the college's history, female candidates were required to have a higher GPA than male candidates for admission.
"I remember always empathizing with the underdog and wanting to right what I perceived as wrongs," she says.
The first recipient of the Wallings' generosity is Belicia Bethel. Bethel—who double majors in psychology, and children's and youth studies, and minors in linguistics—is a Brooklyn native and the child of Trinidadian and Grenadian parents. Bethel's father is an alumnus of the Brooklyn College Department of Accounting. She is also a peer mentor on campus and works at the Flatbush YMCA. In addition to the Walling Scholarship, Bethel is also the recipient of the Myrtle Mandiberg Scholarship for pursuits in child psychology, and the J. Robert Lloyd Scholarship for outstanding peer mentoring.
"The Walling Scholarship really stood out to me because of its prioritization on civic engagement," says Bethel. "Giving back to my community is something that is super-important to me. It's simply one of my central values. My community is the reason why I am the person I am today and was the support system I relied upon when chasing after my goals. It would be a personal act of betrayal if I didn't return that support by being for others what my community has been for me. The scholarship from the Wallings is a blessing because it helps me to achieve that goal."
The Wallings, who have retired to Arizona, returned to Brooklyn to visit the campus this summer and meet Bethel, who graduated with the Class of 2019 on May 30. It was an incredible meeting that allowed them to see firsthand the effects of what the Wallings describe as "the gift of helping other people."
Brooklyn College is able to provide students the financial assistance, skills, values, and opportunities that are essential to fulfilling their academic achievements, civic engagement, and career aspirations thanks to the generosity of alumni and friends received through the Brooklyn College Foundation. To learn about the various ways to contribute to student success, please visit the foundation website. 
Back to BC News