M.F.A. Professor Welker White plays Jimmy Hoffa's wife alongside Al Pacino.
/web/new_2019news/191204_whiteandscorsese_94x84.jpg
Brooklyn College Acting Faculty Continues Scorsese Run in "The Irishman"
Dec. 4, 2019
M.F.A. Professor Welker White plays Jimmy Hoffa's wife alongside Al Pacino.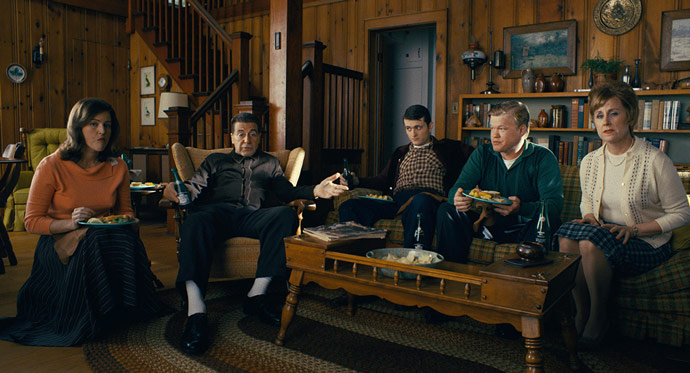 The new Martin Scorsese film The Irishman features Scorsese regulars Robert De Niro and Joe Pesci, along with Al Pacino, working with the director for the first time. But the epic about hitman Frank Sheeran, the Buffalino crime family, and notorious union kingpin Jimmy Hoffa also features another familiar face, this one with Brooklyn College ties.
Professor Welker White, who plays Hoffa's wife opposite Pacino, has been teaching acting in Brooklyn College's Department of Theater since 2009. It is the same program from which she earned her M.F.A. in directing in 2010. While she is no stranger to other big-budget Scorsese productions—she portrayed the babysitter Lois Byrd in Goodfellas and a waitress in The Wolf of Wall Street—it was the small and intimate classes in the Theater Department that she says helped shape her as a teacher.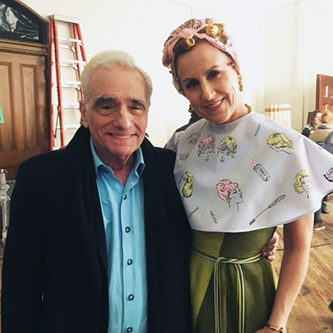 "I started my training at NYU's Tisch program, but left before getting my degree as I began working professionally as an actor quite young," says White. "I went back to school and completed a bachelor's degree in theater studies through the CUNY Baccalaureate for Unique and Interdisciplinary Studies program in my mid-30s, doing most of my coursework at Brooklyn College. It was then that I was introduced to the wonderful energy and supportive environment of the theater department here. I enjoyed being back in an academic setting so much I decided to pursue my master's degree. Finding the M.F.A directing program at Brooklyn College set me on what is now a very fulfilling parallel track of teaching as well as acting," she adds.
White credits the intimacy of the theater program at Brooklyn College with attracting both students and faculty. Brooklyn College's dedication to the arts is reflected in its support of comprehensive undergraduate and graduate programs that include courses ranging from acting, design, and technical theater to interactive media arts and performing arts management.
Kip Marsh has been the chair for Brooklyn College Theater Department for nine years. He said the facilities, faculty, along with the College's internships and partnerships with the likes of the Public Theater, Rattlestick Playwrights Theater, and the late Philip Seymour Hoffman's LAByrinth Theater Company, give students an experience they cannot get at other programs. It is also regularly ranked among some of the best programs in New York.
"Our comprehensive terminal M.F.A. and B.F.A. offerings make us particularly unique, as well as our emphasis in providing a robust production environment that brings all of our students together to produce our season of plays," March said. "In addition to that, a strong collaboration with our MFA playwriting program, one of the best in the nation, allows us to develop and produce new plays as part of our pedagogy. It allows our actors, directors, designers, technicians and playwrights to collaborate to make new work together as a collaborative event. Being located in Brooklyn makes it especially attractive. The overall educational experience is simply unrivaled for the value."
Second-year Brooklyn College M.F.A. acting student Mike Magliocca studies under White and says her instruction is congruous with her acting. "She brings a level of professional acting experience that we appreciate," says Magliocca."She will even tell us what type of direction she received under someone like Scorsese. It gives us all an inside look at what that experience is like and makes us more prepared."
Geovonday Jones is a 2019 graduate of the M.F.A Acting Program, who hails from St. Louis. He is currently working as an actor and coming off a run of play he did with the Ancram Opera House. "Professor White's approach is completely open and welcoming. She knows how to get the best out of individuals without pretense," says Jones. "She pushes her students but with a mindful and helpful approach. She's disciplined and honest, with a no-holds-barred approach, and her feedback is straightforward; is never a doubt that she has your best interest at heart," adds Jones.
Media contact: Rich Pietras – richard.pietras@brooklyn.cuny.edu
Back to BC News