President Michelle J. Anderson and Immigrant Student Success Office Director Jesús Pérez '95 were joined by CUNY Chancellor Félix V. Matos Rodríguez for a ribbon cutting of the new center on Dec. 13.
/web/new_2019news/191216_ISSO_94x84.jpg
Brooklyn College Celebrates New Immigrant Student Success Office
Dec. 16, 2019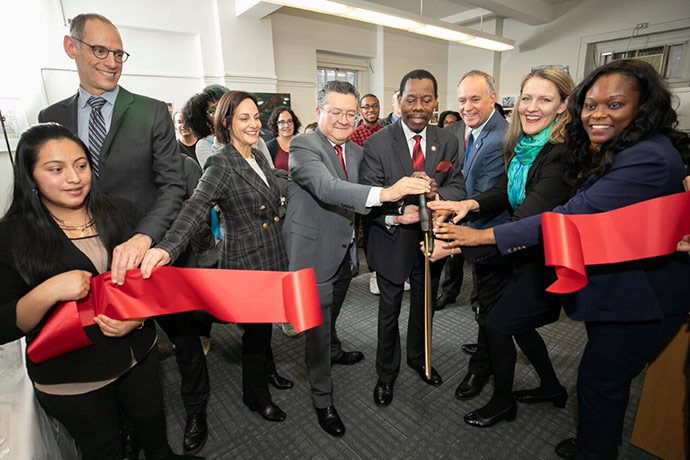 With its mission of helping immigrant and first-generation students graduate, Brooklyn College launched its new Immigrant Student Success Office (ISSO) with a ribbon-cutting ceremony on Dec. 13 in Roosevelt Hall.
Comprehensive ISSO offerings include faculty mentorship, financial aid advisement, free legal services with assistance from CUNY Citizenship Now!, as well as personalized counseling. Since its launch, the Office has served more than 150 new students.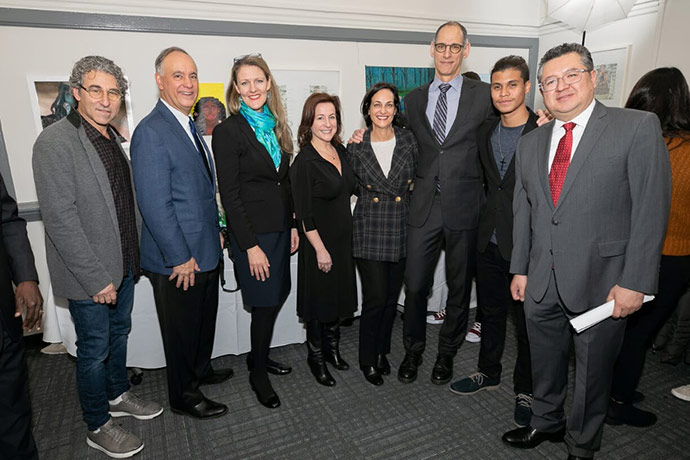 Brooklyn College President Michelle J. Anderson and ISSO Director Jesús Pérez '95 were joined by CUNY Chancellor Félix V. Matos Rodríguez in welcoming New York State Assembly members Rodneyse Bichotte (District 42) and Nick Perry (District 58), as well New York City Council member Mathieu Eugene (District 40). All spoke to the importance of ISSO to the Brooklyn College campus and beyond.
President Anderson noted that ISSO would not have been a reality without the initial financial support from Brooklyn College Foundation trustee Irwin Federman '56 and his wife, Concepción. The couple recently donated $500,000 to the College to support student services. Irwin Federman's son, Dr. Alex Federman, and his daughter, Jaime Greenberg, were on hand with their spouses for the special event.
President Anderson also thanked Alan Aja from the Department of Puerto Rican and Latino Studies and Carolina Bank Muñoz from our Sociology Department for their efforts in helping to create ISSO. Professors Mona Hadler and Derrick Adams and students from the art department were also on hand, as they contributed artwork for the office.
Chancellor Matos Rodríguez lauded the efforts of everyone involved, stating ISSO sends an incredible message to the students in the community that there is a home where they can feel welcome and supported. Pérez, who emigrated from Mexico as a child and graduated from Brooklyn College in 1995, spoke passionately about this office that he helped create that which will help students just like him.
"The spirit that lives in this office transcends these walls. What we are here to do is give students an opportunity to get a better life," Pérez said. "I am not here alone. We are doing this with a wonderful team of people, and I look forward to doing more of this important work together."
Back to BC News