Valedictorian Roby Daniel and salutatorian Zainab Nathani seek to help community while pursuing careers in medicine and public health.
/web/new_2020news/200517_Roby_94x84.jpg
Brooklyn College Honors Top Scholars
May 17, 2020
Meet the 2020 Valedictorian
Triple major Roby Daniel will carry his experience as a mentor, health educator, volunteer, and researcher with him as he pursues a career in medicine.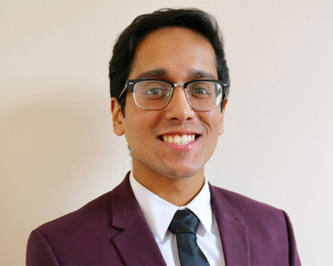 Born in New Hyde Park, New York, to two first-generation immigrants from Kerala, India, Roby Daniel is a Macaulay Honors senior at Brooklyn College who triple-majored in chemistry, psychology, and business administration with a concentration in health professions. After graduation, he hopes to pursue a career in the medical field.

Although he has a long road ahead of him, Daniel has already come so far and has overcome many obstacles.

From a very young age his parents encouraged him to strive for the best and never settle for anything less; this advice molded him into the man he is today. Although Daniel struggled with health issues in high school, he was able to persevere, graduating from New Hyde Park Memorial High School as the valedictorian of the Class of 2016, achieving a perfect score on both his SAT II in chemistry and in U.S. history. He also mastered six New York State Regents exams, with a perfect score on each.

Upon arriving at Brooklyn College in fall 2016, Daniel immediately got involved with student life. With a fiery passion for service, he joined the Global Medical Brigades and the Macaulay Service Initiative, eventually becoming the president and director of volunteer outreach for each respective club.

Inspired by his older sister, who holds a master's in education, Daniel developed a desire to teach and give back. As a freshman, he joined two student clubs—Students Partnering and Reaching Kids, and Peer Health Exchange—and served as a mentor and health educator until his senior year. Realizing he wanted to pursue a career in medicine, as well as research opportunities, Daniel quickly became involved with cancer therapy research in Professor Lesley Davenport's lab, where he has been studying porphyrin's ability to inhibit growth through the stabilization of G-quadruplex DNA in Neisseria gonorrhoeae and Neisseria elongata.

He also served as treasurer and later as president of the Brooklyn College Chapter of the American Medical Students Association. Amid all these activities, he scored in the 100th percentile on his MCAT. Daniel plans to continue his medical journey as an intern at the Institute for Bladder and Prostate Research under urologist Dr. Jerry Blaivas during his gap year.

Despite his many obligations to various extracurriculars and his intense workload as a triple major, Daniel still finds time to go hiking or play billiards with his school friends, Kappa Sigma brothers, or church family. Reflecting on his four years as an undergraduate, he values the experiences he has had, engaging with a diverse group of students and faculty from various departments and fields.

Whether it was as a student, a researcher, or a mentor, Daniel feels Brooklyn College has prepared him well for the next chapter in his life.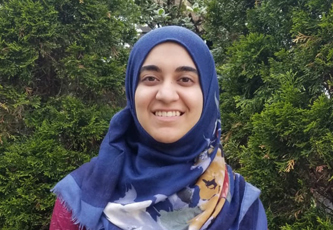 Meet the 2020 Salutatorian
Zainab Nathani's aspiration to serve her community began in elementary school and continues with plans to help address inequities in the healthcare system as a doctor in the field of public health.
The child of immigrant parents who were both born in Tanzania but whose family originated from the Indian subcontinent, Zainab Nathani believes she benefited from a childhood flavored by cultural richness and a tight family unit that was highlighted by their Islamic beliefs.
At a young age, Nathani developed an interest in serving her community, becoming involved in Kiwanis International through her elementary school's service organization, K-Kids. This interest in service and extracurricular involvement would continue into middle school and high school. In eighth grade, her experience as president of Kiwanis' Builders Club helped her overcome her shyness and become confident in her own skin. In high school, her engagement with New York District Key Club, as lieutenant governor and then district secretary, further expanded her leadership, communication, and event management skills.
Nathani was also involved in science research and the badminton team and served on the editorial staff of the school newspaper and as president of the Math Research Club. Volunteering at a local hospital as part of the pre-med club piqued her interest in and broadened her understanding of the medical profession. The summer before her senior year of high school, she solidified her dream of becoming a doctor and focused on applying to combined bachelor's/medical programs. Luckily for her and for Brooklyn College, she was accepted into the college's Coordinated B.A.-M.D. Program with SUNY Downstate College of Medicine as well as into the Macaulay Honors College.
Nathani completed her pre-med requirements while majoring in psychology and minoring in chemistry and computer science. She joined the Quadri Lab at the end of her freshman year, working as an undergraduate assistant on research projects, helping to maintain the lab's stock of essential supplies, communicating with vendors, and handling invoices. She also joined the Cognitive Neuroscience of Language Lab in her senior year, where she has worked on her senior thesis. Throughout college, Nathani has continued her involvement in service and her interest in the medical professions by shadowing physicians during the summer, volunteering at her local mosque, and volunteering at the Coalition of Concerned Medical Professionals, where she learned about the public health implications of inaccessible health care.
Outside of class, Nathani became involved with Muslims Giving Back, a community service club open to all but focused on the campus Muslim community. As president of the organization during her senior year, she helped raise thousands of dollars for a variety of causes and united members of our campus through acts of service. As a part of Muslims Giving Back, Nathani found a way to express her faith, which has always been a core part of her life, on the college campus.
As Nathani approaches the end of her undergraduate years, she eagerly awaits beginning her journey at SUNY Downstate, where she will be entering the M.D./M.P.H. program to simultaneously earn her medical degree and a master's in public health. While she knows her first year will be a time of challenges and transitions, she is confident she will be able to succeed because of her strong foundation, her family, and her faith.
Back to BC News