The Immigrant Student Success Office Celebrates Its One-Year Anniversary. 
/web/new_2020news/JesusRibbonCutting94x84.jpg
It Took a Village
Dec. 3, 2020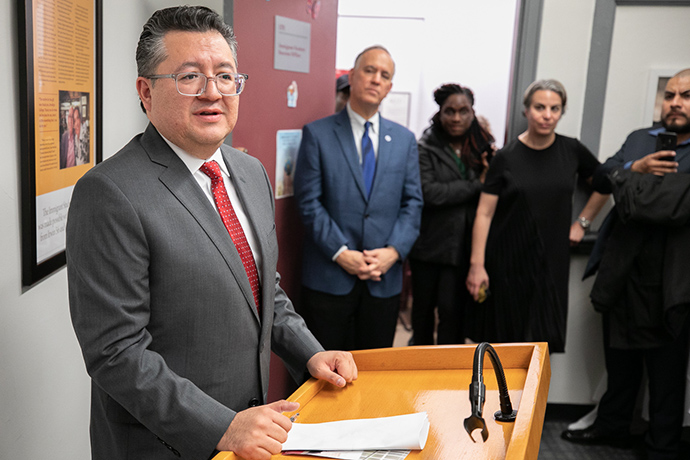 The Immigrant Student Success Office began with a generous grant and a mission: to recruit and retain students, with an emphasis on new immigrants. In little more than a year, it has served some 500 students—immigrants, first-generation, and international students among them—helping them with everything from registration to financial aid and even wellness.
Next Tuesday, the office will celebrate its one-year anniversary, pandemic style, with a Zoom get-together that will feature remarks from the community of faculty, staff, and students who have made the office a success, a presentation on the challenges and opportunities for immigrant students in the sciences, and a recognition of the students who are graduating.
"My main goal for the first year was to make the office position itself as a place where immigrant students know they have a home," says Jesús Pérez '95, ISSO's director. "We always understood that the biggest contribution we could make to students' lives was to help them feel that they are not alone."
The office, which was made possible with a generous gift from Brooklyn College Foundation Trustee Irwin Federman '56 and his wife Concepción, actually opened its doors on September 3 of last year but had its official ribbon cutting in mid-December with President Michelle J. Anderson; CUNY Chancellor Félix Matos Rodriguez; members of the Federman family; and a number of elected officials and other dignitaries.
"It took a village to put it together," says Pérez, who points out that ISSO's strength has been its ability to pull on faculty, staff, students, and community organizations to work together. 'We have a holistic approach to creating a safe space that can transform lives."
In the last year, Pérez, Program Coordinator Ana Bartolomé, and their coterie of affiliated faculty, staff, and campus offices have worked on a number of initiatives, including training for faculty and staff who want to be allies for immigrant students, weekly support groups for students, and even a weekly recipe-sharing session.
"What's been the most impactful is that we have created a community of trust," says Bartolomé.
Over the summer, the office received $150,000 in support from poverty-fighting organization Robin Hood to provide $500 emergency assistance grants to 300 immigrant students, many of whom had lost jobs or had other COVID-related emergency expenses, such as food, housing, and technology for remote learning. Undocumented students have been ineligible to receive any relief from federal funding that has addressed the pandemic.
"Our immigrant population, like others, and in some cases more so, have been thrown into chaos because they don't have access to other kinds of emergency funding like food stamps," says Carolina Bank Muñoz, a sociology professor and Chilean immigrant who works closely with the office.
Bank Muñoz points out that one of the things she has most been impressed with is the diversity of the students whom the office serves. "From Albania to Uzbekistan, Bangladesh, Mexico, and the Caribbean, we really have shown the wide diversity of Brooklyn College," she says.
Pérez says in the next year, the office is hoping to apply for more grant funding and to create more programming that helps support its students.
"We've created a real community," he says. "We'll be looking to build on that."
Back to BC News