A former CUNY student himself, the coach and mentor had an incredible impact on the many lives he touched.
/web/new_2020news/201207_Joseph-Real-Andre_94x84.jpg
Brooklyn College Mourns Loss of Soccer Coach Joseph Réal André
Dec. 7, 2020
A former CUNY student himself, the coach and mentor had an incredible impact on the many lives he touched.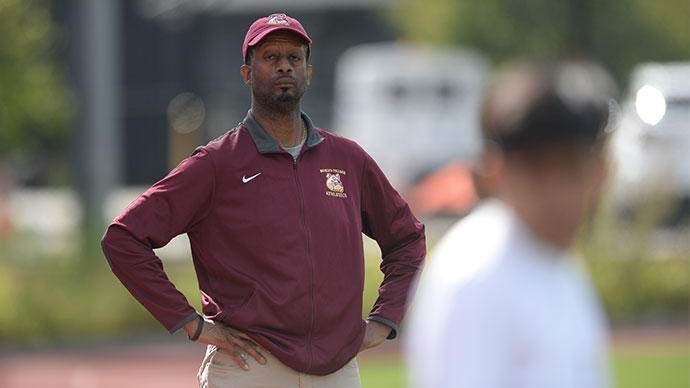 Brooklyn College is saddened to announce that Joseph Réal André, head coach of the men's soccer team, has passed away unexpectedly. André had been at the helm of the program since the 2016 season. The entire campus community sends their condolences to his family and friends.
"This comes as a shock to our entire athletics family," said Director of Athletics Bruce Filosa. "Joe was someone who I had the opportunity to get to know very well during his five years working in our program. He was a very personable and loyal guy who loved what he did and enjoyed being around students and colleagues. I will always remember him fondly as a member of our staff, but also as a friend."
Coach André joined the men's soccer program in 2014 as an assistant coach under Rawle Hensford. He was promoted to head coach with Hensford's departure in 2016.
Under André's leadership, the men's soccer team qualified for the CUNYAC Championship tournament every single season since his appointment. In 2017, the Bulldogs advanced to the CUNYAC tournament semifinals and eventually earned a bid to play in the Eastern College Athletic Association (ECAC) postseason tournament. During his tenure, Andre helped mentor a CUNYAC Player of the Year, a CUNYAC and ECAC Rookie of the Year, a conference Sportsmanship Award winner, and a number of CUNYAC All-Stars and Scholar-Athlete Award recipients.
In addition to his coaching responsibilities, André served as a college assistant in the Department of Athletics, handling a number of administrative tasks that were vital to the program for the past five years. He also served as the department's Student-Athlete Advisory Committee adviser.
A product of CUNY himself, André graduated from Lehman College, where he earned both his B.A. and M.S.Ed. While a student, he was a member of Lehman's soccer, tennis, and basketball teams.
Prior to coming to Brooklyn College, André was the head men's soccer coach at Lehman for six seasons. He led the Lightning to their first-ever CUNYAC Championship and NCAA Tournament appearance in 2011, which earned him CUNYAC Coach of the Year accolades.
A future tribute will be made to André. If anyone has fond memories or words they would like to share about him, feel free to e-mail Assistant Athletics Director Alex Lang or Intramurals/Scheduling Coordinator Tim Slakas.
Back to BC News