As an ambassador, the celebrated artist will help foster the next generation of creative thinkers through individual and collective initiatives. 
/web/new_2020news/201223_Derrick_Adams_94x84.jpg
Art Professor Derrick Adams Among 15 New National Academy of Design Inductees
Dec. 23, 2020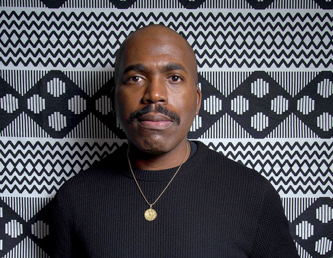 Adding to his long list of accomplishments, Assistant Professor of Art Derrick Adams, from the School of Visual, Media and Performing Arts, became one of 15 new inductees into the National Academy of Design (NAD) late this year.
Founded by artists, for artists, NAD's primary aim was to foster exhibitions and serve as an art school for the training of aspiring professions. The first session of the National Academy School commenced on November 15, 1826, in the Old Alms House at City Hall Park in lower Manhattan, with two academicians and 20 students sketching by candlelight.
Two of Adams' most recent and prominent mural projects that contributed to his induction are Around the Way, which presents a bold and playful depiction of city life throughout the LIRR Nostrand Avenue Station, and his beautiful, uplifting artwork in rooms for pediatric patients at Harlem Hospital.
As ambassadors, academicians present work in NAD exhibitions, participate in programs, and foster the next generation of creative thinkers through individual and collective initiatives. Shaping the narrative of artistic traditions in the United States, each National Academician contributes a representative work to NAD's permanent collection—one of the nation's most significant public holdings of American art and architecture, composed of more than 8,000 works. Becoming a National Academician is an honor that cannot be applied for or solicited. Each year, current National Academicians nominate, vote on, and elect the artists and architects inducted into the NAD artistic community.
Adams was born in Baltimore in 1970. He received his M.F.A. from Columbia University and B.F.A. from Pratt Institute. An alumnus of the Skowhegan School of Painting & Sculpture and Marie Walsh Sharpe Foundation Studio Program, Adams has received a Robert Rauschenberg Foundation Residency (2019), a Gordon Parks Foundation Fellowship (2018), a Studio Museum Joyce Alexander Wein Artist Prize (2016), and a Louis Comfort Tiffany Award (2009).
His numerous solo exhibitions include Buoyant (2020) at the Hudson River Museum; Where I'm From (2019) at The Gallery in Baltimore City Hall; Sanctuary (2018) at the Museum of Arts and Design, New York; Transmission (2018) at the Museum of Contemporary Art, Denver; Network (2017) at the California African American Museum, Los Angeles; and The Channel (2012) at the Brooklyn Academy of Music. Adams' work has been presented in important public exhibitions, including Men of Change: Power. Triumph. Truth. (2019), a 10-city exhibition presented by the Smithsonian Institution; PERFORMA (2015, 2013, and 2005); The Shadows Took Shape (2014) and Radical Presence (2013–14) at Studio Museum in Harlem; Greater New York (2005) at MoMA PS1; and Open House: Working in Brooklyn (2004) at the Brooklyn Museum. His work resides in the permanent collections of the Metropolitan Museum of Art, the Studio Museum in Harlem, the Virginia Museum of Fine Arts, the Birmingham Museum of Art, and the Whitney Museum of American Art.
Adams' fellow inductees for 2020 include Cecily Brown, Enrique Chagoya, Mitch Epstein, Rafael Ferrer, Beverly Fishman, Charles Gaines, Carmen Herrera, Michael Maltzan, Toshiko Mori, Jennifer Packer, Walid Raad, Betye Saar, Beverly Semmes, and Claire Weisz.
Back to BC News