A young couple that embarked on their dream together at Brooklyn College found success and happiness not only in their family and career, but in the opportunity to come back and help students in whom they see themselves.
/web/new_2019news/MenendezMelgar_94x84.jpg
First Came Love, Then Came Brooklyn College
Feb. 14, 2019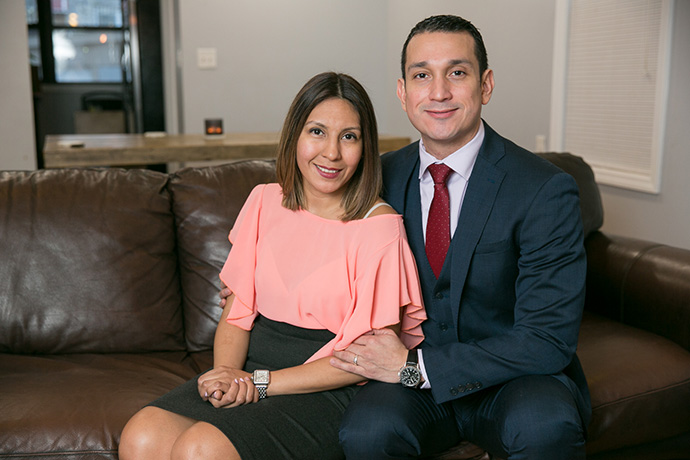 When Daniel Menendez '09 came to New York from Honduras in 2001 as a tourist, he thought he'd hang out with a friend from home and see snow for the first time. But the friend suggested he look into college in the United States. Menendez ended up enrolling in Borough of Manhattan Community College and found fellowship in a church he'd been attending.

It was clearly meant to be because at church, he met Evelyn Melgar '10, '12 MSed, who had been taking courses at the College of State Island. They shared a faith, taste in music, similar goals, and a dream to continue their education.

"I'll never forget the day he told me, 'If I was blind, I would still know I loved you,'" says Melgar, who says she knew Menendez was a keeper when he gave her a teal blue parakeet. "I thought: This is going to be different."

They got married, had a baby, and together enrolled at Brooklyn College in 2003.

"Those years were rough," says Menendez, who hustled jobs on construction crews and in restaurant kitchens to pay international student rates while also taking care of his new family.

Despite dreams of being a filmmaker, the new dad majored in business management and finance, while Melgar had found her passion in education. Through the bustle of their busy lives, they found peace while on campus. "It feels like you get away a little bit," Melgar says.

When graduation was in sight, Menendez stopped by a resumé-writing workshop at The Magner Center.
"I was very shy," he says. "I didn't ask questions until the end, I just knew I needed help. The jobs I'd had up to that point were construction worker and busboy. I had no clue what an American resumé looked like and I had never applied to a large corporation. I needed some serious hand-holding."

With help from The Magner Center, he ended up landing an internship as an investment associate at UBS Wealth Management during his final year. After graduation, Magner staff introduced him to a recruiter for Target, where he went to work as a replenishment team leader. He kept in touch with staff at The Magner Center and through them, ended up hearing about an opportunity as a management associate at Citibank. He interviewed there with a branch manager who was also a Brooklyn College alumnus.

"Connecting with The Magner Center was a godsend," says Menendez. He was hired and quickly moved up the ranks to bigger branches and to developing product and business strategies.

Meanwhile, Melgar had started working with young children with special needs and went back to Brooklyn College to get her master's degree in special education. She now works in the New York City Public Schools. The couple live in a well-appointed house in East Flatbush and have two kids. Ever grateful, they give back to Brooklyn College as much as they can.

Menendez, a young trustee to the board of the Brooklyn College Foundation, has served as a mentor for current students and participates on a number of Magner Center panels. He has also served on the advisory board of the Brooklyn College Black and Latino Male Initiative. Last fall, he became a #GivingTuesday champion, raising more than $3,000 for The Magner Center from 31 donors. Melgar also participates in networking nights with The Magner Center and serves as a mentor for students.

Menendez, who just started a new job as an enterprise retail sales manager for Bank of America, where he leads the mortgage sales team for Brooklyn, Queens, Staten Island, and the Chinatown neighborhood in Manhattan, says he's still pinching himself.

"My first job in this country was at a junkyard," he says. "I'm just grateful that someone believed in me. It gave me hope. Now I see a lot of young people who were just like me. If I can give them some hope, I'm there."


Back to BC News