The senior combined children and youth studies with a STEM-based minor and looks to the future as a pediatrician.
/web/new_2022news/Saba_Iqbal_2022_94x84jpg.jpg
#BCGrad2022: Saba Iqbal
May 6, 2022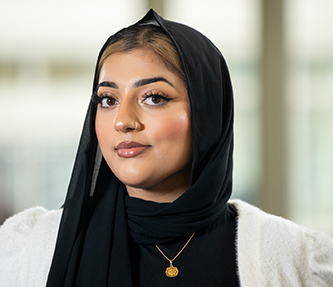 The senior combined children and youth studies with a STEM-based minor and looks to the future as a pediatrician.
Saba Iqbal will graduate this spring with a bachelor's degree in children and youth studies with a 4.00 GPA. At Brooklyn College, she figured out how to synthesize a passion she developed for kids with her interest in medicine, all while maintaining a position on the Dean's List every semester she has attended. She is a member of the Phi Beta Kappa Society.
How was your first year at Brooklyn College?
It was amazing. I made some choices that helped me move toward my career interests and made many friends I consider family today. The Honors Academy, in conjunction with the Magner Career Center, helped me land my first job opportunity as a physical therapy aide. I reviewed strength-training techniques with patients, tracked their walking times and distances, and instructed them on musculoskeletal exercises.
Why did you decide on children and youth studies with a minor in chemistry?

It started back in high school. I performed well in STEM classes, but I also naturally gravitated toward the subjects. So, I took biology and chemistry courses my first year at Brooklyn College. Then I took a great course called Perspectives on Childhood in my sophomore year and decided that children and youth studies with a minor in chemistry aligned my interests with my future career perfectly.
Children are such a vulnerable yet intellectual group. I am as intrigued by them as I am eager to learn from them. The things I learned in this class were pivotal to realizing that I want to be a pediatrician. Also, my time working as a physical therapy aide solidified my interest in the treatment and diagnosis. I enjoyed taking care of adult patients, but children who came by the clinic gave me joy. After the internship, I shadowed pediatricians at Geo Medical Care Pediatric Clinic. I aided the clinic in its day-to-day operations and tracked patients from infants to toddlers.
Do you have any interests outside your field of study?

I enjoy doing makeup. I started off doing it on my own, then began to offer makeup services further down the line. With makeup, you must be aware of the variations in the application process because facial structures and skin tones differ so much. Similarly, with patient care, people have unique medical backgrounds, fears, and cultural/ethnic principles that a physician needs to be sensitive to. In this way, being a good physician is just like being a good makeup artist: You need to acknowledge the patients as individuals and make them comfortable to assess care for them properly. Makeup has taught me to pay attention to what I call "the tree within the forest." What makes the individual. Being a doctor is way more than just tending to physical needs.
Any advice for future graduates?

Take everything one step at a time. Stay steadfast and do the things you are passionate about.
What's next for you?

Graduate school, definitely. I want to continue my studies to become a primary care pediatrician. I won't name the schools I have in mind because my fingers are still crossed.
Back to BC News