Leading senior CUNY college also ranked as a top 50 Best Value Public College and among the Top 20 Best Schools for Financial Aid. 
/web/new_2022news/Princeton_Review_photo_94x84.jpg
Brooklyn College One of The Princeton Review's 2022 Best Value Colleges
May 19, 2022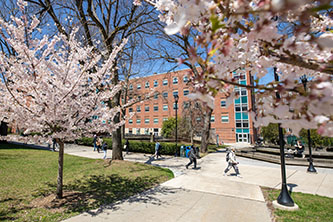 Adding to its long list of accolades, Brooklyn College was again named as one of the "Best Value Colleges" in the nation by The Princeton Review for the fourth straight year.
The rankings include public and private colleges that have earned the education services company's highest ROI (Return on Investment) rating—a score the company tallies using more than 40 data points. The ratings are based on analyses that review more than 40 data points. They cover academic offerings, cost/financial aid, career placement services, graduation rates, and student debt as well as alumni salary levels and job satisfaction.
Outside of the overall list, The Princeton Review ranked Brooklyn College a Top 50 Best Value Colleges (Public Schools, No. 39) and a Top 20 Best Schools for Financial Aid (Public Schools, No. 12) 
The Princeton Review® chose 209 schools for its 2022 list based on its survey of more than 650 institutions during the 2020-21 school year. To tally the ROI ratings, the company analyzed school-reported data on academics, cost/financial aid, career services, student debt, and graduation rates. Data on the levels of job satisfaction and salary of school alumni also factored into the tallies. The list of the 209 Best Value Colleges is not ranked hierarchically from 1 to 209.  
More information on the project methodology, the criteria for the ROI rating, and the basis for each ranking list may be found at https://www.princetonreview.com/college-rankings/best-value-colleges/methodology.
"The schools we chose as our Best Value Colleges for 2022 are a select group: they comprise only about 7% of the nation's four-year undergraduate institutions," said Rob Franek, editor-in-chief of The Princeton Review. "We commend their administrators, faculties, staff, and alumni for all they are doing to educate their students and guide them to success in their careers. These colleges are also exceptional for the generous amount of financial aid they award to students with need and/or for their comparatively low cost of attendance."
About Brooklyn College
Widely known for its offer of an excellent education at an affordable tuition and recognized nationally for its diverse student body, Brooklyn College has been an anchor institution within the Borough of Brooklyn and greater New York City for more than 90 years. With approximately 16,000 students in more than 100 undergraduate and graduate degree programs in the arts, humanities, sciences, education, and business, the college is renowned for its rigorous academics, award-winning faculty, distinguished alumni, and community impact. Part of the City University of New York (CUNY), Brooklyn College offers a vibrant and supportive student experience on a beautifully landscaped 35-acre campus in the borough's Midwood neighborhood.
Back to BC News