The theater major hopes to challenge the racial and gender status quo on Broadway by holding close to a mantra she learned at Brooklyn College: Be faster than the critics and louder than her own doubts. 
/web/new_2022news/2S9A8408_94x84.jpg
#BCGrad2022: Franny Vasquez
May 20, 2022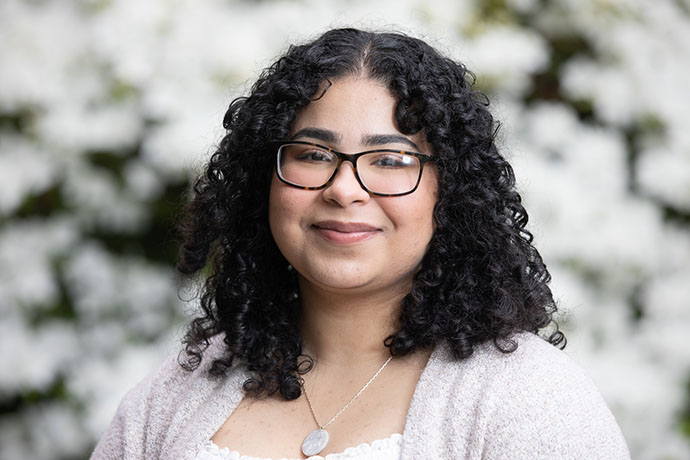 Franny Vasquez is a Dominican native from the Bronx who is graduating with a degree in theater. She wasn't even sure about attending college at first. As she approaches graduation, she says she may have missed out on her calling without it.
When did you get bitten by the theater bug?
My passion for theater started way back in middle and high school when I always joined the drama clubs, even if it was only after school. I remember being Mary Warren in The Crucible, by Arthur Miller, in high school and feeling like I was forever changed after performing. I immersed myself in the drama, so theater was rightfully my first option for my major.  
Why Brooklyn College?

I never thought I would land in Brooklyn, but then one day my English teacher, who was also the drama director, invited a former student who was pursuing a B.F.A. in acting from Brooklyn College, and she spoke to me about her experience. At the time I was still deciding whether to attend college. She said, "Ignore every other school offer you get and go straight to Brooklyn College." I am glad I listened.
What were some challenges for you?
Brooklyn College taught me to be a better person. I gained social and leadership skills—things that helped me to build my confidence, to be a person who can succeed in the real world. Because I come from a strict family, I never had opportunities to learn from people my age and to build on my character from socializing with my peers. So, it took some courage at first, but that soon changed. Many of the courses I took made socializing and project collaboration unavoidable, which helped me sharpen my iron.
You sharpened it enough to become a peer mentor for the SEEK program. What was that experience like?
I like being a mentor to students. This summer, SEEK will have a new roster of peer mentors who were once students I mentored. I can't help to be proud of myself and them, because it was a learning experience for us all.   
What is your advice for future theater majors?
In the first couple of years, I did not think the program was meant for me. It's hard ignoring that the typical character on Broadway and even Off-Broadway is usually straight, White, and attractive. I began thinking that I would not be able to find a good job in theater and even contemplated changing my major to forensic anthropology at one point.
But then I took a course called Devising and Collaborative Creation in fall 2020. It was a magnificent class because my professors, Emmanuel Simmons and Ralf Jean-Pierre, would always encourage us and repeatedly taught the class to be faster than our critics and louder than our worries. It made me realize that I do not have to be a certain way to be an effective member of a theater environment. I want newer theater majors to know this and to self-actualize in their space early on, to capitalize more on this program as much as possible. Also, they should not hesitate to confide their worries in the department's chair, Laura Tesman, because she is like a mother to everyone!
What's next for you?
First, I'm waiting to hear back from the Public Theater about a showcase of new work by recent graduates of the Brooklyn College Theater Department. Next, I want to take a break. When I started school in the Dominican Republic, I was only two years old. I have been attending educational institutions for two decades. I will go to grad school for playwriting in about a year or two. Further down the line, I am hoping to become a well-known professional in the theater world to push for inclusivity of race and gender at the vanguard of the industry.
Back to BC News