Graduate student Nick Philpott ignites passion for communication in New York City students.
/web/new_2022news/MicrosoftTeams-image_94x84.jpg
#BCGrad2022: Nick Philpott
May 23, 2022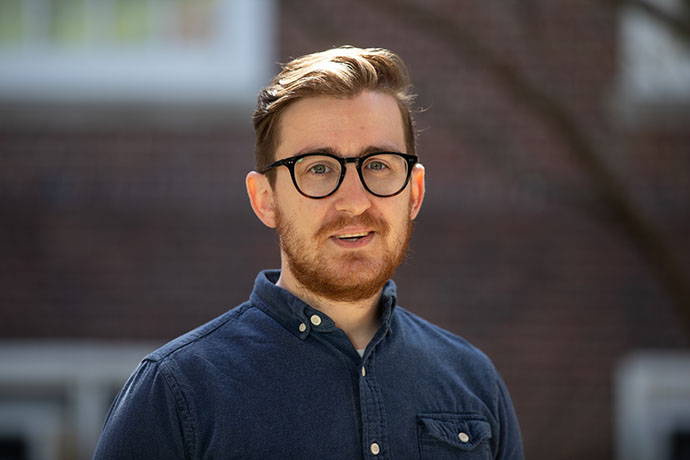 Graduate student Nick Philpott ignites passion for communication in New York City students.
Nick Philpott notes his experience growing up with siblings on the autism spectrum as the catalyst for pursuing an M.S. in speech-language pathology.
Your family members inspired you?
Yes. My siblings are both on the autism spectrum and had speech pathology from a young age, so I was exposed to it during childhood. Later on, I was working in a school as a registered behavior technician, which involved being in a one-on-one environment with autistic children and young adults. There, I experienced the amazing work that speech-language pathologists do and knew for sure that I wanted to pursue a career in the field. I try to bring my passion for communication and my background in the arts to the interactions I have with my clients, patients, and students.
What made Brooklyn College special to you?
I love the approach to speech therapy, in that we interact with patients very early on. Brooklyn College has a great reputation in the field, and I lived locally, so it was an honor to apply and be accepted. My favorite memory is getting to meet the rest of my cohort in person during comprehensive exams. After an entire year working remotely, it was awesome to make an in-person connection with those in the program.
Any special awards?
I was lucky to receive the Jennifer Silverstein Memorial Scholarship, which supports students pursuing degrees in speech-language pathology. I also presented my work at the School of Humanities and Social Sciences Student Expo recently, where I received the Most Outstanding Graduate Project award. My research was called "Social and Behavioral Relationship Quality Among Adolescent and Adult Siblings with Autism: A Systematic Review." It's on the relationship quality between siblings with and without autism; the research is extremely close to my heart.
What are your future plans?
My next internship is at the Manhattan Veteran's Administration hospital. I'm intrigued by the medical aspect of speech pathology and am hoping to explore that more during my time with patients at the hospital. I'll be working with medical issues like swallowing disorders, voice box removal, and other conditions in which a person's speech is challenged and therapy is needed. I am currently working for the New York City Department of Education at Erasmus High School and love the students there, so I would be happy to remain in the Department of Education as well. The kids are engaged and sharp; speech sessions with them are really enjoyable.
Any advice for incoming students?
Get a planner! I did not use a planner as an undergraduate but became someone who swore by one during graduate school. It has helped me stay organized and deal with the workload. There's a lot to do and it's very condensed, so time management is so important. I would also recommend taking advantage of campus resources as much as possible. Shifting to online learning made me realize how helpful it is to have a beautiful campus.
Outside interests?
I write comics, meditate, and play video games. Right now, I'm creating a four-issue comic series that is sort of a western hillbilly Harry Potter. It's a story of conflicting families, similar to the Hatfields and McCoys, but if they had magic. Otherwise, my wife and I spend a lot of time hanging out with our dog, Ruby.
Back to BC News