Held at Barclays Center, the first in-person ceremony in two years featured Mayor Eric Adams, 2011 Nobel Peace Prize Laureate Leymah Roberta Gbowee, CUNY Chancellor Félix V. Matos Rodríguez, and other special guests.
/web/new_2022news/220531-Comm22-94x84.jpg
Brooklyn College Celebrates Class of 2022
May 31, 2022
Held at Barclays Center, the first in-person ceremony in two years featured Mayor Eric Adams, 2011 Nobel Peace Prize Laureate Leymah Roberta Gbowee, CUNY Chancellor Félix V. Matos Rodríguez, and other special guests.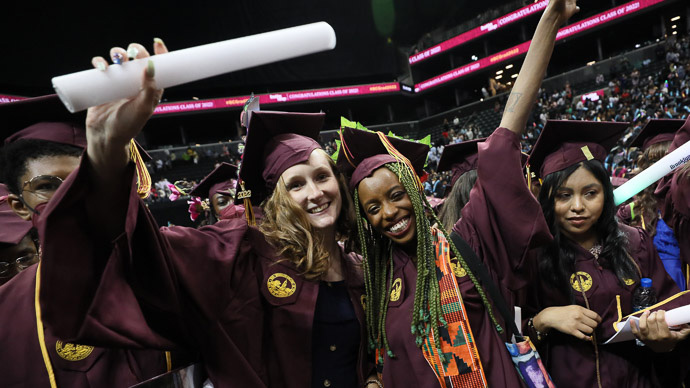 Today, Brooklyn College celebrated the achievement of more than 4,000 students at its 2022 Commencement at Barclays Center in downtown Brooklyn. The ceremony, which was full of energy, marked the first in-person commencement in two years.
College President Michelle J. Anderson, Provost, and Senior Vice President for Academic Affairs Anne Lopes, and Vice President for Student Affairs Ron Jackson helped lead the conferring of degrees from the college's School of Natural and Behavioral Sciences, School of Visual, Media, and Performing Arts, Murray Koppelman School of Business, School of Education, School of Humanities and Social Sciences, as well as the CUNY Baccalaureate for Unique and Interdisciplinary Studies.
Anderson lauded the determination of the Class of 2022, saying that despite everything they faced throughout the difficult times of the pandemic, they stayed the course.
"The graduates sitting here in Barclays today needed an extraordinary kind of commitment to get to these seats," Anderson said. "They had to tackle rigorous academic work. In so doing, they have been transformed by the power of critical thinking, the scientific method, creativity, and advanced analysis that are the foundations of higher education. They explored new ideas that have shaped their values and beliefs for the future. They have studied with classmates who will become lifelong friends—and they have learned from outstanding faculty members who became their cherished mentors."
The college also welcomed several distinguished guests, including Mayor Eric Adams; U.S. Sen. Charles E. Schumer; New York City Public Advocate Jumaane Williams; Brooklyn Borough President Antonio Reynoso; and the president of New York State Higher Education Services Corporation Dr. Guillermo Linares.
Mayor Adams emphasized the importance of the moment and the impact the Class of 2022 will have on society. "This is your moment to make this country what you want it to be."
CUNY was also well-represented, as CUNY Chancellor Félix Matos Rodríguez; Vice Chancellor for Student Affairs Denise Maybank; and CUNY Board of Trustee member Brian D. Obergfell also attended.
Chancellor Rodríguez called the day "a pure celebration" that validated the graduates' brilliance, grit, and tenacity and congratulated them for overcoming such an extraordinary set of obstacles to ultimately succeed.
Specifically, Brooklyn College conferred 3,195 baccalaureate and 966 master's degrees, along with 96 advanced certificates. Included in the Class of 2022 were 10 veterans and service members. In all, 4,257 graduates joined the prestigious Brooklyn College family of more than 160,000 proud alums worldwide.
The valedictorian of the Class of 2022 was Carina D'Urso. She received a Bachelor of Arts degree in the CUNY Baccalaureate for Unique and Interdisciplinary Studies. D'Urso earned a perfect 4.00 grade point average and graduated summa cum laude. Following commencement, she will pursue graduate studies in human development and education at the Harvard Graduate School of Education, where she plans to concentrate in the arts and learning. The salutatorian was Hafsa Fatima, a Macaulay Honors College graduate and chemistry minor who will receive a Bachelor of Science degree in psychology and a B.A. in art. She will be attending The University of Pennsylvania School of Dental Medicine.
D'Urso thanked her advisors, peers, and professors for their support and guidance. She also pointed to the influence her grandparents had in her continuing her education. Born and raised in Molise, the smallest region in Italy, neither attended school past the fifth grade. For this reason, D'Urso's mother always instilled the importance of education in her and her brother.
"As a teenager inspired by the values my mother instilled in me, I became galvanized by the idea of becoming an educator," D'Urso said. "When it was time to apply for colleges, I knew I wanted to be a commuter student so that I could attend school in the heart of New York City, with countless opportunities at my fingertips. Little did I know how this dream would come true. As a member of the Macaulay Honors College and the CUNY Baccalaureate Program for Unique Interdisciplinary Studies, I built my own major, marrying my passions for the arts, education, and social change."
Special honorees included Leymah Roberta Gbowee, who served as the honorary degree recipient and keynote speaker. Gbowee is a 2011 Nobel Peace Prize Laureate and renowned human rights leader who led the Women of Liberia Mass Action for Peace that worked to end the 14-year civil war in Liberia. She is also the founding head of the Liberian Reconciliation Initiative, a forum for the victims and perpetrators of human rights violations to bring about healing and produce a more accurate accounting of the country's devastating civil war.
Gbowee, who today is the executive director of Women Peace and Security Network Africa, congratulated the graduates and their families. She told the story about when she learned she had won the Nobel Prize and had her first meeting with fellow Nobel Prize winner Desmond Mpilo Tutu. Relaying the advice Tutu gave her, she told the graduates the three most important things to remember when they win: cultivate and hold the values that brought them to the win; always hold onto their integrity and their voice; and when they succeed, also do good by humanity.
"Class of 2022, you will win," Gbowee said. "In the midst of your winning, you can't give up on your higher power, whatever that is."
Other awardees included Leonard Tow '50, who earned the Distinguished Alumnus Award. Tow is a philanthropist and Brooklyn College Foundation Board of Trustees member. Leonard and his wife, the late Claire Tow '52, established The Tow Foundation in 1988. Through more than 700 fellowships, scholarships, internships, professorships, and teaching awards, they have enriched the quality of intellectual life for Brooklyn College's entire campus by providing the means to allow its students and faculty to become exceptional in their fields.
The couple also donated $10 million for the Leonard & Claire Tow Center for the Performing Arts at Brooklyn College, which opened in 2018. The state-of-the-art center has transformed the campus footprint and is home to the Conservatory of Music and the Department of Theater.
"To the Brooklyn College family, Len, as he is known to us, needs no introduction. It is safe to say that his positive impact on the Brooklyn College community is unparalleled," Anderson said. In a particularly touching moment, Anderson helped recognize Tow's 94th birthday, which was May 30, and the college community sang happy birthday, presenting him with a cake.
The recipient of the Presidential Medal of Honor was Jules Coleman '68. Coleman is one of the world's most renowned scholars of law and jurisprudence. Widely acknowledged to have created the field of the philosophy of tort law, as well as inclusive legal positivism, Coleman was the first and remains the most influential advocate of a corrective justice approach to tort law. A first-generation college student, Coleman received his Bachelor of Arts in philosophy, magna cum laude, from Brooklyn College in 1968; his Ph.D. in philosophy from Rockefeller University in 1972; and his master of studies in law from Yale Law School in 1976.
About Brooklyn College
Widely known for its offer of an excellent education at an affordable tuition and recognized nationally for its diverse student body, Brooklyn College has been an anchor institution within the Borough of Brooklyn and greater New York City for more than 90 years. With approximately 16,000 students in more than 100 undergraduate and graduate degree programs in the arts, humanities, sciences, education, and business, the college is renowned for its rigorous academics, award-winning faculty, distinguished alumni, and community impact. Part of the City University of New York (CUNY), Brooklyn College offers a vibrant and supportive student experience on a beautifully landscaped 35-acre campus in the borough's Midwood neighborhood.
Back to BC News