The three-day event will be held June 8-10 at Brooklyn College and is free and open to the public.
/web/new_2022news/220603_FilmFestival_94x84.jpg
Brooklyn College's 40th Annual Undergraduate Film Festival Returns to In-Person
June 3, 2022
The three-day event will be held June 8-10 at Brooklyn College and is free and open to the public.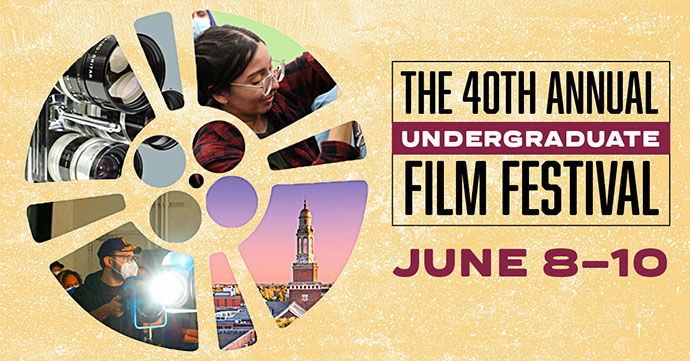 For 40 years, the Brooklyn College Undergraduate Film Program has celebrated students' accomplishments at its end of year Film Festival. And this year it is finally back and in-person. This signature event will showcase more than 40 student thesis films and will be held at the Tow Center for the Performing Arts.
On June 8, a retrospective of student work from 2020-2021 will screen. On June 9 and 10, current thesis narratives and documentaries will be screened. Each screening is followed by a free reception that is also open to the public, and an awards ceremony will close out the festival on June 10.
Annette Danto, a filmmaker, author, and chairperson of the Undergraduate Film Department and the Feirstein Graduate School of Cinema, said the entire department is excited to screen the films in front of a live audience again after the pandemic forced the festival to be held online for the past two years.
"We look forward to celebrating the accomplishments of all our film students, many of whom have struggled valiantly to complete their films during this challenging pandemic period," Danto said. "Many of our student films go on to win honors and awards at national and international film festivals, so it is really incredible to bring this back live and in-person."
Among the extraordinary films in this year's showcase, two films Danto is excited about deal with the immigrant experience and the dynamic between parent and child. Student filmmaker Cesar Javier Monroy Jimenez's "Why We Work" is a poignant story of an immigrant mother who works as a house cleaner and the relationship she has with her son. Another film, "Tricycle," by student Kwang Min Lee examines the relationship between a Korean immigrant father and his son. Both films deal with parental sacrifice and hope for future generations. Both films were produced during the pandemic with many restrictions for film production majors. Students were required to adhere to small crews, limited locations, and rigorous health and safety standards. These two films will be screened during the 4:30 p.m. showcase on Friday, June 10.
The festival will also feature a presentation of the Ken Axen New Visions Documentary Award. Axen taught physiology and exercise physiology at Brooklyn College for years before passing away from complications related to COVID-19 in Sept. of 2020. Axen, also the late husband of Kathleen Axen, Brooklyn College's chair of the Department of Health and Nutrition Sciences, directed many documentaries himself while a student in the Brooklyn College Undergraduate Film program and was a beloved member of the college community. Excerpts from Axen's documentary, "Burning Man," will be screened as part of the Awards Tribute, and the award will be presented at the festival's awards ceremony on June 10.
Note: All persons attending the festival are required to be fully vaccinated. Proof of vaccination includes a NYS Excelsior pass or CDC vaccine card. The Department of Film requires all patrons to remain masked while in the Lobby and Theater.
Back to BC News