The July 12 event featured such special guests as actor, producer, writer, and podcaster Rachel Strauss-Muñiz '01 and CEO and President of the Brooklyn Chamber of Commerce Randy Peers '96. 
/web/off_dosa/220712_Comeback_Commencement_94x84.jpg
Brooklyn College Hosts In-Person Commencement for Classes of 2020 and 2021
July 12, 2022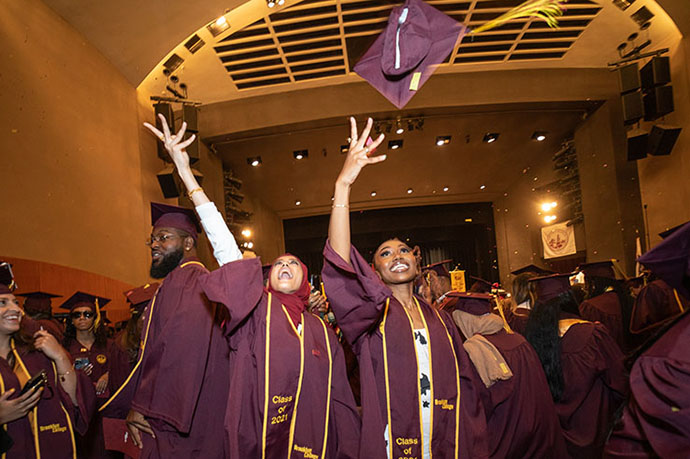 To help honor and recognize the incredible commitment displayed by the Brooklyn College Classes of 2020 and 2021 who were unable to enjoy an in-person commencement due to COVID-19 restrictions, a special "Comeback Commencement" was held on July 12 on campus in the Claire Tow Theater in Whitman Hall.
"The sacrifices these graduates made and the commitment they showed to complete their degrees were extraordinary," said Brooklyn College President Michelle J. Anderson. "We are thrilled to be able to hold this commencement for the Classes of 2020 and 2021 on our beautiful campus to share their joy as they continue with this next chapter in their lives."
The event had a distinct theme—recovery, remaining, and resilience—and several special guests were on hand to deliver that message. 
The stars of Commencement were the resilient and dedicated Roby Daniel, the valedictorian for the Class of 2020, and Asma Awad, the valedictorian for the Class of 2021. 
Awad, who is working as a software engineer at JPMorgan Chase & Co., offered advice based on her experiences doing something she loves: coding. 
"None of us are immune to making mistakes. It's one thing to be perfect and another to be your best, and I think that the latter says more about someone than the former," Award said. "Problems come our way on a daily basis, and we probably share more of them than we think. It doesn't take a code review to open up to different perspectives on a single problem…. I can only hope that when so many of you are undoubtedly in positions to recruit, to promote, or to simply make an impact, that you recognize the importance of representation and what it means for the future."
Daniel, who is currently studying medicine at the University of Pennsylvania School of Medicine, said while he was proud to deliver his speech online to his fellow graduates in 2020, the in-person event was extra special.
"Class of 2020, I want to remind you that adversity was not new to us, even if it may have taken on a different shape and form," Daniel said. "We made it through our undergraduate journey and two years of our postgraduate career, all while following Brooklyn College's motto: nil sine magno labore—nothing without great effort. As we celebrate today, we can proudly say all the hard work has paid off. Our struggle has forged us into the leaders of tomorrow as we have learned a new way to learn, a new way to teach, and, most importantly, a new way to succeed."
Serving as keynote speaker was actor, producer, writer, and prolific podcaster Rachel Strauss-Muñiz '01, who serves on the board of directors of the Brooklyn College Alumni Association and was also a former adjunct lecturer. Now the executive producer and host of the 2021 Webby Award–nominated podcast Latinos Out Loud, she is one of seven selected writers for the National Hispanic Media Coalition's 2021 LatinX Stream Showcase, where her short film The Swimmers premiered. It was also featured in the 2021 Official Latino Film Festival. Her one-woman show, Ink, was a featured selection in the 2021 ONE Festival. 
Strauss-Muñiz brought energy and humor to the event, expressing her deep love for both Brooklyn and Brooklyn College. Comparing the pivots she has made during her eclectic career—particularly during the pandemic—that spanned working in media, marketing, and entertainment, she lauded the more than 9,000 total Brooklyn College graduates of the two classes who also had to pivot to earn their degrees.
"You had a choice to plummet or pivot and you did it. You all rose to the occasion. We all made the decision to shift, adapt, and overcome," Muñiz said. "That ability to shift and still operate will serve you sell as you pursue your ambitions." Commencement also featured CEO and President of the Brooklyn Chamber of Commerce Randy Peers '96 as another special guest speaker. From 2002 to 2006, Peers served as vice president of economic development at the Brooklyn Chamber of Commerce under former President Kenneth Adams, developing a portfolio of projects, including the Good Help program and Real Estate Development industry initiative, as well as developing the concept for the Business Solutions Center. 
Peers told the graduates that, as a Brooklyn native who had to work and take classes, he related and respected the difficult journey the classes of 2020 and 2021 had made. 
Comparing his work on the city-wide program he helped create to assist 3,000 businesses citywide and 11,000 businesses in Brooklyn over the past difficult few years that leaned on being adaptive and creative, he also marveled at the work that was done by both graduating classes.
"Nothing I experienced at Brooklyn College matches what you went through during your two years navigating the pandemic," Peers said. "No matter how you were impacted or how you pivoted, here you are.… You should be congratulated for your own resiliency.… Never forget the life lessons this challenge has taught you."
The commencement was led by President Anderson, Vice President for Student Affairs Ronald C. Jackson, Provost and Senior Vice President for Academic Affairs Anne Lopes, and other college faculty and staff. The CUNY extended family was also in attendance, including Denise B. Maybank '78, CUNY Vice Chancellor of Student Affairs.
Jackson congratulated the graduates of both classes, emphasizing that they earned a combined 6,793 bachelor's and 2,231 master's degrees, along with137 students who received advance certificates. 
New York State Senator Kevin S. Parker was also in attendance, and a video greeting from Jumaane Williams '01, '05 M.A. was shared.
Williams called Brooklyn College a "special place," telling the classes of 2020 and 2021: "Your success comes after your hard work, your sacrifice, and your ability to overcome challenges of the two years and throughout your education.…You're not the leaders of tomorrow, you are the leaders of today, and we are going to need you."
Stating the Bachelor of Arts Degree in Elementary Education she earned from Brooklyn College has drawn as much attention and has held as much weight as a degree earned Ivy League institutions, Vice Chancellor Maybank said: "I got an education for a lifetime from the School of Education at Brooklyn College. …Know that you are the difference the world needs as such a time as this."
The multi-camera livestream of the event was produced and directed by a crew from the Department of Television, Radio & Emerging Media. It was produced by Michael Mannino and directed by Eleana Donaldson, both members of the Class of 2021.
Back to BC News