Lauded for being one of the best public institutions in the region, the report also recognizes the college as a leader in helping students ascend the socioeconomic ladder.
/web/new_2022news/Brooklyn_College_Koppelman_School_students_2022_2S9A9438_94x84.jpg
Brooklyn College Ranks First for Ethnic Diversity by "U.S. News & World Report" for Fifth Straight Year
Sept. 12, 2022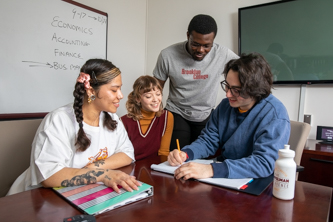 Brooklyn College Receives National Recognition for Diversity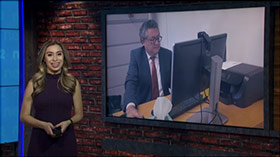 Having one of the most diverse campuses in the country comes with its unique set of responsibilities, which the college embraces. One way Brooklyn College supports its incredibly diverse student body is through its Immigrant Student Success Office (ISSO), which was launched in 2019 to support immigrant and first-generation students through an array of programs and resources. News 12 highlighted both the college holding U.S. News & World Report's top "Diversity Index Rating" in the region for the fifth straight year, as well as ISSO on September 28, 2022.
For the fifth straight year, U.S. News & World Report has recognized Brooklyn College as the most ethnically diverse university among campuses in the North Region.
The college led five other CUNY campuses (Baruch College 2, Hunter College 4, Queens College 5, College of Staten Island 7, John Jay School of Criminal Justice 8) in the top 10 with the highest diversity index number, while finishing No. 63 overall in North Regional Universities. 
Brooklyn College also finished third on the list of "Least Debt" among colleges and universities in the North Region, slightly behind its CUNY sister colleges, York and Lehman, and just ahead of John Jay, Queens College, Baruch, Hunter, and College of Staten Island. It also was listed 7th in "Economic Diversity (North Region)," just behind Lehman and just ahead of Hunter, John Jay, and Baruch.
Other rankings Brooklyn College placed in included: 
#12 in Social Mobility (North Region)
#14 in Best Public Colleges (North Region)
#23 in Best Colleges for Veterans (North Region)
#215 Undergraduate Computer Science program
#283 Undergraduate Business program
One of the top Business Programs
One of the top Computer Science Programs 
In addition to this recognition, Brooklyn College was also named to The Princeton Review's "Best 388 Colleges for 2023" for the 21st straight year in August 17, also ranking No. 39 on the list of "Top 50 Best Value Colleges (Public Schools)" and No. 12 on the list of "Top 20 Best Schools for Financial Aid (Public Schools)." Highlighting Brooklyn College's superior value, in May it was also again named a Best Value College by The Princeton Review. These rankings included public and private colleges that have earned the education services company's highest ROI (Return on Investment) rating—a score the company tallies using more than 40 data points, analyzing academic offerings, cost/financial aid, career placement services, graduation rates, and student debt as well as alumni salary levels and job satisfaction, among other criteria.
Forbes also recently included Brooklyn College in its list of "Which Colleges Are Doing The Most For Students With The Least?"
"Once again, Brooklyn College has been recognized as a champion in its support of diverse and talented students and for offering a quality education at an affordable price," said Brooklyn College President Michelle J. Anderson. "We are thrilled to be recognized by U.S. News & World Report, and we will build on the momentum of many recent, similar accolades."
An urban institution in the heart of Brooklyn, Brooklyn College welcomes students from 142 countries who speak more than 94 languages. 
Now in its 38th year, the rankings evaluate more than 1,450 colleges and universities on up to 17 measures of academic quality. U.S. News publishes the Best Colleges rankings each year to provide prospective students and their families with helpful data and information on factors such as graduation rates, social mobility, and graduate indebtedness. 
"For nearly 40 years, the Best Colleges methodology has continuously evolved to reflect changes in the higher education landscape and the interests of prospective students," said Kim Castro, editor and chief content officer at U.S. News. "Guiding that evolution is U.S. News' mission of providing useful data and information to help with one of life's biggest decisions." 
U.S. News & World Report is the global leader in quality rankings that empower consumers, business leaders and policy officials to make better, more informed decisions about important issues affecting their lives and their communities. A multifaceted digital media company with Education, Health, Money, Travel, Cars, Real Estate, News and 360 Reviews platforms, U.S. News provides rankings, independent reporting, data journalism, consumer advice, and U.S. News Live events. More than 40 million people visit USNews.com each month for research and guidance. Founded in 1933, U.S. News is headquartered in Washington, D.C.
Back to BC News