Renowned Former NYC Traffic Commissioner Sam Schwartz visited campus on October 19 to lecture on transportation and public health.
/web/new_2022news/221026_Schwartz_94x84.jpg
"Gridlock Sam" Kicks Off Mentor-in-Residence Program
October 26, 2022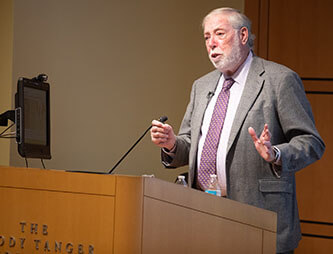 Renowned Former NYC Traffic Commissioner Sam Schwartz visited campus on October 19 to lecture on transportation and public health.
Brooklyn College was thrilled to host "Gridlock Sam" as the inaugural Tow Mentor-in-Residence for Fall 2022. Sam Schwartz '69, a national expert on traffic, transportation infrastructure, safety, and urban planning, lectured on transportation and public health.
The Tow Mentor-in-Residence program is a key part of Brooklyn College's recently launched Tow Mentoring Initiative—a multifaceted range of programs aimed at elevating the centrality of mentorship at the College.
Before becoming president and CEO of Sam Schwartz Engineering, Schwartz served as the NYC traffic commissioner and the chief engineer of the NYC Department of Transportation. Widely known as "Gridlock Sam" because he popularized the term during the 1980 NYC transit strike, Schwartz specializes in creative problem-solving for seemingly intractable situations, finding ways to move traffic better, make pedestrians safer, and add sidewalks and green space to communities.
Schwartz visited Brooklyn College for a keynote address titled, "Transportation and Public Health: Inextricably Linked," on October 19. His remarks took place in the library's Woody Tanger Auditorium, followed by reception in the Kimmich Reading Room.
The Tow Mentor-in-Residence Program recruits high-profile, senior scholars and practitioners for structured engagement with students and faculty over the course of a semester. Mentors-in-Residence are outstanding leaders across various fields who will engage with students and faculty, while providing formal and informal academic and professional guidance to the campus community.  In addition to the benefits students receive from learning directly from senior scholars, the residency is an opportunity to build and deepen institutional partnerships. There will be one mentor each of the four semesters of the grant from The Tow Foundation, which funds the Two Mentoring Initiative at Brooklyn College.
For more information, please contact BCMentoring@brooklyn.cuny.edu.
About Brooklyn College
Widely known for its offer of an excellent education at an affordable tuition and recognized nationally for its diverse student body, Brooklyn College has been an anchor institution within the Borough of Brooklyn and greater New York City for more than 90 years. With approximately 16,000 students in more than 100 undergraduate and graduate degree programs in the arts, humanities, sciences, education, and business, the college is renowned for its rigorous academics, award-winning faculty, distinguished alumni, and community impact. Part of the City University of New York (CUNY), Brooklyn College offers a vibrant and supportive student experience on a beautifully landscaped 35-acre campus in the borough's Midwood neighborhood.
About The Tow Foundation
The Tow Foundation, established in 1988 by Leonard and Claire Tow, supports visionary leaders and nonprofit organizations that serve historically marginalized populations, help individuals contribute to their communities, and champion advancements and experiences that make it possible for all people to live healthy and joyous lives. It invests in innovative programs and reform in culture, higher education, journalism, justice and community wellness, and medicine. For more information, visit www.towfoundation.org or follow The Tow Foundation on Facebook, Instagram, LinkedIn and Twitter.
Back to BC News