Students interested in Earth and Environmental Sciences will transfer credits more easily through a new agreement.
/web/new_2022news/ESS_Teaser_94x84.jpg
Brooklyn College, Stella and Charles Guttman Community College Partnership Creates Streamlined Pathway to Bachelor's Degrees
January 24, 2023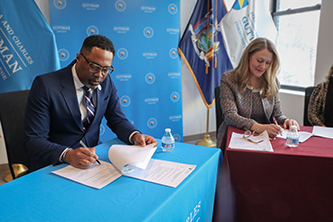 To help students interested in studying earth and environmental sciences pursue their academic and career goals, Brooklyn College and Stella and Charles Guttman Community College announced an articulation agreement that facilitates the efficient transfer of associate degree credits toward bachelor's degrees.
Participating in an event that highlighted the signing on January 10 at Guttman Community College was Brooklyn College President Michelle J. Anderson, Provost & Senior Vice President for Academic Affairs Anne Lopes, and Chairperson of Brooklyn's Department of Earth and Environmental Sciences Jennifer Cherrier. They were joined by Guttman Community College President Larry Johnson, Interim Provost & Vice President for Academic Affairs Nicola Blake, and Science Program Coordinator Karla Fuller.
President Anderson said, "Earth and Environmental Science is an especially important area of inquiry for students at this time, given the critical environmental challenges facing humanity. We are thrilled, therefore, to partner with our colleagues at Guttman Community College on an articulation agreement to support our students and to smooth their educational paths toward additional degrees in the field."
"Establishing a partnership with Brooklyn College confirms our commitment to promoting access to opportunities in the STEM field for Guttman students," President Johnson said.
"This is a particularly timely and important set of articulation agreements for students. These seamless paths prepare students to learn at a critical time in our history how the environment affects humans and how human activities impact our environment," said Provost Lopes. "We look forward to preparing our Guttman transfer students further for important careers and contributions in the Earth and Environmental Sciences."
"Brooklyn College and Guttman have world-class award-winning faculty in the sciences and these agreements create a pipeline for students in the Sciences. We are looking forward to a deep partnership with Brooklyn College," Blake said.
Brooklyn College's Earth and Environmental Sciences Department provides students with cutting edge curriculum and hands-on experience testing waters and analyzing soils and minerals, as well as opportunities to uncover and examine fossils and other treasures that help us understand how the environment effects humans and how, in turn, our activities impact the environment. Work in environmental sciences has never been more important, and contributing to diversifying the leaders in these fields is something we all should take great pride in.
There are many areas in our EES curriculum that students can explore at Brooklyn College to prepare for careers in the private sector or even governmental agencies. Master's programs are also available. 
The stars of our EES Department are the incredible faculty, who possess experience and skills across the full spectrum of these fields of study. Brooklyn College is also proud of the many external partnerships which allow students to help improve the quality of both the constructed and natural environments not only in New York City, but the world at large.
To apply for Brooklyn College's Bachelor of Arts and Bachelor of Science degrees in Earth and Environmental Sciences, Guttman students must satisfy a number of criteria, including but not limited to being in junior standing; possessing an overall GPA of at least 2.0 on a 4.0 scale; and earning a grade of C- or better in any major course to be accepted for transfer toward the major. 
To learn more about the partnership, please contact Guttman Community College Office of Academic Affairs at 646-313-8025 or provost@guttman.cuny.edu and/or for Brooklyn College, Peter Tolias, Dean of Natural and Behavioral Sciences at 718-951-3170 or DeanofNBS@brooklyn.cuny.edu.
About Brooklyn College
Widely known for its offer of an excellent education at an affordable tuition and recognized nationally for its diverse student body, Brooklyn College has been an anchor institution within the Borough of Brooklyn and greater New York City for more than 90 years. With approximately 16,000 students in more than 100 undergraduate and graduate degree programs in the arts, humanities, sciences, education, and business, the college is renowned for its rigorous academics, award-winning faculty, distinguished alumni, and community impact. Part of the City University of New York (CUNY), Brooklyn College offers a vibrant and supportive student experience on a beautifully landscaped 35-acre campus in the borough's Midwood neighborhood.
Back to BC News