Prospective Students
Welcome to Brooklyn College
At Brooklyn College, you'll have access to a world-class education, award-winning faculty and state-of-the-art learning facilities — all at a very affordable tuition.
Helpful Links
Brooklyn College Facts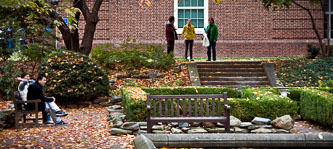 Our Diana Rogovin Davidow Speech Language Hearing Center sponsors a chapter of the National Stuttering Association.
Pulitzer Prize–winning journalist Sylvan Fox was a member of the Class of 1951.
The shovel used by New York Mayor Fiorello La Guardia to break ground on our campus in 1935 is housed in our library's archives.
We have specialized libraries for students in art, classics, Italian and television.
Young Jean Lee '05 M.F.A. won an Obie Award in 2007.
Featured Department
One of the most respected film departments in the nation is about to expand when our graduate school of cinema opens on a working film lot next year.
Read More
Featured Campus Facility
Open 24/7, this full-service computing facility has more than 80 workstations with Internet access, printing and scanning services, and a snack kiosk to keep our students energized.
Read More