The Best of Brooklyn Annual Gala
Wednesday, May 16, 2018, 6 p.m.
The Liberty Warehouse
260 Conover Street
Brooklyn, NY 11231
The Brooklyn College Foundation Honors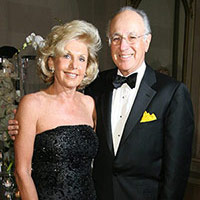 Bernard H. '62 and
Ethel B. Garil
Philanthropists and Champions of Brooklyn College
Best of Brooklyn Awardees
Bernard H. '62 and Ethel B. Garil
Philanthropists and Champions of Brooklyn College
Bernie Garil is a longtime supporter of Brooklyn College. He has served on the board of the Brooklyn College Foundation since 1997, holding several positions over the years, including treasurer, chair of both the Audit and Investment committees, and chair of the 1999 Campaign for Students. Ethel, a graduate of Midwood High School and Boston University, has been at his side throughout, supporting the work of the foundation and the college.
When Bernie earned his B.S. in accounting in 1962, his long-term goal was to someday work at the U.S. Securities and Exchange Commission. At his commencement, Manny Cohen '33, an SEC commissioner and trustee of the Brooklyn College Foundation, who was receiving an alumni award that day, learned of Bernie's interest and promptly offered him a job. Bernie would spend the next nine years at the SEC learning from Manny, who became his trusted mentor. It was with the encouragement of another future Brooklyn College Foundation trustee, Don Kramer '58, that he joined Oppenheimer & Co. in 1971, where he would work for the next 30 years. Bernie currently serves on the board of the OFI Global Trust Company and the boards of mutual funds managed by UBS.
Bernie and Ethel dedicated their lives to the fight against cancer after losing their daughter, Stacey, to breast cancer and son, Michael, to the long-term side effects of treatment for leukemia. The Garils went on to establish several programs in honor of their children, including internships at the Dana-Farber Cancer Institute and Johns Hopkins University for Brooklyn College students intent on careers in cancer research; a breast cancer resource library for patients at Columbia Presbyterian; and research programs at Dana-Farber and Johns Hopkins. They are longtime supporters of the Brooklyn College Global Medical Brigades, which enables students to spend a week each year bringing medical care to some of the world's most underserved communities. Bernie has been active in the Leukemia & Lymphoma Society since 1975 and currently serves as a member of its national board. Ethel has served on the boards of the Pediatric Cancer Foundation and Women at Risk, and has been one of the nation's largest fundraisers for Play for P.I.N.K.
Brooklyn College presented Bernie with a Presidential Medal in 2011, and he received a Lifetime Achievement Award from the Brooklyn College Alumni Association in 2017; he was also the first recipient of the Miracle Maker Leadership Award from Mutual Funds Against Cancer. In 2016, Bernie and Ethel were jointly honored with the Leukemia & Lymphoma Society's Vision for Life Award.
Best of Brooklyn Co-Chairs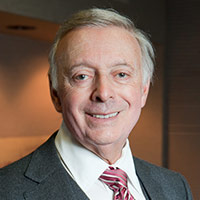 Don Kramer '58
Chairman and CEO, ILS Capital Management
Donald Kramer, chairman and CEO of ILS Capital Management, has a long history of participation in the insurance and reinsurance business. He was the founder and CEO of several successful reinsurance companies in both the United States and Bermuda. He also leads several nonprofit organizations, including the American Ballet Theatre in New York, where he was chairman from 2011 to 2016; the National Dance Foundation of Bermuda; and Bermuda First, a think tank dedicated to providing thoughtful insight into Bermuda's society and economy. Kramer earned an M.B.A. from New York University, and both a B.A. in economics and an honorary doctorate in humanities from Brooklyn College. He is also a charted financial analyst. He has been a trustee of the Brooklyn College Foundation for more than three decades. In 2011, Kramer received The Queen's Certificate and Badge of Honour of the British Empire for both his work and philanthropy in Bermuda. Most recently, he received the Free Enterprise Award from the Insurance Federation of New York, Inc.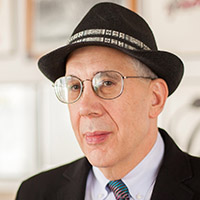 Leonard Merrill Kurz
Director, President, Forest Creatures Entertainment
Director, President, Forest Creatures Foundation
Director, Treasurer, Kurz Family Foundation
Leonard Kurz was born in Brooklyn and later moved to Rockland County, New York. Kurz serves as a director and officer of the Kurz Family Foundation and is a trustee of the Brooklyn College Foundation. He is the president and creative force of Forest Creatures Entertainment, a motion picture, television, and new media production company, and the president of Forest Creatures Foundation, a public charity that is producing INPUT 2018 (the International Public Television Conference) in Brooklyn from April 30 to May 4. He played a significant role in establishing two endowed professorships at Brooklyn College—the Herbert Kurz Chair in Constitutional Rights and Civil Liberties and the Herbert Kurz Chair of Finance and Risk Management—as well as the program that assists black and Latino male Brooklyn College students. Through Forest Creatures Entertainment he produced Kitka & Davka in Concert: Old and New World Jewish Music, which has been broadcast extensively on the PBS network. He was a founding director (United States board) of the WE (formerly Free the Children), an international organization with the unique mission of creating a global network of children helping children through education. Kurz is in production of a feature-length documentary on this organization: The WE Film. He is a co-producer of Maangamizi: The Ancient One (the first film from Tanzania to be considered for an Academy Award) and has been a script reader for Francis Ford Coppola. Kurz is a founding member of the SUNY Chancellor's Society and has received awards for his philanthropic work and an honorary degree from SUNY Rockland (Rockland Community College) in 2017. He graduated from Grinnell College with a B.A. in history and from Stanford University with an M.A. in film and television production.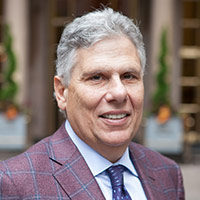 Evan Silverstein '76
Chair, Brooklyn College Foundation
Evan Silverstein is the chair of the Brooklyn College Foundation Board of Trustees. He has served on the board of the foundation since 2009 and was most recently its treasurer and a member of the Executive Committee. Silverstein graduated from Brooklyn College in summer 1975 but began his 30-year Wall Street career a few months earlier as an assistant analyst at Drexel Burnham, an opportunity that came directly as a result of a Brooklyn College internship. He left Drexel in 1979 to take a senior analyst position at another firm and eventually transitioned into money management, managing a hedge fund as part of the Bass Brothers Enterprises family office and as a general partner and head portfolio manager at SILCAP LLC, a market-neutral hedge fund with a focus on utilities and energy companies. Considered an expert in his field, he has testified before Congress and other federal entities numerous times over the years. He retired from the investment field in 2005 and has served on the boards of directors of a succession of energy-related companies. He is currently a member of NRG Energy's board, where he chairs the Risk and Finance Committee. Silverstein and his wife, Renee, also a Brooklyn College graduate (Class of 1974), feel a keen sense of commitment to the college and an affinity with many students who, like themselves, grew up in lower–middle-class households. The Silversteins have three married children and four granddaughters.
Program
Reception — 6 p.m.
Program — 7 p.m.
The Brooklyn College Foundation will present the Best of Brooklyn Award to Bernard H. '62 and Ethel B. Garil at a lively evening of cocktails, raffle prizes, and dinner.
Cocktail Attire
Sponsors
Benefactor
Donald Kramer '58
Evan '76 and Renee '74 Silverstein
Patron
Bernard H. '62 and Ethel Garil
Leonard Merrill Kurz
Partner
Anthony Castellanos '85
KPMG LLP
Frank Lavadera '76
The Leukemia & Lymphoma Society
Friends and Board Colleagues of Bernie & Ethel
Marge Magner '69
Robert A. and Florence Cohen '59 Rosen
Carol '61 and Larry Zicklin
Friend
Ante '90 and Maria '92 Basic
James T. Fantaci '68
Murray '57 and Ellen Koppelman
Steiner Studios
Sponsor
Sam E. '59 and Eva R. Beller
Edwin H. '62 and Doris Cohen
Stuart H. Coleman
Lorraine Levy Laighold '64
Burt and Ruth Leibert
Proskauer Rose LLP
Victor and Diane Ugolyn
Premier
Alltype Marketing
Brooklyn College Alumni Association
Don '59 and Maggie Buchwald
Michael and Donna Brennan
Janice Gilligan and Michael Boro
Robert and Melanie Cassandro
Dana-Farber Cancer Institute
Honey and Ira Edell
Victor and Dolores Hamati
Marc and Deborra Howard
Myron '52 and Thelma '54 Kandel
Paula and Joseph Kasell
Stuart '50 and Isabel Kessler
Christoph and Flora Kimmich
Kingsborough Community College
Martin and Mona Klein
Larry and Janet Lefkowitz
MCR, Inc.
Daniel Menendez '09 and Evelyn Melgar '10
OFI Global Trust Company
Barry and Susan Paley
Edward and Paula Peck
Ruth and Marvin Price
Harriet and Peter Rasmussen
RVK, Inc.
Martin '63 and Barbara '63 Sass
Barbara and Richard Teiman
Dede and Michael Thea
Joel and Ellen Walker
Merle and Richard Weidenbaum
Steven Womack
Peter Wright
Supporter
Marilyn Acard
Nathan and Iris Adler
Leonard Adelman
Daniel Baker '55
Mervin Baranick 
Seth and Rory Batzar
Judith Bernstein
Stephen M. Bernstein
Victor Blair
Susan Blatt
Dionne Bobb
Harriet L. Brathwaite '59
Fredda Butowsky
Mark Carver
Phyllis Citron
Louis Di Meglio '14
Susan and Edward Dratch
Honey and Ira Edell
Eleanor W. Fischer '93
Elaine and Harold Friedland
Bonnie and Bruce Gaines
Todd Michael Galitz and Kathryn Calley Galitz
Carl Goldman
Madelyn and Arthur Goodman
Renee L. Goodman
Robert Goodman
Karen L. Gould and Richard M. Simon
Philip and Carole Gruber
Herbert Herling
Stuart and Myra Herz
Ron Ingber
Sharon and Don Kabat
Gerald Kaufman
Debbie and Jimmy Krasnow
Barbara and Matthew Kroin
Joan and Ken Lapatine
Susan and Marvin Lebow
Beth Farryn Levine
Arlene Lichterman '53
Janet and Ed Lublin
McCanliss & Early, LLP
Marty '70 and Jamie Markowitz
Matthew Maryles
Jay Mechutan
Paul and Carol Miller
Robert and Andrea Miller
Charlotte and Larry Milowitz
Milga '70 and Antonio '68 Nadal
Howard Novick
Marjorie Oberlander
Frankie and Jay Oberst
Alan and Martha Ostrowitz
Carol and Lou Rippner
Stuart and Joyce Robbins
Lee Rosen
Steven and Candice Rosen
Sharon and Larry Saltzman
Martin P. '56 and Marla B. Hasten '87 Schreibman
Ron '70 and Phyllis Shanken '69 Schweiger
Ellen Spin '60
Roberta and Phil Strasburg
Steven and Lorrie Strauss
Sharon Styler
Alan Vituli
Pawel Walczuk '10
Roberta Rose Wallach '53
Michael '61 and Ella '62 Weiss
Keith Weller
Shimon Wolf
Frances and Richard Wolff
Marcia E. Zisselman
Special thanks to the supporters of tonight's Raffle
Sarah Benson '04
Edwin H. '62 and Doris Cohen
Donald Kramer '58
Sidecar @ PJ Clarke's