Brooklyn College Night
May 9, 2013
Steiner Studios, Brooklyn, New York
15 Washington Avenue
Brooklyn Navy Yard
Brooklyn, NY 11205
The Brooklyn College Foundation Honors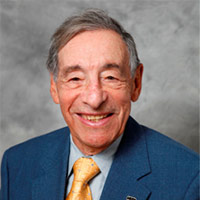 Stuart Kessler '50
CPA; Director, CohnReznick LLP
Past Chairman, AICPA
Co-Chairs
Murray Koppelman '57
Vice President, JP Morgan
Don Kramer '58
CEO, ILS Capital Management Ltd.
Thomas J. Volpe '57
Sr. Vice President of Financial Operations, The Interpublic Group of Companies (retired)
Bios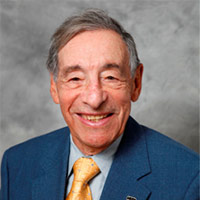 Stuart Kessler '50
Cited by Accounting Today as "one of the 100 most influential people in accounting," Stuart Kessler is a senior tax director in the New York office of CohnReznick. He is a graduate of Brooklyn Tech High School and earned his BA in economics from Brooklyn College in 1950,  an M.B.A. from the City College of New York, a J.D. from Brooklyn Law School, and an L.L.M. in taxation from New York University.
Kessler, a specialist in estate and personal financial planning, is an active member of both the American Institute of Certified Public Accountants (AICPA) and the New York State Society of CPAs (NYSSCPA). He served as chairman of the AICPA Board of Directors, president of the AICPA Foundation, and president of the NYSSCPA and its Foundation of Accounting Education.
In 2012 Stuart was named as one of 125 people who since 1887 have had the most significant impact on the accounting profession. In recognition of his career accomplishments, the AICPA awarded Stuart their Gold Medal for distinguished service.
Stuart was installed as the first living member of the NYSSCPA Hall of Fame as well as a charter member of the Brooklyn Tech Hall of Fame and the Estate Planning Hall of Fame.
He has been a member of the Brooklyn College Alumni Association for more than 50 years and helped establish the Accountants Affiliate for which he served as president, and the Athletic Affiliate as well as the Northern Suburban Chapter. He presently serves on the Planned Giving Committee of the Brooklyn College Foundation and proudly meets with the Brooklyn College former athletes group.
Happily married for 56 years to Isabel, a published writer and artist and former director of public relations for Family Service of Westchester, the couple have three sons and four grandsons.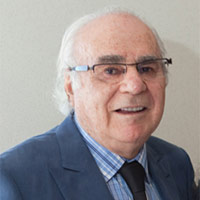 Murray Koppelman '57
Growing up in Borough Park, Murray Koppelman left Brooklyn as a teenager to live for two years on a kibbutz in the Negev Desert. He entered Brooklyn College after serving in the U.S. Army in the Korean War and received a bachelor's degree in accounting, cum laude, in 1957.
Koppelman rose rapidly in the world of finance and banking, becoming executive vice-president and chief operating officer of D.H. Blair and Co., Inc. In 1984, he became president of Eastlake Securities, Inc., which merged into J.P. Morgan, where he now serves as vice president in Private Client Services.
Koppelman sits on the board of governors of Hillel International and has served as president of Brooklyn College Hillel. The Koppelman Professorships, which Koppelman endowed in 1994, recognize outstanding service by members of the Brooklyn College faculty. Koppelman was named Brooklyn College Alumnus of the Year in 1994 and was awarded a Presidential Medal in 1995. In 2011, his generous support made it possible for the Brooklyn College Foundation to purchase a 24,000-square-foot property adjacent to the college.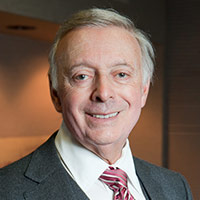 Don Kramer '58
Donald Kramer, chairman and CEO of ILS Capital Management, has a long history of participation in the insurance and reinsurance business. He was the founder and CEO of several successful reinsurance companies in both the United States and Bermuda. He also leads several nonprofit organizations, including the American Ballet Theater in New York, where he was elected chairman in 2011; the National Dance Foundation of Bermuda; and Bermuda First, a think tank dedicated to providing thoughtful insight into Bermuda's society and economy. Kramer earned an M.B.A. from New York University, and both a B.A. in economics and an honorary Doctorate in Humanities from Brooklyn College. He is also a CFA (Charted Financial Analyst). He has been a trustee of the Brooklyn College Foundation for more than three decades. In 2011, he received The Queen's Certificate and Badge of Honour of the British Empire for both his work and philanthropy in Bermuda.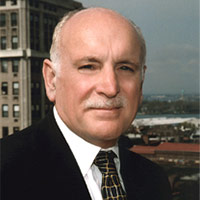 Thomas J. Volpe '57
After graduating from Brooklyn College in 1957, Thomas Volpe worked at Deloitte, Haskins & Sells (Deloitte & Touche LLP) and served in the U.S. Air Force for two and a half years, attaining the rank of captain. He earned his M.B.A. in marketing and finance from Baruch College in 1965.
In 1970 he joined Colgate Palmolive, rising to the position of vice president and treasurer. In 1986, Volpe joined The Interpublic Group of Companies, Inc. as senior vice president, financial operations, overseeing global controller, treasury and related financial activities. He retired in March 2001. 
He has served with distinction on several corporate and nonprofit boards, in particular, the NYC Chapter of Multiple Sclerosis, St. Francis College (currently chairman emeritus) and Brooklyn College Foundation (founding director). Currently, he serves as a trustee of Englewood Hospital in New Jersey, and as a director of Urban Glass in downtown Brooklyn.
Married to Anita Mazzei Volpe '69, the couple have three children, seven granddaughters and one grandson.
Table Topics and Distinguished Hosts
Michael Lynne '61, Co-founder, New Line Cinema; Executive Producer, The Lord of the Rings; Co-founder, Unique Features
Leonard Lopate '67, Host, WNYC's The Leonard Lopate Show 
Marge Magner '69, Founding Member, Brysam Global Partners; Chairman of the Board, Gannett, Inc. 
Maria Ann Conelli '80, Dean, School of Visual, Media and Performing Arts, Brooklyn College; Former Executive Director, American Folk Art Museum 
Robert Cherry, Professor of Economics, Brooklyn College; Author, Moving Working Families Forward: Third Way Policies That Work
Tania León, Distinguished Professor of Music, Brooklyn College; Conductor, "Inura" for voices, strings and percussion, performed by Son Sonora Ensemble and Dance Brazil Percussion, and nominated for a Grammy Award and a Latin Grammy Award for Best Contemporary Classical Composition
Scott Herman '80, Executive Vice President of Operations, CBS Radio 
Martin D. Sass '63, Chairman and CEO, M.D. Sass Investors Services 
Linda Konner '72, President, Linda Konner Literary Agency, representing approximately 75 authors; Co-author, Why Can't a Man Be More Like a Cat? and Your Perfect Weight
Richard Frankel '68, Theatrical Producer, The Producers, Hairspray, Stomp and many others; Owner, 54 Below nightclub 
Celia Costas, Executive Producer, Extremely Loud & Incredibly Close, Wall Street II, Charlie Wilson's War, Doubt and the upcoming August: Osage County 
Willie Hopkins, Dean, School of Business, Brooklyn College 
Kimberley L. Phillips, Dean, School of Humanities and Social Sciences, Brooklyn College; Author, War! What Is It Good For?: Black Freedom Struggles & the U.S. Military From World War II to Iraq
Myron Kandel '52, Founding Financial Editor, CNN 
Stella Lagudis '82, Managing Director, BNY Mellon – Global Strategic Sales 
Ted Liebowitz '79, Serial Internet and Entertainment Entrepreneur; Executive Producer, Oscar-nominated The Illusionist; Broadway Producer, The Heiress and Cinderella; Founder, The Liebowitz Entrepreneur Program at Brooklyn College
Sarah Benson '04, Artistic Director, Soho Repertory Theater; Recipient, Brooklyn College Alumni Association 2013 Young Alumna Award; and Judylee Vivier, Professor of Theater, Brooklyn College; Member, board of directors, Voice and Speech Trainers' Association; Vocal Support/Warm-up Facilitator, Julius Caesar, BAM
Eric Alterman, Distinguished Professor of English and Journalism, Brooklyn College; Columnist, The Nation; Author, The Cause: The Fight for American Liberalism From Franklin Roosevelt to Barack Obama
Ron Schweiger '70, Brooklyn Borough Historian; President, Brooklyn College Alumni Association 
Moustafa Bayoumi, Professor of English, Brooklyn College; Author, How Does It Feel to Be a Problem: Being Young and Arab in America
Ellen Tremper, Professor of English and Chair, Department of English, Brooklyn College; Author, "Who Lived at Alfoxton?": Virginia Woolf and English Romanticism and I'm No Angel: The Blonde in Fiction and Film
Anna Law, Kurz Professor of Constitutional Law, Political Science, Brooklyn College; Author, The Immigration Battle in American Courts; Former Program Analyst, United States Commission on Immigration Reform 
Stuart MacLelland '87, Professor of Television and Radio, Brooklyn College; multiple camera and live event productions include award ceremonies and corporate functions, off-Broadway plays and musicals, concerts and sporting events 
Laura Tesman, Assistant Professor of Theater, Brooklyn College; Director, Anna Christie, Volupté, Nocturnal, Bound, Revolutions and Ti-Jean and His Brothers; Member, Lincoln Center Directors Lab 
Sarah Christman, Assistant Professor of Film, Brooklyn College; Director, As Above, So Below, official selection of the 2013 MoMA Documentary Fortnight
Sponsors
Champion
Stuart '50 and Isabel Kessler
Murray '57 and Ellen Koppelman
Donald Kramer '58
Benefactor
Thomas J. '57 and Anita '69 Volpe
Carol '61 and Larry Zicklin
Patron
Marjorie Magner '69
Evan '76 and Renee '74 Silverstein
Partner
Chancellor Matthew Goldstein, City University of New York (CUNY)
Steiner Studios
Premier
James '68 and Anna Fantaci
Barry R. Feirstein '74
Roy L. Furman '60
Bernard H. '62 and Ethel Garil
Ted '79 and Sara Liebowitz
Ninah and Michael '61 Lynne
Robert A. and Florence Cohen '59 Rosen
Martin '63 and Barbara '63 Sass
Alexander M. '01 and Brenda R. Tanger
Friend
CohnReznick
Con Edison
The Estee Lauder Companies Inc.
Karen L. Gould and Richard M. Simon
Jules Haimovitz '71
Richard A. Wilpon '72
Sponsor
Sam '59 and Eve Beller
Celia Costas
CCS
Frances A. Hess
Myron '52 and Thelma '54 Kandel
Christoph and Flora Kimmich
Morton Kleiner '50
Stephen and Nita Lowey
Metropolitan Food Service
Nadia and Achilles Perry
Samuel N. Seidman '55
Elaine '47 and Harold Shames
Donor
Dave Altman
David Brauner
Arnold and Barbara Cohen
Richard Cohen '75
Aaron Eidelman
Marty Grief
Leonard Gugick '56
Moshe Hetzger '76
Denise L. Iocco
Andrew Kimball
Ronald Koerner '56
Stella Lagudis '82
Albert C. Lasher '51
Loeb & Troper
Jennifer J. Raab, President, Hunter College/CUNY
Carlo A. Scissura
Nathan Schmukler
Joshua Sklare
Daniel Soba
Elliot Tannenbaum '73
Neil Terens
Terry Turner '73
Michael Wiland '60
Supporter
Antonio Amato
Warren M. Bergstein
Harriet Brathwaite '59
Neil Cohen and Katherine Alexander
Maria Ann Conelli '80
Barbara and Richard Dannenberg
Joseph Giovannelli
Seymour Goldberg
Arline Gordon
Jill A. Harris and Daniel H. Bar
Michael '65 and Sally '71 Hipscher
Nathaniel and Debra E. Cumberbatch '73 Howard
Beth Farryn Levine
Arlene Lichterman '53
McCanliss & Early LLP
Jane McIntyre
Edward Mendlowitz
Marvin Natiss
Alex Neuburger
Marvin '49 and Brigitte Newman
Steven H. '58 and Selma Pokress
Samuel '49 and Dorothy Salwen '51 Rabinoff
Lewis H. '57 and Marlene Fishbane '59 Rosenbaum
Martin P. Schreibman '56
Ron '70 and Phyllis Shanken '69 Schweiger
Deborah Ann Shanley
Alexandra and J.D. Siegel
Gerald Stein
Adele Wasko
Roberta Rose Wallach '53
Elliot Wasser '02
Michael '61 and Ella '62 Weiss
Philip Wolitzer
Sara Zimmerman