The Best of Brooklyn Annual Gala
Wednesday, May 13, 2015, 6:30 p.m.
Tribeca Rooftop
2 Desbrosses Street
New York, NY 10013
The Brooklyn College Foundation Honors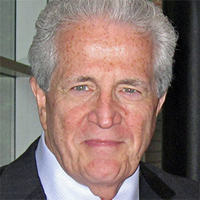 Edwin H. Cohen '62
Principal, Prism Capital Partners, LLC
and
Chair, Brooklyn College Foundation
Co-Chairs
Barry R. Feirstein '74
Don Kramer '58
Chairman and CEO, ILS Capital
Management Ltd.
Marge Magner '69
Partner, Brysam Global Partners
Bios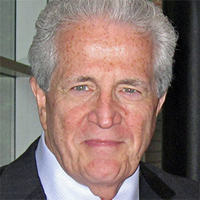 Edwin H. Cohen '62
Principal, Prism Capital Partners, LLC
and
Chair, Brooklyn College Foundation
Edwin H. Cohen had been one of the most prominent members of the real estate brokerage community for more than 40 years when he joined long-time friend and associate Eugene Diaz as a partner and principal to form Prism Capital Partners, LLC in 2003. Since then, Prism Capital Partners has grown to become a major owner, developer and investor in commercial, industrial and residential properties throughout New Jersey. In 2013 the company received the Impact Award and the Deal of the Year Award from the National Association of Industrial and Office Properties.
During the course of his distinguished career, Cohen has completed hundreds of real estate transactions in New York, New Jersey and Connecticut, and is responsible for leasing several million square feet of office space. In addition, he has sold many office buildings and land sites and has been involved in all phases of commercial real estate development, including land acquisition, project approvals, coordination of design, and engineering and construction, as well as leasing.
Prior to forming Prism Capital Partners, Cohen served as an executive director of Cushman & Wakefield, the nation's preeminent real estate brokerage firm, from 1994 through 2003; executive vice president and manager of Grubb & Ellis' New Jersey office from 1986 through 1994; and president and manager of Grubb & Ellis' New York operations from 1993 to 1994. He began his career in 1966, when he established and headed the Suburban Division for Wm. A. White & Sons. He has represented major clients throughout the greater New York metropolitan area, including the Metropolitan Life Insurance Company, Bradford Securities (now Mellon Bank), Bankers Trust, Automatic Data Processing (ADP), First Chicago Trust, USA Network, CIGNA, the Federal Deposit Insurance Corporation (FDIC), U.S. Trust, Paine Webber (now UBS), Insurance Services Office, Knight Securities, Affiliated Computer Services (ACS) and HSBC. He is frequently interviewed and quoted by the New York metropolitan area newspapers and numerous real estate trade periodicals.
Cohen was awarded the Cushman & Wakefield Brokerage Service Excellence Award for his outstanding achievement in the pursuit of business performance excellence and total client satisfaction, and the firm's Strategic Agency Services Achievement Award for outstanding performance for his clients. He is a proud Stuyvesant High School alumnus and graduated with honors from Brooklyn College in 1962 with a degree in economics. Cohen joined the board of the Brooklyn College Foundation in 1995 and has served as chair since July 2013.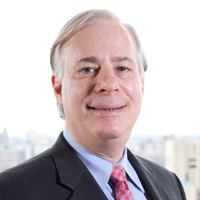 Barry R. Feirstein '74
Barry R. Feirstein founded Feirstein Capital Management Corporation, a private investment management firm, in 1993. He graduated from Brooklyn College summa cum laude with a B.S. in economics in 1974 and earned an M.B.A. from the Harvard Graduate School of Business in 1978. He started his career in finance as a technology analyst for Equitable Capital Management Corporation of New York, and managed the firm's aggressive growth portfolio from 1984 to 1992. He joined the Brooklyn College Foundation in 2005 and served as chair from 2009 to 2013. In 2011 his gift provided the foundation for the Barry R. Feirstein Graduate School of Cinema, scheduled to enroll its first cohort of students in fall 2015. The school, housed in Steiner Studios in Brooklyn's Navy Yard, will be the first comprehensive public graduate cinema program in the state of New York and the only film school to be located on a working film lot. He is president of the Friars Club Foundation, chairman of the Anderson Foundation for Autism, and a trustee of the New York Film Society at Lincoln Center.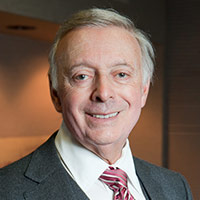 Don Kramer '58
Chairman and CEO, ILS Capital
Management Ltd.
Donald Kramer, chairman and CEO of ILS Capital Management, has a long history of participation in the insurance and reinsurance business. He was the founder and CEO of several successful reinsurance companies in both the United States and Bermuda. He also leads several nonprofit organizations, including the American Ballet Theater in New York, where he was elected chairman in 2011; the National Dance Foundation of Bermuda; and Bermuda First, a think tank dedicated to providing thoughtful insight into Bermuda's society and economy. Kramer earned an M.B.A. from New York University, and both a B.A. in economics and an honorary doctorate in humanities from Brooklyn College. He is also a CFA (charted financial analyst). He has been a trustee of the Brooklyn College Foundation for more than three decades. In 2011, Kramer received the Queen's Certificate and Badge of Honour of the British Empire for both his work and philanthropy in Bermuda.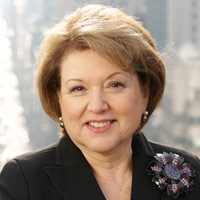 Marge Magner '69
Partner, Brysam Global Partners
Marge Magner is a founding member and partner of Brysam Global Partners. She has more than 30 years of operating and deal experience in the consumer financial services sector. Prior to the formation of Brysam, Magner served as chairman and chief executive officer of the Global Consumer Group at Citigroup. In this position, she was responsible for the company's operations, serving consumers through retail banking, credit cards and consumer finance, as well as for finance, credit and other staff functions. She was named to the Fortune list of Most Powerful Women in Business from 2001 to 2004 (#5) and to the Forbes list of World's Most Powerful Women (#19 in 2004). U.S. Banker has listed her among the Most Powerful Women in Banking (#1 in 2004) and the Top 25 Non-Bank Women in Finance (#11 in 2008). Currently, Magner is chairman of the board at Gannett Company, Inc., and a director of Accenture Ltd. and Ally Financial Inc. She also serves on the board of directors of the Brooklyn College Foundation and is a member of the Dean's Advisory Council for the Krannert School of Management at Purdue University. She holds a B.S. in psychology from Brooklyn College and an MSIA from the Krannert School of Management.
Program
Reception — 6:30 p.m.
Program, Dinner and Dancing — 7:30 p.m.
Performance by Grammy Award–winning artists Arturo O'Farrill and the Afro Latin Jazz Orchestra, winners of the 2015 Best Latin Jazz Album Grammy for The Offense of the Drum. Led by composer, bandleader and educator Arturo O'Farrill '96, a professor at the Brooklyn College Conservatory of Music.
Business or Festive Attire
Sponsors
Patron
Barry R. Feirstein '74
Donald Kramer '58
Marge Magner '69
Partner
City University of New York (CUNY)
Edwin H. '62 and Doris Cohen
Irwin '56 and Concepcion S. Federman
Murray '57 and Ellen Koppelman
Prism Capital Partners, LLC
Robert A. and Florence Cohen '59 Rosen
Evan '76 and Renee '74 Silverstein
Steiner Studios
Carol '61 and Larry Zicklin
Friend
Don '59 and Maggie Buchwald
New York Land Services
Zev Rosenwaks '68
Martin '63 and Barbara '63 Sass
Samuel N. '55 and Evelyn Patricia Seidman
Sponsor
Angelo, Gordon & Co.
Drinker Biddle & Reath LLP
Bernard H. '62 and Ethel Garil
Scott '80 and Beth '80 Herman
Sills Cummis & Gross P.C.
Richard A. Wilpon '72
Premier
Alltype Printing
CBRE Capital Markets
Andrew Merin, David Bernhaut, Gary Gabriel and Brian Whitmer of Cushman & Wakefield of New Jersey, Inc.
Dattner Architects
David and Karen Fox
Ilene '62 and Stanley Gold
Karen L. Gould and Richard M. Simon
Myron '52 and Thelma '54 Kandel
Stuart '50 and Isabel Kessler
Christoph M. and Flora Graham '88 Kimmich
Metropolitan Food Service
Newmark Grubb Knight Frank
Lewis Stein
Dave and Julie Warren
Joel '62 and Candice Zwick
Supporter
Avid
Avison Young- Edward Walsh
Saul and Betty Meyrowitz '57 Adelson
Sam E. '59 and Eva R. Beller
Harriet L. Brathwaite '59
David and Alyson Brenner
Melinda Broman
Brooklyn Chamber of Commerce
Brooklyn College Alumni Association
Jane E. Brown
Donald J. '59 and Margaret R. Calista
Caryl Communications, Inc., Public Relations & Marketing
Adrianne and Jerry Cohen
Barbara and Gary Cohen
Eta and Steven Cohen
Maria Ann Conelli '80
Beatrice Deshommes '94
The Diaz Family
Robert Dinner
Rona and Martin Dollinger
R. Bruce '63 and Madelyn Buchalter '64 Donoff
Donald P. Eisen Realty LLC
Stephen Elman
Marguerita Wilkinson Fletcher '61
The Fox Family
Caralyn and Steven Fuld
Adrianne Greenberg '66
Michael '65 and Sally '71 Hipscher
Hostos Community College
Nathaniel and Debra E. Cumberbatch '73 Howard
Eleanor Wicentowski Jaffe '56
Kingsborough Community College
Linda Konner '72
Seymour and Barbara Leslie Gerber '62 Krasner
Brian and Robin Kurz
Beth Farryn Levine
Charlton M. Lewis
Arlene Lichterman '53
McCanliss & Early, LLP
The McClain Family
Magical Monkey
Marketing Communications Resource, Inc.
Marc Mellon '74 and Babette Bloch
Bob Lieb & Michael Seeve, Mountain Development Corp.
Prominent Properties Sotheby's International Realty
Martin P. Schreibman '56
Ron '70 and Phyllis Shanken '69 Schweiger
Lee and Beth Shulman
Stuart Tapper
Leonard and Susan Tarr
Roberta Rose Wallach '53
Jaime M. Weiss Realty Co Inc.
Michael '61 and Ella '62 Weiss
Judy Hirsch Weston '54
Arnold and Beverly M. Greenberg '59 Winston
Special thanks to the supporters of this evening's raffle
Edwin H. '62 and Doris Cohen
Roy Furman '60
Donald Kramer '58
Porter House New York
Sidecar @ PJ Clarke's