The Best of Brooklyn Annual Gala
Thursday, May 12, 2016, 6:30 p.m.
Rainbow Room
30 Rockefeller Plaza
New York, NY 10112
The Brooklyn College Foundation Honors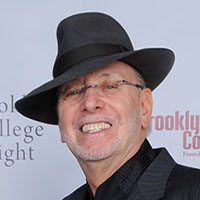 Don Buchwald '59
President, Don Buchwald & Associates, Inc.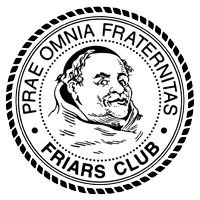 Roast produced by the
Friars Club
Co-Chairs
Barry R. Feirstein '74
Founding Donor,
Barry R. Feirstein Graduate School
of Cinema
Murray Koppelman '57
Founding Donor,
Murray Koppelman School
of Business
Don Kramer '58
Chairman and CEO,
ILS Capital Management Ltd.
Chairman,
American Ballet Theatre
Leonard Merrill Kurz
Director,
Kurz Family Foundation
Bios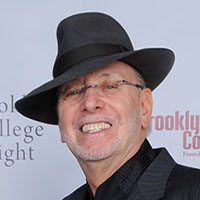 Don Buchwald '59
President, Don Buchwald & Associates, Inc.
Don Buchwald '59 attributes his good fortune to many things, and high on that list is being born in Brooklyn and graduating from Brooklyn College.
As one of the nation's top talent agents, he heads a bicoastal agency, Don Buchwald & Associates (DBA), that serves the needs of many diverse artists in all areas of the entertainment industry. Don is personally responsible for a small list of long-term clients, including radio superstar Howard Stern, who he has represented for more than 30 years.
Don enrolled at Brooklyn College as a 16-year-old graduate of Lafayette High School, served in the U.S. Army, and then returned to major in theater and take some of the very first television and radio classes offered by the college. Upon graduation he went to Los Angeles to work as an actor. He returned to New York two years later and began focusing on theater management and producing at summer and regional theaters. In 1964 he joined fellow Brooklyn College graduate Monty Silver '57 at his eponymous talent agency. In 1977, he formed Don Buchwald & Associates, Inc., and within two years the company had moved into its own building on East 44th Street. The DBA Los Angeles offices are on Wilshire Boulevard.
Don funded a theater scholarship at his alma mater in 1986 and has been a member of the Brooklyn College Foundation Board of Trustees since 1998. In 2002, he started the Don Buchwald Internships, a program that provides stipends for up to 15 Brooklyn College undergraduate and graduate students each semester, enabling them to take unpaid internships at various New York City–based entertainment firms, including DBA. He is a major supporter of the Barry R. Feirstein Graduate School of Cinema, and the Leonard & Claire Tow Center for the Performing Arts, which will include the Don Buchwald Theater. He was the first recipient of the Brooklyn College Theater Alumnus Award, the Alfred Drake Award. At the 2009 commencement he received the Brooklyn College Distinguished Alumnus Award.
Don has been a member of the Friars Club since 1972 and served on the board of governors of the famously irreverent show-business club. He lives in Manhattan with his wife, Maggie, and they relax at a weekend home he has dubbed "Bensonhurst." The couple has two daughters and two grandchildren.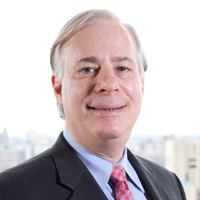 Barry R. Feirstein '74
Founding Donor, Barry R. Feirstein
Graduate School of Cinema
Barry R. Feirstein founded Feirstein Capital Management Corporation, a private investment management firm, in 1993. He graduated from Brooklyn College summa cum laude with a B.S. in economics and earned an M.B.A. from the Harvard Graduate School of Business in 1978. He started his career in finance as a technology analyst for Equitable Capital Management Corporation of New York, and managed the firm's aggressive growth portfolio from 1984 to 1992. He joined the Brooklyn College Foundation in 2005 and served as chair from 2009 to 2013. In 2011 his gift provided the foundation for the Barry R. Feirstein Graduate School of Cinema, which opened in fall 2015. The school, housed in Steiner Studios in Brooklyn's Navy Yard, is the first comprehensive public graduate cinema program in the state of New York and the only film school to be located on a working film lot. He is chairman of the Anderson Foundation for Autism, and a trustee of the New York Film Society at Lincoln Center.
Murray Koppelman '57
Founding Donor, Murray Koppelman
School of Business
After graduating from Abraham Lincoln High School in 1949, Murray Koppelman spent two years on a kibbutz in the Negev Desert in the newly founded State of Israel. Returning home to Brooklyn, he served in the U.S. Army in the Korean War and then, at age 23, enrolled in Brooklyn College, where he would earn a bachelor's degree in accounting, cum laude, in 1957. He rose rapidly in the world of finance and banking, first becoming a certified public accountant and then executive vice-president and chief operating officer of D.H. Blair and Co., Inc. In 1984, he became president of Eastlake Securities, Inc., which merged into J.P. Morgan. He recently retired from his position there.
Koppelman sat on the board of governors of Hillel International and has served as president of Brooklyn College Hillel. The Koppelman Professorships, which Koppelman endowed in 1994, recognize outstanding service by members of the Brooklyn College faculty. Koppelman was named Brooklyn College Alumnus of the Year in 1994 and was awarded a Presidential Medal in 1995. In 2011, his generous support made it possible for the Brooklyn College Foundation to purchase a 24,000-square-foot property adjacent to the college.
In 2015 his generous giving, combined with additional gifts by his friends on the Brooklyn College Foundation Board of Trustees, made it possible to name the Brooklyn College School of Business in his honor.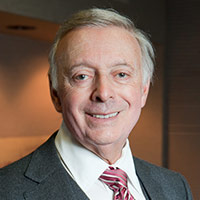 Don Kramer '58
Chairman and CEO, ILS Capital
Management
Chairman, American Ballet
Theatre
Donald Kramer, chairman and CEO of ILS Capital Management, has a long history of participation in the insurance and reinsurance business. He was the founder and CEO of several successful reinsurance companies in both the United States and Bermuda. He also leads several nonprofit organizations, including the American Ballet Theatre in New York, where he was elected chairman in 2011; the National Dance Foundation of Bermuda; and Bermuda First, a think tank dedicated to providing thoughtful insight into Bermuda's society and economy. Kramer earned an M.B.A. from New York University, and both a B.A. in economics and an honorary doctorate in humanities from Brooklyn College. He is also a CFA (charted financial analyst). He has been a trustee of the Brooklyn College Foundation for more than three decades. In 2011, Kramer received the Queen's Certificate and Badge of Honour of the British Empire for both his work and philanthropy in Bermuda. Most recently, he received the Free Enterprise Award from the Insurance Federation of New York, Inc., and he will be a 2016 inductee into the Insurance Hall of Fame, an honor awarded by the International Insurance Society.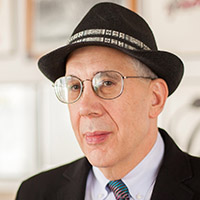 Leonard Merrill Kurz
Director, Kurz Family Foundation
Leonard Kurz was born in Brooklyn and later moved to Rockland County, N.Y. Kurz serves as a director and officer of the Kurz Family Foundation. He played a significant role in establishing the two endowed professorships at Brooklyn College — the Herbert Kurz Chair in Constitutional Rights and Civil Liberties, and the Herbert Kurz Chair of Finance and Risk Management — as well as the program that assists black and Latino male Brooklyn College students. He is the president and creative force of Forest Creatures Entertainment, a motion picture, television and new media production company established in 1993. In 2007, Forest Creatures Entertainment produced Kitka & Davka in Concert: Old & New World Jewish Music, which has been broadcast extensively on the PBS network. He was a founding director (United States board) of Free the Children, an international organization that has the unique mission of creating a global network of children helping children through education. Kurz is making a feature-length documentary, Free the Children; is a co-producer of Maangamizi: The Ancient One, the first film from Tanzania to be considered for an Academy Award; and has been a script reader for Francis Ford Coppola. Kurz is a founding member of the SUNY Chancellor's Society and has received awards for his philanthropic work. He graduated from Grinnell College with a B.A. in history and from Stanford University with an M.A. in film and television production.
Program
6:30 p.m. — Cocktail Reception
7:30 p.m. — Live Auction With One-of-a-Kind Prizes
8:00 p.m. — Dinner and Presentation of Best of Brooklyn Award
Brooklyn College President Karen L. Gould will present the Best of Brooklyn Award to Don Buchwald '59.
9:00 p.m. — Roast of Don Buchwald '59
Produced by the Friars Club, with actor Kathleen Turner, media star Robin Quivers, comedian Lisa Lampanelli and actor George Takei.
Business or Festive Attire
Contributions are tax deductible under the full extent of the law. Proceeds to benefit the Brooklyn College Foundation Annual Fund.
Sponsors
Patrons

Don '59 and Maggie Buchwald

Barry R. Feirstein '74

Johnson & Johnson

Murray '57 and Ellen Koppelman

Don Kramer '58

Leonard Merrill Kurz

Howard Stern

Partner

Edwin H. '62 and Doris Cohen

Don Buchwald & Associates, Inc. Employees

City University of New York (CUNY)

Roy L. Furman '60

Marge Magner '69

Robert A. and Florence Cohen '59 Rosen

Sirius XM

Steiner Studios

Friend

Deloitte

Discovery Communications

Martin and Ahuva Gross

Hank Lane Music

Lola Jaffe

Ted '79 and Sara '79 Liebowitz

Pryor Cashman LLP

Zev Rosenwaks '68

Martin '63 and Barbara '63 Sass

Schmulman Lobel

Sponsor

Barnes & Noble College Booksellers

Ed and Barbara Haldeman

Scott '80 and Beth '80 Herman

Adam and Jenny Hersch

Abbe and Dan Klores

NBC Entertainment

Tim Sabean

TD Bank

Vicki and Ron Weiner

Richard A. Wilpon '72

Eric Wittenberg, UBS

Carol '61 and Larry Zicklin

Premier

Gary and Mary Dell Abate

Alltype Printing

Louise Barzilay and Stephen Berenson

Ante '90 and Maria '92 Basic

Larry Becsey and Devra Wasserman

Sam E. '59 and Eva R. Beller

Llyod Braun

Julia Buchwald

Laura Buchwald

Citi Commercial Bank

Cathy Cole

Celia D. Costas

The Estée Lauder Companies

Ilene '62 and Stanley Gold

Karen L. Gould and Richard M. Simon

Jay Gregory and Rory Hayden

Rob Jacobson and Julie Cho

Dave Johnson

Myron '52 and Thelma '54 Kandel

Stuart '50 and Isabel Kessler

Martin B. Klein

Samuel Kopel and Sari Scheer

Michael Lynne '61

Metropolitan Food Service Inc.

Fred and Allison Norris

Jeffrey Schick

Steinway & Sons

John and Katherine Stookey

Bruce Tindal

Leonard Tow '50 and Phyllis Mailman

Pawel Walczuk '10 and Christina Chinnici

Supporter

Brooklyn College Alumni Association

Brooklyn Chamber of Commerce

Brooklyn Navy Yard

Harriet L. Brathwaite '59

Stu Cantor

Ron Carner

Maria Ann Conelli '80

Vinnie P. Favale '82

Agnes Ford '69

Gesco Ice Cream

Liz and Alan Jaffe

Kingsborough Community College

Claudia Latorre

Beth Farryn Levine

Arlene Lichterman '53

Loeb & Troper

Marty '70 and Jamie Markowitz

McCanliss & Early, LLP

Charles Mirotznik

Ana Mouradian, Delene Copeland and Joanne DePersia

Pepsi Cola Bottling

Prestige Printing

RVK, Inc.

Ruth Joy Schwartz '63

Ron '70 and Phyllis Shanken '69 Schweiger

Roy Seidenberg and Christina Shen

Semel Media

Andrew Sillen '74

Charles J. Thomas

William A. Tramontano and Deborah Buonagurio

Mimi Strongin Turque-Marre '59

Rochelle Udell'Turshen

Roberta Rose Wallach '53

Michael '61 and Ella '62 Weiss

Special thanks to the supporters of this evening's auction

Greg Bernarducci

Roy L. Furman '60

Howard Stern-Sirius XM Satellite Radio

Donald Kramer '58

Michael Lomonaco '02

New York Mets

Porter House Bar and Grill

Rao's Restaurant Group LLC

Phillipa Soo

Special thanks also to Erin Ward of Star Benefit Auctions, our auctioneer for this evening.