A Message From Sam Beller '59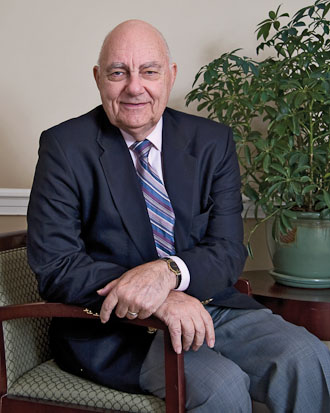 Brooklyn College was a bridge between the Brownsville neighborhood of my childhood and the world. The education I received eventually gave me the foundation necessary to compete in my chosen profession. I was able to perfect my skills in speech and education, which enabled me to enjoy a very satisfactory and successful career as a financial consultant.
I was the first in my family to attend college. Although tuition at Brooklyn College was negligible at that time, I nevertheless had to work at a variety of jobs in order to attend a free school. It is the same for most of today's students. I view my education as a gift. I believe that the only way that I can ever be worthy of that gift is to assist current and future generations of students in obtaining the same opportunity.
I have served on the board of the Brooklyn College Foundation for 27 years and helped attract support for the college by chairing the Foundation's Planned Giving Committee. Although these experiences have been deeply gratifying, I derive the greatest pleasure from the two scholarships I fund each year. They afford me the opportunity to mentor the recipients. I feel a strong bond with them. Their stories echo my own. Most are the first in their families to attend college. The tuition, although modest by today's standards, is still a financial hardship and they, too, must seek employment while attending school.
I have made a provision in my estate plan in order to assist future generations of students. This provision will allow the college to continue my scholarships for many years to come.
If you share my feelings of gratitude and my desire to pass the gift of an education on to future students, I hope that you will consider supporting the Brooklyn College Foundation in one or more of the following ways:
Include a bequest to Brooklyn College in your will.*
Name Brooklyn College as a beneficiary of your IRA or other qualified retirement plan.*
Purchase a charitable gift annuity from the Foundation.*
Donate an existing paid-up life insurance policy to the Foundation. You will receive a substantial tax deduction.*
Establish a charitable remainder trust.*
Purchase a life insurance policy on your life with the Foundation named as owner and beneficiary. You will receive a tax benefit each time you make a donation to the Foundation equal to the premium due.
Please contact our Foundation office at 718.951.5074 for more detailed information on ways to support Brooklyn College.
Sincerely,

Sam E. Beller '59, CLU, ChFC
Chairman, Planned Giving Committee, Brooklyn College Foundation
*Please consult the Foundation or your financial adviser for the tax ramifications in your jurisdiction.