Office of Diversity and Equity Programs
Brooklyn College is committed to values and policies that enhance respect for individuals and their cultures. In fact, the college's cultural, racial, and ethnic diversity is one of our distinguishing characteristics. The Office of Diversity and Equity Programs is responsible for ensuring the college's compliance with CUNY policies as well as federal, state, and local laws pertaining to diversity, equal employment opportunity, affirmative action, nondiscrimination, and sexual misconduct.
Honoring Black History
February 3, 2021
Dear Brooklyn College Community,
We honor black history, achievements, culture, and contributions with increased visibility this month, but should acknowledge the importance of these contributions and sacrifices 365 days a year.
In that spirit, I ask that you join me today in thanking and collectively acknowledging the hard work and preparation from our numerous organizers, presenters and sponsors—Department of Africana Studies; Black and Latino Male Initiative; Black Solidarity Day Student Committee; Department of Judaic Studies; LGBTQ Resource Center; Personal Counseling; Phi Sigma Chi Multicultural Fraternity Inc.; Department of Sociology; Student Activities, Involvement and Leadership; Tanger Hillel House; Women's Center; Women of Color Student Club; and We Stand Against Hate—for planning a variety of film screenings, discussions, and workshops for your Black History Month 2021 participation.
Film Screening and Discussion: White Supremacy in Blackface
February 2
A film screening of White Supremacy in Blackface, directed by Domini Quinn SupaStar (2020) and discussion on the social construct called "white supremacy" as seen by its number-one target: black people. Screening and discussion led by Professor of Sociology Jean Eddy Saint Paul. Courtesy of I Am BC Diversity Committee, SAIL Center, and Black Faculty and Staff at BC.
Black & Jewish Multicultural Identities, and Anti-Semitism
February 4, 12:30 p.m.
"Black and Jewish Multicultural Identities, and Anti-Semitism" will explore the possibilities and meanings that arise when black and Jewish identities merge. This event will feature a lecture by Professor Katya Gibel Mevorach from Anthropology and American Studies at Grinnell College. Gibel Mevorach holds a Ph.D. in cultural anthropology from Duke University. She received her B.A. and M.A. in African studies from Hebrew University of Jerusalem in Israel. Gibel Mevorach is author of the books Black, Jewish and Interracial: It's Not the Color of Your Skin but the Race of Your Kin and Other Myths of Identity, and she has also been published in several notable journals. She moved to Israel in 1970 after graduating from The Brearley School in New York and returned to the United States in 1991 to pursue doctoral studies. She was invited to join Grinnell College as a Scholar-in-Residence in January 1996.
Battle of the Sexes
February 5
Join the ladies of Women of Color and the brothers of Phi Sigma Chi Multicultural Fraternity Inc. for a friendly debate regarding our views on relationships, stereotypes, political stances, gender roles, and much more. Presented by the Beta Chapter of Phi Sigma Chi Multicultural Fraternity Inc. & Women of Color.
Restorative Yoga
Workshop
February 9
Racism, Mental Health, and Strategies for Supporting Our Students
February 18
Co-founders of the BARE Mental Health & Wellness Center, Professor Jessica LoPresti, Suffolk University Boston, and Professor Tahirah Swain, University of Massachusetts Boston, will discuss the impact of racism and discrimination on the mental health of our students of color and the strategies and resources faculty can use to support their success.
Common Reader/The 1619 Project, With Author Robert Jones Jr. '06, M.F.A '08
February 18
As part of the Common Reader/The 1619 Project. organized by the Department of English, Robert Jones Jr. reads from his critically acclaimed debut novel, The Prophets. He will be introduced by Wadzanai Mhute, an M.F.A. student in creative writing at Brooklyn College. This is co-sponsored by the college's We Stand Against Hate initiative, departments of English and History, Wolfe Institute, and Office of Diversity and Equity Programs.
John Hope Franklin Commemorative Events
February 23 and 24
The departments of History and English, together with the Wolfe Institute and the Common Reader/1619 Project, invite the public to two free online Black History Month events commemorating Tulsa 1921 through oral histories and music.
Restorative Yoga
Workshop
February 23
The Black Entrepreneurial Spirit (B.E.S.T.) of Black History Month
February 23
A panel discussion highlighting alumni who have become successful entrepreneurs since graduating. Presented by SAIL Center, I Am BC Diversity Committee.
"I Am Not Your Negro," by James Baldwin
Film screening and discussion
February 25, 6 p.m.
Register Here
Black Culture: The Underappreciated Pioneer
February 26, 6 p.m.
Zoom Meeting ID: 708 174 3007
Passcode: WOC
Join the ladies of Women of Color and Professor Donna-Lee, Ph.D., from the Brooklyn College Sociology Department to discuss the impact that black culture has had on popular culture throughout history and how it influences today's cultural climate. Presented by Women of Color and Donna Lee Granville, Ph.D.
The annual celebration of Black History Month officially started in 1976, but the inspiration began in February 1926 when Carter G. Woodson created Negro History Week "not to box-in when we celebrated our history, but to elevate a period of celebration."
Sometimes we forget how our words and actions today can have an impact on the future. Recent events have shifted our focus toward positive change and awareness of the complexities and challenges within the black community and other communities of color. The pandemic has affected many of us in a variety of ways, and, unfortunately, communities of color have disproportionately experienced the repercussions of the virus. However, looking to put an end to that is an African American woman and viral immunologist, Dr. Kizzmekia Corbett, who helped lead the National Institutes of Health team that developed Moderna's coronavirus vaccine. Dr. Corbett and her team's medical advancements remind us that there are many people making important decisions, advancements, and sacrifices today that will surely be included in the history books of tomorrow.
Thank you,
Anthony Brown, Esq.
Chief Diversity Officer and Special Assistant to the President
Office of Diversity and Equity Programs
Combating Sexual Assault and Other Unwelcome Behavior
How do I report a sexual assault or incidents of domestic violence on or off campus? What supportive services are available through Brooklyn College and outside organizations? We want to ensure you are informed and your questions are answered.
Programming
The Office of Diversity and Equity Programs develops and coordinates with offices to create programs, trainings and events to combat bigotry and other biases in all their forms and continues to recognize and build on the strengths offered by our multicultural, multiracial and multigenerational campus.
For October, we are offering eight Remote Learning Anti-Discrimination Training Sessions.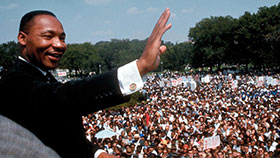 People fail to get along because they fear each other; they fear each other because they don't know each other; they don't know each other because they have not communicated with each other.
— Martin Luther King, Jr.
Implementation Team for Racial Justice
Chief Diversity Officer Anthony Brown and Ron Jackson, Vice President for Student Affairs, have been appointed to lead a special Implementation Team for Racial Justice on campus. The team will coordinate the collective development of a comprehensive plan on all issues and action items advanced to the administration. The team will ensure coordination among many initiatives under way, so that we can maximize the impact of our campus-wide effort.
Suggestion Box
How are we doing? Please submit your suggestions/comments below. Please note, this is NOT a complaint form.
Sexual Misconduct and Discrimination Investigations
In order to ensure a safe environment for all members of our community, the Office of Diversity and Equity Programs is charged with the responsibility of addressing and investigating complaints involving discrimination and sexual misconduct, and ensuring that reasonable accommodations and academic adjustments are provided when needed. To file a complaint, contact the Title IX Coordinator (contact information below) and/or complete the:
Additional Resources
Event Calendar
Sexual and Interpersonal Violence Prevention and Response Training
Wednesday, February 17, 2021, 2 p.m.
Thursday, March 4, 2021, 2 p.m.
Wednesday, March 17, 2021, 10 a.m.
Wednesday, April 14, 2021, 2 p.m.
Thursday, April 29, 2021, 10 a.m.
Wednesday, May 12, 2021, 10 a.m.
Thursday, May 27, 2021, 2 p.m.
Wednesday, June 9, 2021, 2 p.m.
Thursday, June 24, 2021, 10 a.m.