Educational Talent Search Program
The Federal TRiO Programs were designed to identify and provide services for students from disadvantaged backgrounds. In 1965, as part of the Higher Education Act, TRiO created Educational Talent Search to help disadvantaged or low-income students be the first generation in their families to attend college and attain a bachelor's degree.
In 2016, the Brooklyn College Educational Talent Search Program began a five-year grant to serve five target high schools in Brooklyn. Our target schools are the Academy for College Preparation and Career Exploration, Brooklyn Generation School, Cultural Academy for the Arts and Sciences, Brooklyn Collegiate, and George Westinghouse High School. We work closely with school administration, guidance counselors, and college advisers to provide pre-college counseling to students in grades 9–12 with the goal of bridging the gap for our students.
The Brooklyn College Educational Talent Search Program worked with 760 high school students in the 2018–19 academic year. Our goal is to increase the number of first-generation and disadvantaged youth who successfully complete high school, enroll in college, and achieve post secondary success. The program supports TRiO students by providing the following services:
Regents and SAT Prep tutoring
Academic, career, and financial counseling
College readiness workshops
Learning and study strategy assessments
Assistance with college enrollment applications
Single-day college trips and overnight college tours
Summer enrichment activities
Mentoring
And more
To become a TRiO member, complete the BC Educational Talent Search Online Application. You will then receive a follow-up email regarding the status of your application! For assistance, contact us at 718.951.5593 or educationalts@brooklyn.cuny.edu. We look forward to serving you. 
Level Up Summer Institute 2021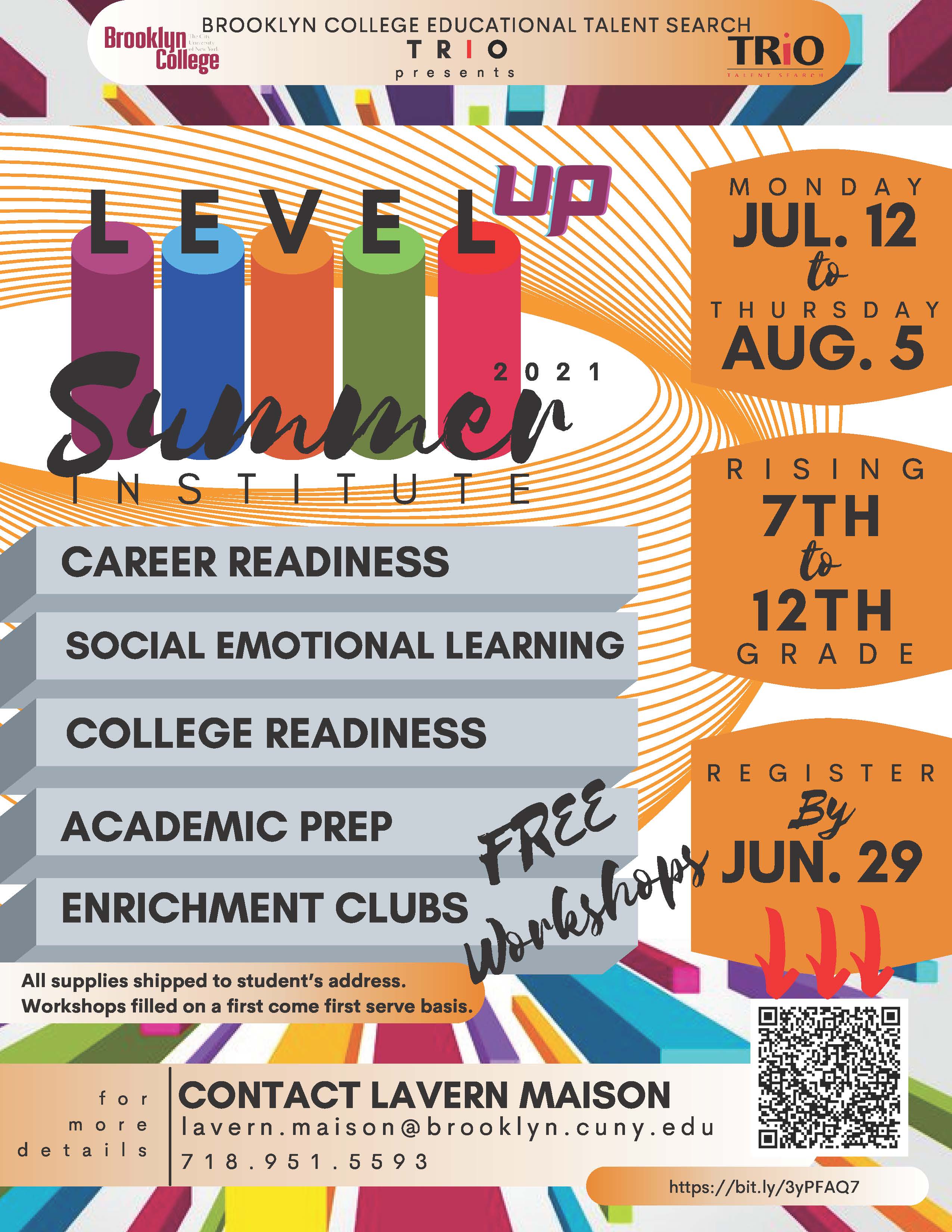 Hello all! TRiO Summers are back!
From July 12th - August 5th, TRiO will be facilitating summer enrichment programs for students from grades 7-12!
 Join us for cooking classes, LEGO engineering workshops, and academic prep like SAT and SHSAT Prep!
Contact Lavern Maison at lavern.maison@brooklyn.cuny.edu or call 718.951.5593 for further inquiries!
Stay connected with us! Follow us on Instagram @talent_search_bc and our TRiO Alumni page @bc_trioalumni
Adelphi University Virtual Tour 2021
TRiO Tutoring Drop-in Sessions!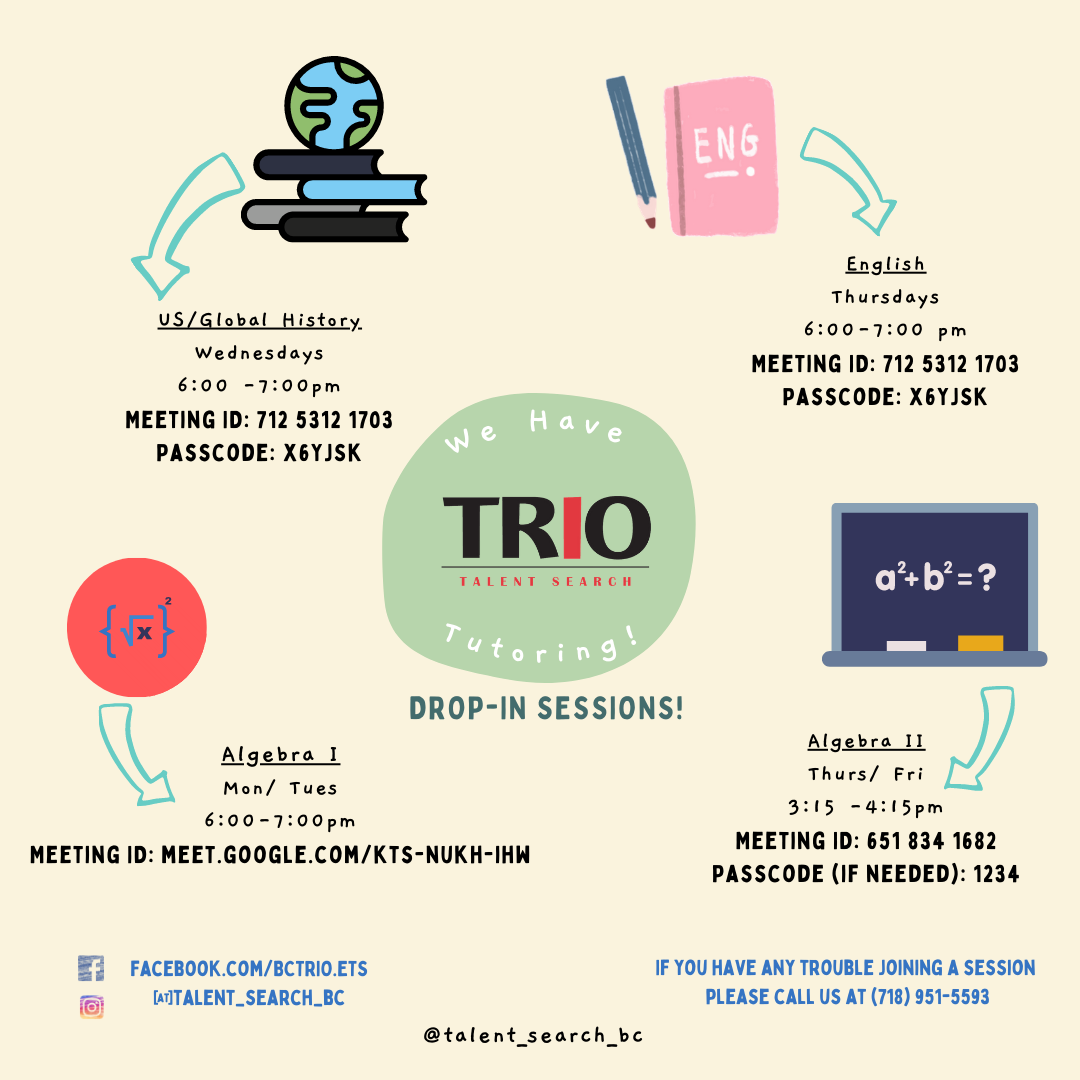 We have tutoring!
Brooklyn College TRiO Educational Talent Search is offering FREE tutoring for 
Algebra I,

Algebra II,

ELA,

Global History and,

U.S. History.
Students who need assistance can drop-in!
The Meeting ID's for each session is listed on the flyer, or click here. 
Stay in the loop with us at:
@talent_search_bc on Instagram and facebook.com/BCTRIO.ETS
SAT Prep Spring 2021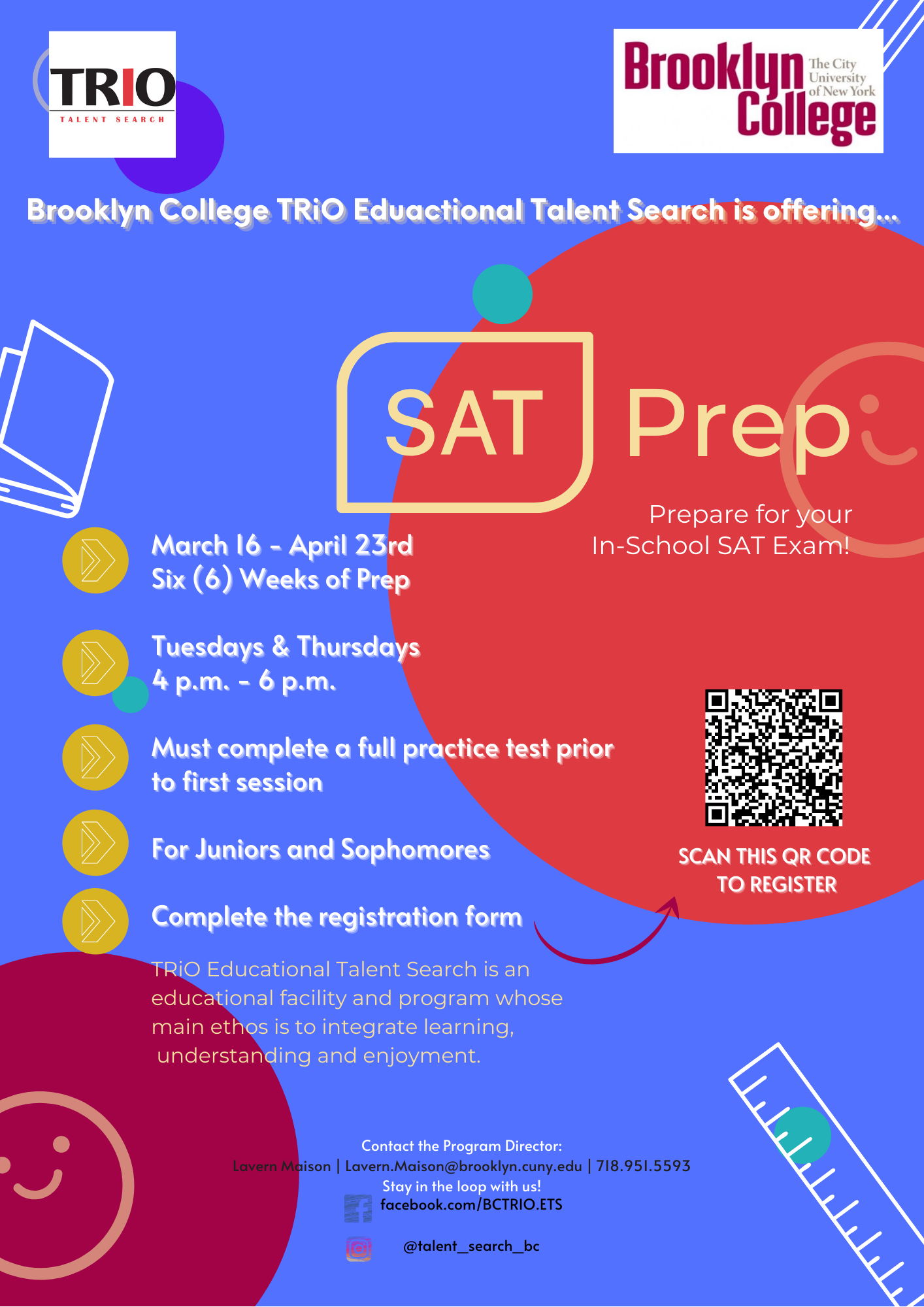 Hey all, we're back with more prep! Starting this month, TRiO is hosting a 6-week SAT Prep course for high school sophomores and juniors. We are thrilled to provide this FREE service to our participants and we hope to see you there! 
The course will be held via zoom. 
Please complete the registration form if interested. To access the form, click here. 
Stay in the loop with us at:
@talent_search_bc on Instagram and facebook.com/BCTRIO.ETS
ACT Tutoring
Are you taking the ACT soon? You can receive ACT tutoring as a TRiO student, all you have to do is sign up! Be quick as our seats are limited. 
Join us from 4 to 6 p.m. on Mondays and Wednesdays.
The duration of this tutoring program is TBD. 
For more information, e-mail Lavern Maison.
Follow us on Instagram and on Facebook.
Got It Photo Study App
Do you need extra assistance with tricky subjects?
Would you like to verify your answers for your homework?
The Got It Study App can help you with that! 
Just:
Snap a picture of your assignment question.
Post it to the app once you sign up.
Get connected with a professional to help you with your work!
E-mail Lavern Maison for more information or assistance with the sign-up process.
Follow us on Instagram and Facebook.
Medaille HEOP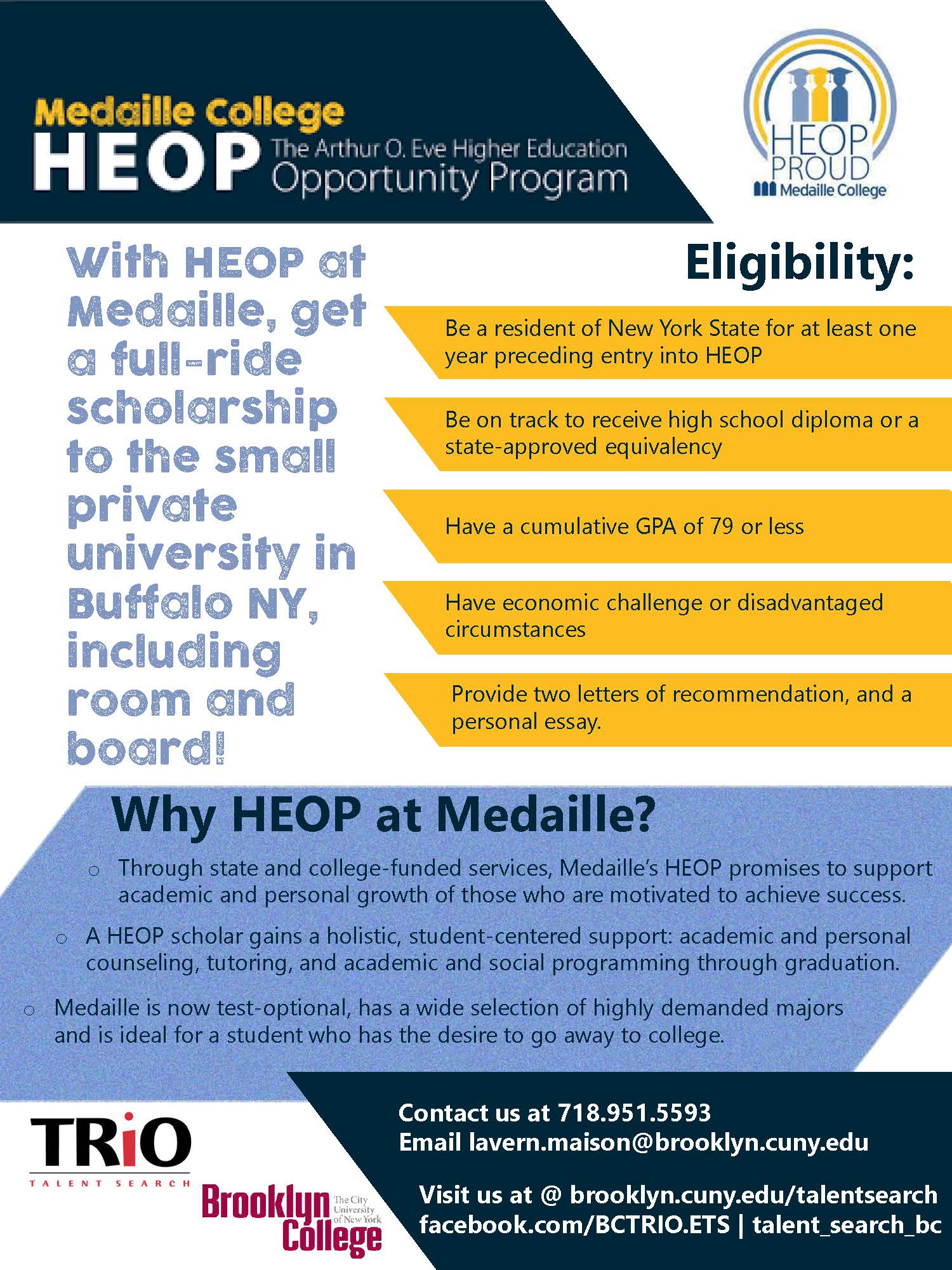 Are you a senior in high school looking for college options?
Check out Medaille College! Contact your counselor or e-mail Lavern Maison, our program director, for more information. 
Fall 2020 SAT Prep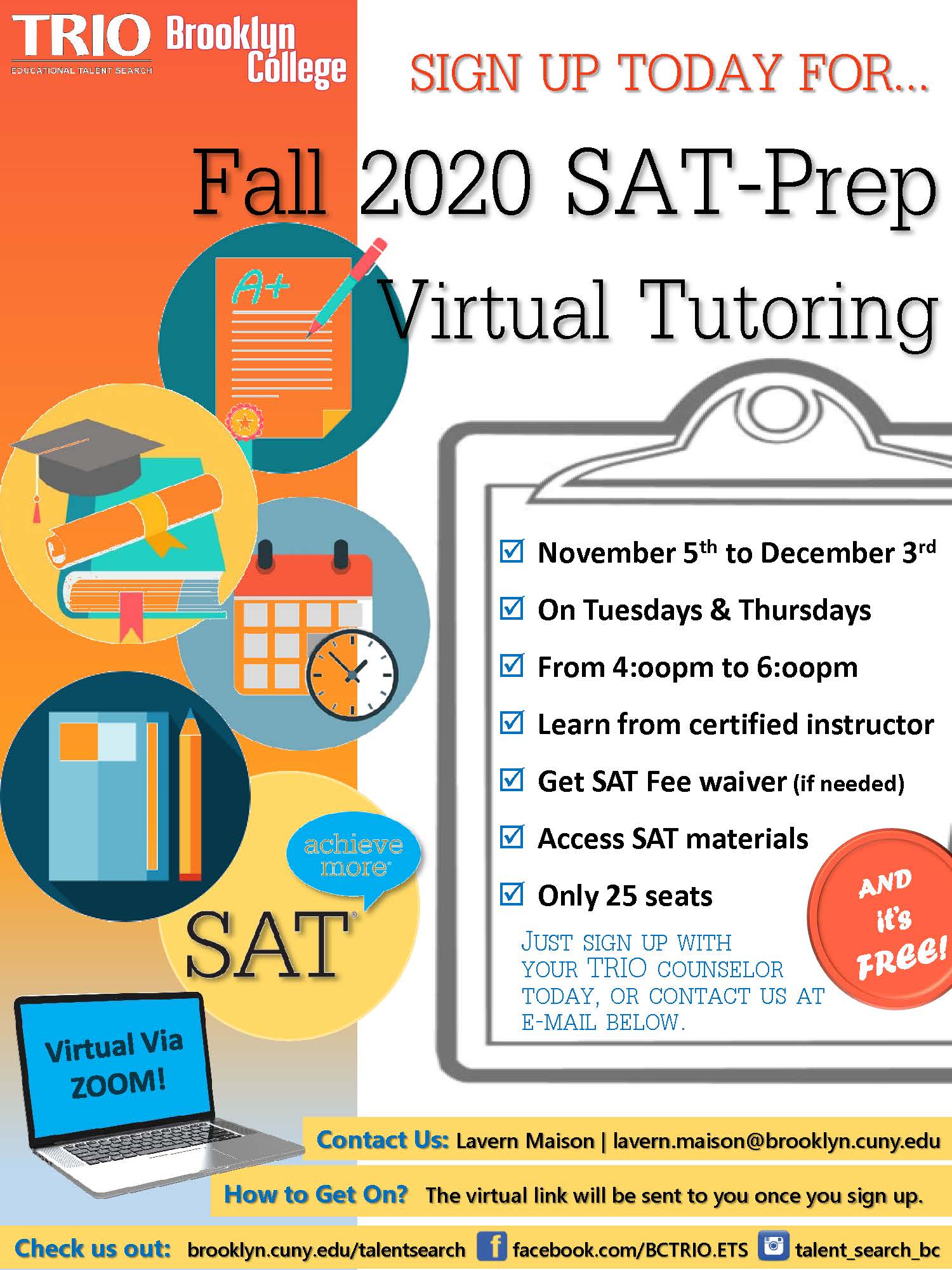 TRiO Talent Search is now offering SAT prep for the fall!
Get tips and instruction from a certified instructor!
And it's free!*
November 5–December 6
Tuesdays and Thursdays, 4–6 p.m., via Zoom
* Students must be enrolled in the TRiO Program. E-mail our director, Lavern Maison, and she'll get back to you shortly. The Zoom link will be sent once you are enrolled / sign up for the program.
Follow us on Instagram and on Facebook.
Brown University Virtual Tour!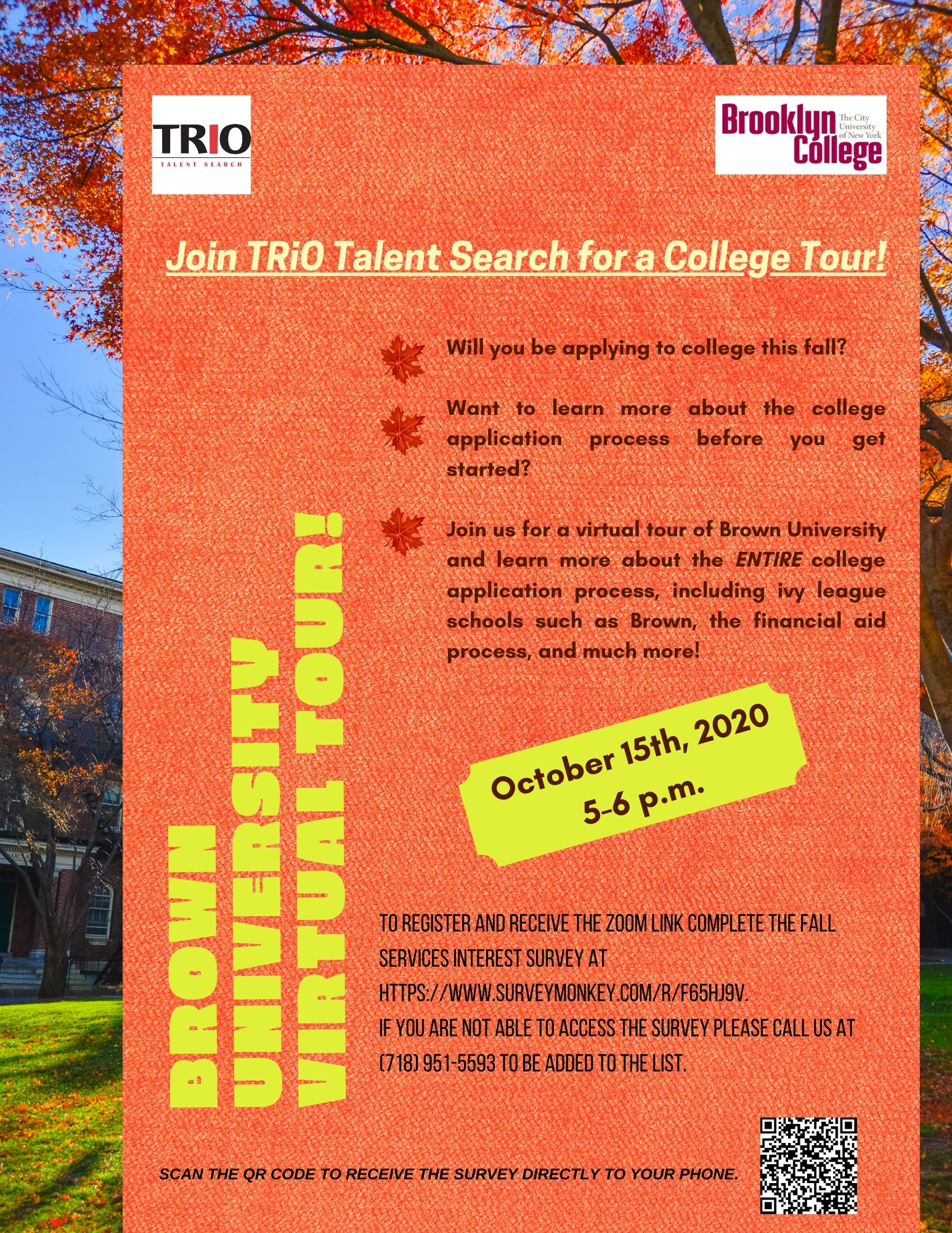 Are you applying to college soon? Want to learn more about the college and Ivy League application process?
Join TRiO Talent Search and Brown University for a virtual tour and financial aid informational, and learn the college application process from school officials!
Complete the Fall Services Interest Survey in order to sign up! 
Health Career Exploration Program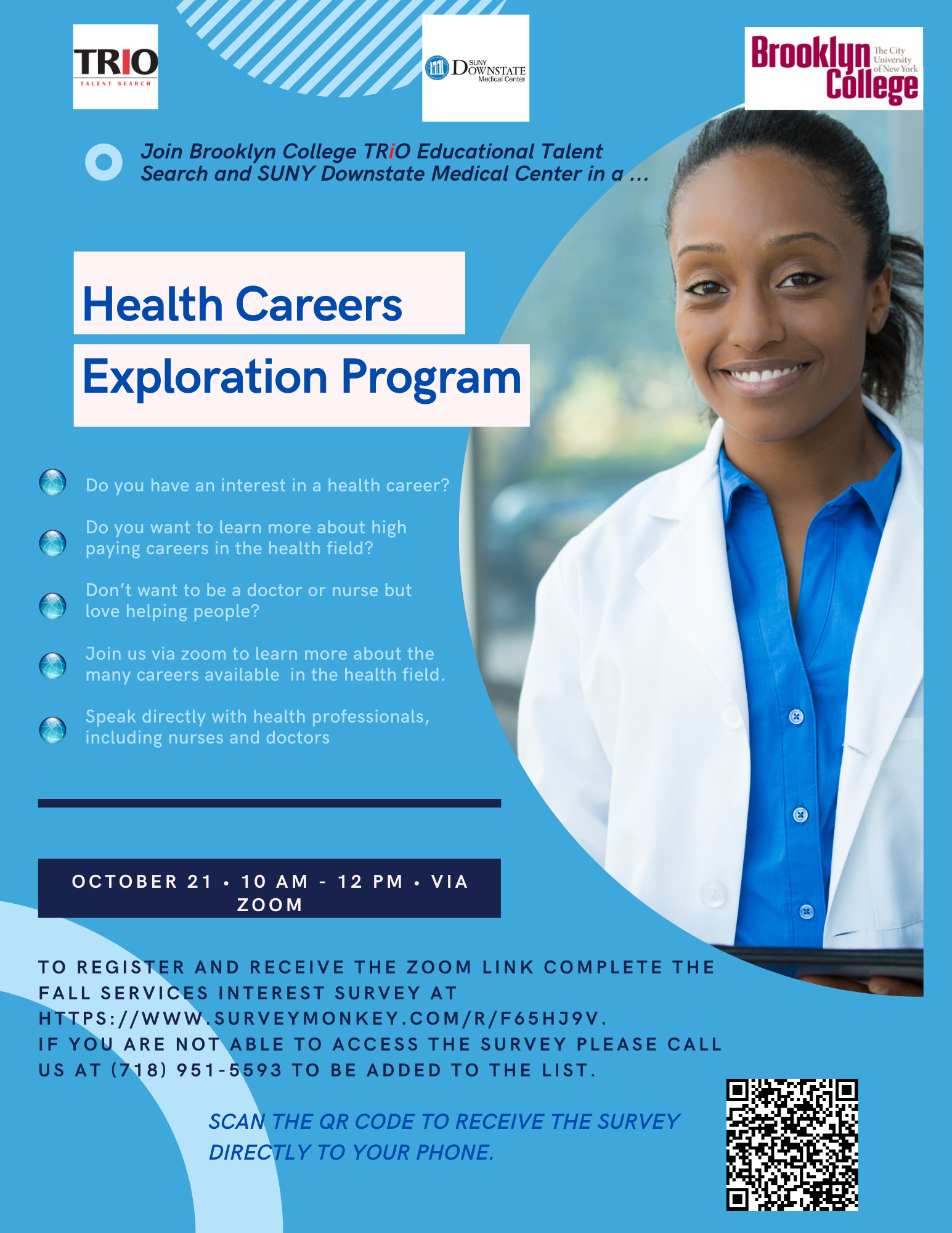 Are you interested in health careers? Are you interested in helping others with their health but don't necessarily want to become a doctor or a nurse?
Join TRiO Talent Search and SUNY Downstate Medical Center in an exploration program that provides insight into several fields!
Complete the Fall Services Interest Survey in order to sign up!
Virtual Coding + Tech Class
TRiO Talent Search is offering a free virtual coding class!
Learn to create games, web apps, websites, 3D model, circuits, and more in four weeks.
By being part of the class, you will also receive a Basic Starter Arduino UNO R3 Kit.
Sign up here!
A Message from Lavern Maison, TRiO Director
Current and Prospective TRiO Students:
I hope you are all well and keeping safe. Due to the COVID-19 pandemic and closure of all NYC public schools, the Brooklyn College TRiO program has moved to online programming only. To ensure the safety of our students, we also postponed the P/SAT review session that was scheduled for the spring. Over the past weeks, I have received inquiries from many of you about our next SAT review class. I am happy to share the news that we will be hosting a P/SAT review course this summer online, and it's all FREE! TRiO will help you prepare for the PSAT and SAT exams beginning in August. The course will run from August 3 to 28, 2020.  So, if you will be entering the 10th, 11th, or 12th grade in September and would like to prepare for the PSAT or SAT exams, please complete this short survey.
If you have any questions or need help, don't hesitate to call me at 718.951.5593 or e-mail me
Note: The College Board has released the test dates for fall 2020. You can begin to register for an exam. The test dates are:
August 29
September 26
October 3
November 7
December 5
Please be safe, and we will see you online soon!
Sincerely,
Lavern Maison
Project Director
Virtual HBCU Tour!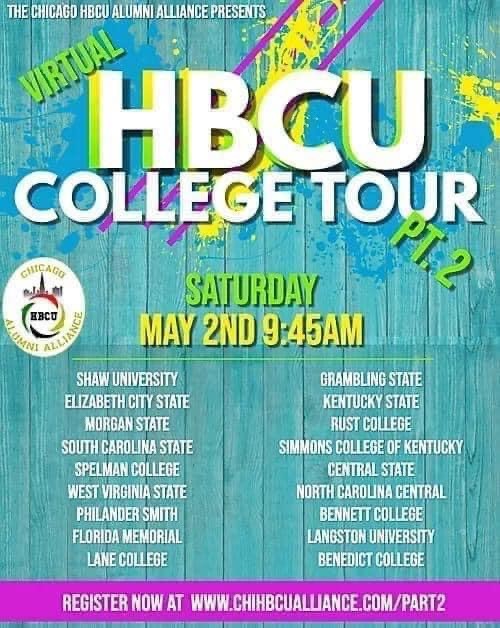 Did you always want to take an HBCU tour or want to browse your dream school before you attend? Social distancing isn't going to stop that from manifesting!
Join TRiO and take a virtual HBCU tour on Saturday, May 2, 2020.
The tour starts at 9:45 a.m., so be ready! 
We're Offering Online Tutoring!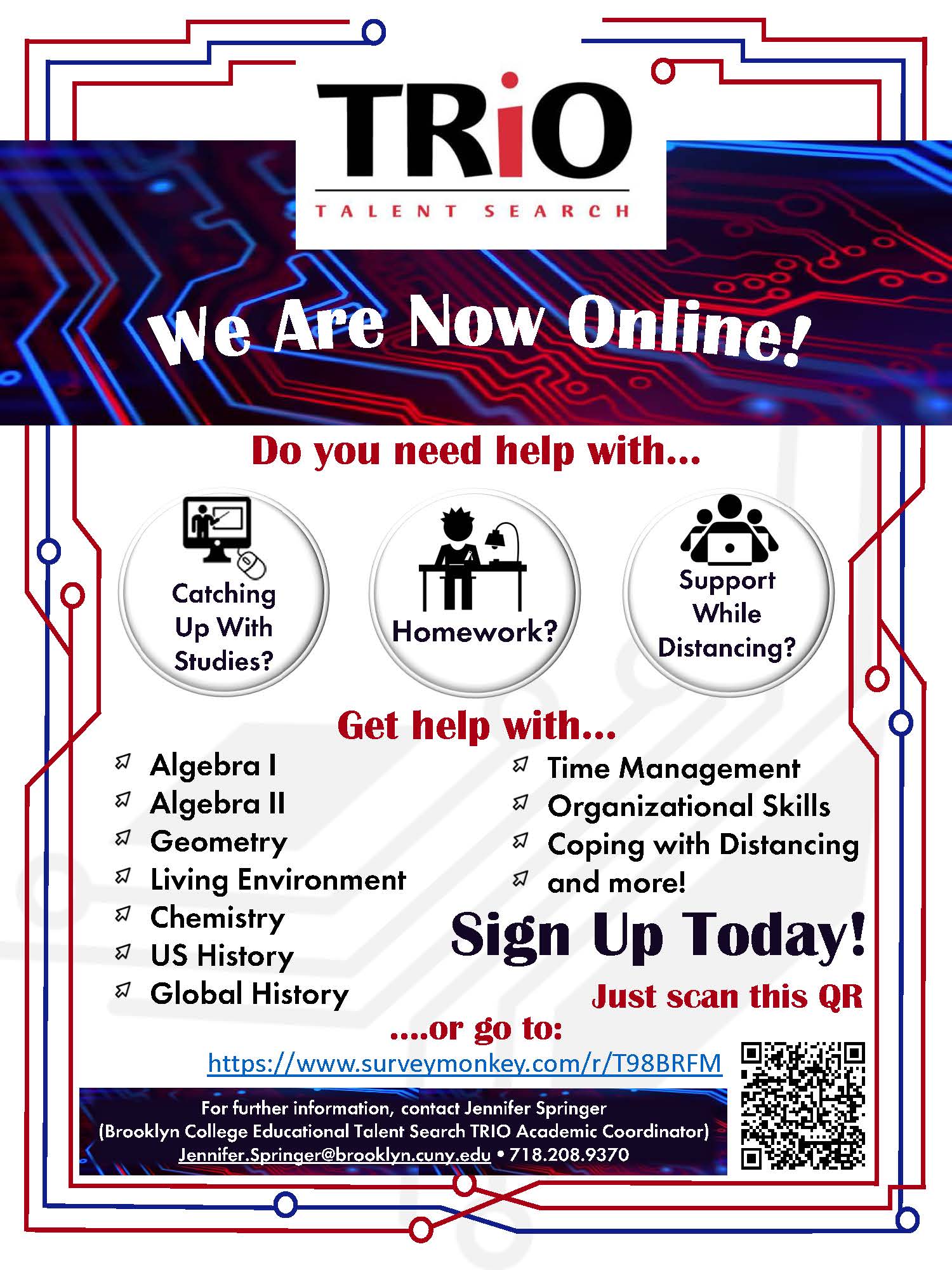 We know that this is a pivotal time in everyone's life right now. Students are faced with learning using different mediums and in different environments. To do what we've always vowed to do, which is to serve students, we're providing online tutoring! Students are faced with yet another obstacle during this switch to distance learning - CLARITY. If you need clarity with the subjects listed in the flyer, SIGN UP TODAY! We're here for YOU. 
Homework Help Mondays
TRiO Educational Talent Search Is Introducing Homework Help Mondays!!!
Starting on March 2, students can receive help with their homework assignments from TRiO tutors. We are dedicating every Monday, from 3 to 6 p.m., until June 8 to help students stay on track with their homework. There is no formal sign-up process for this service; whenever students need help with their homework, they just need to come to 1428 Ingersoll Hall during the designated times.
Looking forward to working with you!
Spring 2020 Regents Prep Courses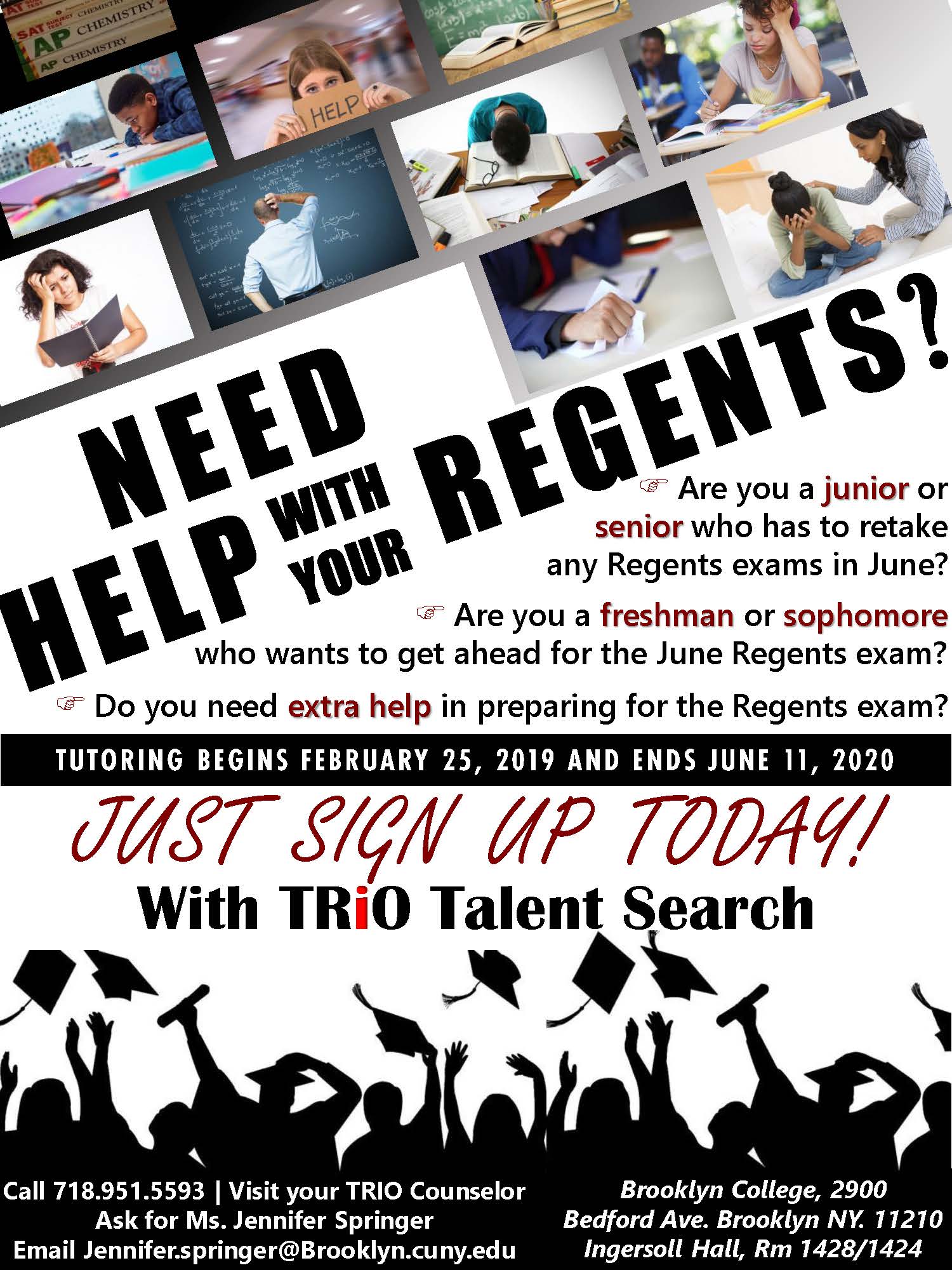 TRiO Talent Search's Spring Regents Prep Courses are enrolling! Receive help with subjects such as math, reading, science, and writing. Watch your scores increase! Hope to see you soon!
February 25–June 11
Tuesday–Thursday
4–6:30 p.m.
Please fill out the application for spring 2020 enrollment (pdf) to receive these services for FREE. Fax the application to our office. If you are not able to fax, manual submission is accepted as well. Our contact is on the flier.
BSU Mentoring Program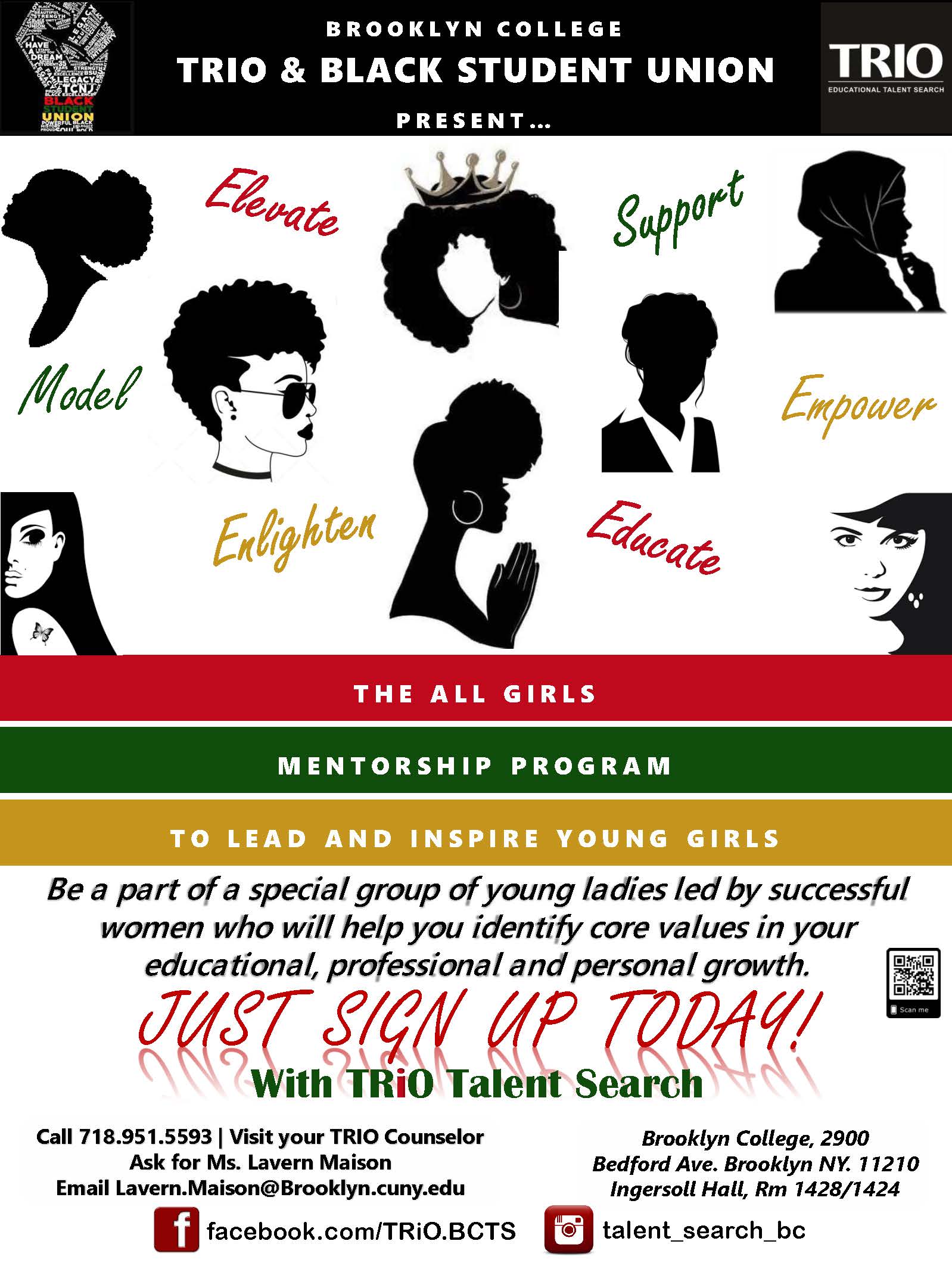 Do you desire to have a mentor but don't have the outlet or resources to do so?
Join Brooklyn College's TRiO and Black Student Union for our first All-Girls Mentorship Program!
Sign up today with TRiO Talent Search.
Visit your TRiO Counselor | Call 718.951.5593 | Ask for or e-mail Lavern Maison.