American Music Review
Vol. XLIX, Issue 2, Spring 2020
Accidental Ideas: An Interview with Sara Landeau
By Lindsey Eckenroth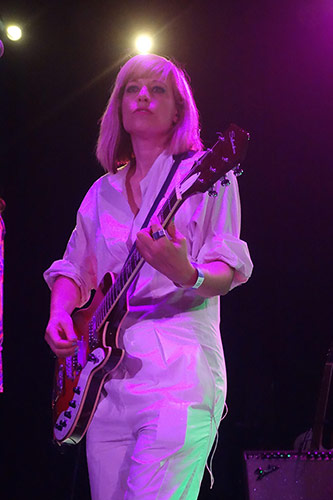 Back in the pre-COVID times, I sat down with musician, teacher, and The Julie Ruin guitarist Sara Landeau at The Coffee Project in Fort Greene, Brooklyn. We talked composing, performing, teaching, timbre, genre, CBGB, inspirations from everywhere, rockumentaries, and the inexorable challenge of knowing when it's done. The following is an approximate transcript of our sprawling conversation.
***
LE: To start, can you tell me about how you got into playing music, when you decided you wanted to make it your career, and how you made that happen?
SL: I thought I was going to go to art school, so I just planned to be an artist. I started playing drums at eighteen and guitar at nineteen. I got very into it … just practiced eight hours a day. Then I went to Columbia University for art history. I also worked at CBGB as a bartender, and my band played there. We were an all-woman band; there were three of us, and we played a lot because we all worked at CBGB. At the same time, I kept studying. I went to Juilliard for a while to study classical guitar, which was great, and I just kept taking courses. Then, starting in 2005, I became a volunteer at the Girls Rock Camp. I met Kathleen [Hanna] there—she was also a volunteer—and we started our band [The Julie Ruin] shortly after.1 Kathleen and I had a lot of mutual friends from the scene, and definitely our idea of feminism was the same, plus we both liked the same music. I feel so lucky to have found a collaborator like her. Also she loves to sing and write, and I don't love to sing or write—words, that is. I don't write lyrics.
LE: Ah, excellent. I will come back to that because I want to ask about the distribution of authorship in the band. But to follow up for a second—CBGB, were you there until the end?
SL: Yes. I was the last bartender too, with the last dollar, giving out the last PBR.
LE: Wow. So, was it ceremonial or was it just … crazy?
SL: Patti Smith was playing. Everyone was crying. It wasn't as glamorous as you'd think; it was almost like a riot.
LE: Are you glad to have been there for that time?
SL: Definitely. I went to Columbia kind of late … I didn't get my B.A. until I was in my late twenties, and I was at CBGB that whole time. There was this academic side of me, which I loved, and then there was that [CBGB] side, which is how I grew up: in a punk, working-class scene. To have that balance was really important to me, but it was also kind of confusing when CBGB closed. I never wanted to quit; this had become my new family. We're all still really close.
LE: That's so cool. But I'll stop geeking out over CBGB. When you started playing music, how were you learning?
SL: Partly by ear. I also love taking lessons, and I was always looking for female teachers. I found a female drum teacher who I stayed with forever. I never found a female guitar teacher, which is why I started teaching guitar in 2003. I said, "I'm opening my own place to teach girls and women."
LE: That's fantastic. In terms of The Julie Ruin, how do you as a band—or even just you as an individual in the band—define yourself, in terms of genre or ideology or sound …
SL: So how we would label the band?
LE: Yeah. But you can feel free to move beyond that, because I feel like sometimes genre labels aren't necessarily suitable to capture the essence of a band, and they can be kind of demeaning or reductive.
SL: Kathleen is—I guess you know about Kathleen [Hanna]. Did you see The Punk Singer? Oh yeah, you work with rockumentaries, right? I wanted to ask you.
LE: I do! I definitely saw it. I have a chapter [in my dissertation] on music as labor, and I write a little bit about The Punk Singer [2013].
SL: What do you mean by music as labor?
LE: Well, the whole idea [for the chapter] started from me thinking about how often when you tell people who aren't musicians or artists that you do music for a living, they say, "that must be so fun! You just get to do what you love!" It's like ok yes, but also this is work, and I started thinking, where do these ideas come from? And to a certain extent, I think they come from rockumentaries, because these films tend to mystify the labor that went into the music, furthering the idea that making music is just this pursuit of artistic ecstasy at all times.
SL: Yes.
LE: When I watched The Punk Singer, the scene that really hit me is when she [Kathleen Hanna] talks about losing her voice. She describes how her voice was like a bullet, and she could always hit the target, but then suddenly she couldn't. I felt that moment really illustrated how much labor is involved in the continual vocalization night after night, especially in a touring scenario.
SL: That makes a lot of sense.
LE: I'm glad.
SL: I've watched a lot of documentaries, like the one about the Roland TR-808 drum machine [the 2005 film 808]. I've watched tons of them. And it's always a series of talking heads. Usually, it's men talking about something. It's fantasy! And I think, I want to know how they learned to play guitar! You didn't just show up in the studio and all of a sudden you wrote the song. Why can't you tell me about all the time you spent in your basement practicing? How did you get there? Why is that part of the story so often missing?
LE: Totally. And what about all the things you did that didn't work?
SL: Yes. I understand music is supposed to be this magical idea for the public, but it's a series of descendants. Inspirations from everywhere. I'm the first to admit I practiced so much, and I still don't ever feel good enough. I get a lot of girl guitar students who say, "My boyfriend just grabs the guitar and does this," but I'm like, he doesn't tell you how he spent six hours a day in his parents' basement as a teenager working on this to impress you. That should be more told, the actual hard work that goes into becoming proficient on an instrument. I really believe in that. And demystifying that is important for people in any artistic field.
LE: Yes. And I feel like it's very connected to people's willingness to pay for music, remembering that there are working humans behind this who need to live.
SL: Absolutely. So as far as do you want to know our approach to writing the music or…?
LE: Yes…I'm sort of curious…well obviously Kathleen is incredibly associated with riot grrrl. So I wonder if you as a band still think of yourselves as part of this lineage, or if you feel departed from it, or if you are just like "People please stop referencing riot grrrl, that was thirty years ago."
SL: That's funny, because it's a conversation we've had a lot.
LE: Really? Interesting.